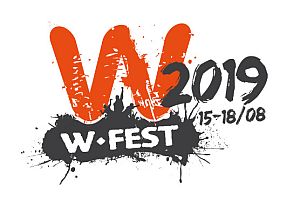 Expo, Waregem, Belgium
15th to 18th August 2019
It doesn't happen often that an organization already announces the almost complete line-up of next year during this year's edition. W-Fest is delightful exemption on that rule and is also quite unique from several other perspectives. Last August, this Belgian 80s/ New Wave/ EBM / Synth Pop Festival (with full camping) attracted over 30,000 fans during a successful 3rd edition and also the upcoming edition 2019 promises a great line-up with fantastic bands from the Synth Pop and Wave genres.
Now, we from Reflections of Darkness think it is a good idea to introduce you our highlight per day and additionally one band from the whole line-up we are extremely looking forward to seeing at the W-Fest stage. As Promised a few days ago, at the end of our band introductions we have a special recommendation for you. The reflections of Darkness crew is very much looking forward seeing SHE WANTS REVENGE at W-Fest!
Our pick of the day is
She Wants Revenge (USA)

Date: 15-08-2019 / Time: 23:30-00:30 / Stage: Wave Cave
SHE WANTS REVENGE is an American Rock band, based in San Fernando Valley, California and formed in 2004. The group's debut album, 'She Wants Revenge', was released in early 2006, with three singles to follow ('These Things', 'Out of Control', and 'Tear You Apart'). The band has sold more than 300,000 records in the US. The band's second album, 'This Is Forever', was released in 2007. The group's third album, entitled 'Valleyheart', was released in 2011. It is many years ago that the band released new music or visited the European stages. The happier we are to see the band now at W-Fest!