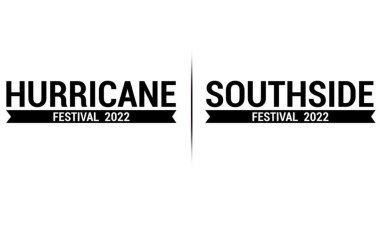 Several new names make the line-ups for the Hurricane and Southside Festival 2022 as good as complete. MARTIN GARRIX is once again confirmed for the headlining squad of the events from June 17 to 19, and K.I.Z is new at the top, who now together WITH KINGS OF LEON, RISE AGAINST, SEEED, DEICHKIND, THE KILLERS and TWENTY ONE PILOTS cite the billing. DERMOT KENNEDY, TONES AND I, SAM FENDER, KILLSWITCH ENGAGE and JC STEWART also want to see their fans again after two years without Hurricane and Southside and have again announced themselves for long-awaited shows in Scheeßel and Neuhausen ob Eck.
In addition to K.I.Z, with CHVRCHES, IDLES and ROYAL BLOOD three formations from the United Kingdom are newly confirmed, each of which shape the music world in their own way. With HOLLY HUMBERSTONE and KAT FRANKIE, two of the strongest and most exciting voices in smart Pop music are also represented. What is possible on the guitars will be explored with REIGNWOLF, INHALER, PRESS CLUB and THE LATHUMS - bands who come from different corners of the world and accordingly bring their own musical languages with them.
Fans of electronic music will also get their money's worth: MARTIN GARRIX' label STMPD RCRDS brings LOOPERS, MATISSE & SADKO and JULIAN JORDAN to the hurricane, which, like every year, is opened by the #HURRICANESWIMTEAM. At the Southside, on the other hand, OSRIN, BART B MORE, DUBVISION and JUSTIN MYLO provide intensive sets.
Tickets for the Hurricane and Southside Festival are still available until August 2nd from 199 or 239 euros plus booking fee at hurricane.de and southside.de. From Monday, August 2nd at 12 noon, the next price level will come into effect with EUR 219 or EUR 249. Travel by train and camping are already included in all prices.
Current Line-up Hurricane

Friday

Seeed | Martin Garrix | The Killers | SDP | Dermot Kennedy | Chvrches | Giant Rooks | LP | Sam Fender | Killswitch Engage | While She Sleeps | Millencolin | Fontaines D.C. | The Dead South | Neck Deep | Mayday Parade | Kelvyn Colt | Inhaler | Miya Folick | #HURRICANESWIMTEAM | Martin Garrix presents STMPD RCRDS: Loopers, Matisse & Sadko, Julian Jordan
Saturday

Deichkind | Twenty One Pilots | K.I.Z | Von Wegen Lisbeth | Mando Diao | IDLES | Jimmy Eat World | Foals | Juju | KitschKrieg | Antilopen Gang | Bad Religion | Nothing But Thieves | Fil Bo Riva | Oh Wonder | Turbostaat | Provinz | JC Stewart | Half Moon Run | Aurora | Holly Humberstone | Kollektiv Turmstrasse Live | Reignwolf | Kat Frankie | Brutus | Schrottgrenze | Flash Forward | Helgen | The Lathums
Sunday

Kings of Leon | Rise Against | Bring Me The Horizon | Kontra K | The Hives | Kummer | Thees Uhlmann & Band | Royal Blood | Tones and I | Bombay Bicycle Club | Swiss & Die Andern | Ferdinand fka Left Boy | Nura | Frittenbude | Blues Pills | Skindred | Mine | Lari Luke | Hot Milk | Blond | Press Club
Current Line-up Southside

Friday

Kings of Leon | Rise Against | Bring Me The Horizon | Kontra K | The Hives | Kummer | Thees Uhlmann & Band | Royal Blood | Tones and I | Bombay Bicycle Club | Swiss & die Andern | Ferdinand fka Left Boy Nura | Frittenbude | Provinz | Blues Pills | Skindred | Mine | Lari Luke | Blond | Flash Forward | The Lathums |
Saturday
Seeed | Martin Garrix | The Killers | SDP | Dermot Kennedy | Chvrches | Giant Rooks | LP | Sam Fender | Killswitch Engage | While She Sleeps | Millencolin | Fontaines D.C. | The Dead South | Neck Deep | Mayday Parade Kelvyn Colt | Inhaler | Miya Folick | Hot Milk | Press Club | Martin Garrix presents STMPD RCRDS: Osrin, Bart B More, DubVision, Justin Mylo
Sunday

Deichkind | Twenty One Pilots | K.I.Z | Von Wegen Lisbeth | Mando Diao | IDLES | Jimmy Eat World | Foals | Juju | KitschKrieg | Antilopen Gang | Bad Religion | Nothing But Thieves | Fil Bo Riva | Oh Wonder | Turbostaat | JC Stewart | Half Moon Run | Aurora | Holly Humberstone | Kollektiv Turmstrasse Live | Reignwolf | Kat Frankie | Brutus
Source: Press Release