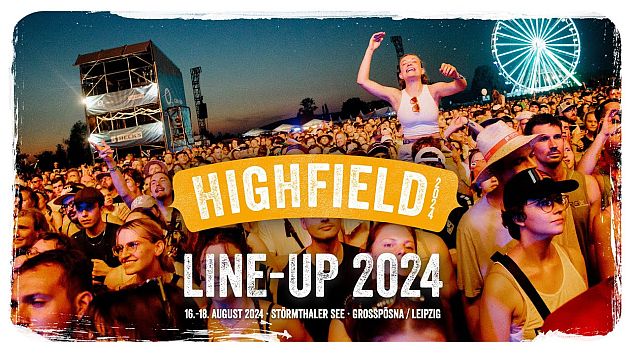 Four headliners and 16 top-class acts: just one month after the Highfield Festival 2023, the organizers are announcing the first artists for the upcoming edition. The Highfield Festival 2024 will present, among others, RISE AGAINST, PETER FOX, CRO and PROVINZ at Störmthaler See just outside Leipzig from August 16th to 18th.
With RISE AGAINST, a formation will be on stage that is not only musically successful, but also uses its global success to provide a forum for political and social issues such as animal and human rights. The four musicians from Chicago also make no compromises musically: fast tempos, melodic hooks and aggressive riffs characterize their vision of hardcore and punk, which culminates in frenetically celebrated shows, especially live.
PETER FOX's solo comeback was about as epic as the music world expected: a good 15 years after 'Stadtaffe', the Berlin frontman of the dancehall institution SEEED returned with 'Love Songs' and once again created a canon of anthems , which is likely to have a formative effect on several generations. Good mood with a double bottom: The songs move forward, as one would expect, but leave room for reflections from an artist who has become older and more thoughtful. Of course, FOX hasn't forgotten how to get the crowd dancing.
CRO doesn't wear his mask to attract attention, but rather so that his persona doesn't distract from his art. This consequence runs through the ten-year success story of the musician and artist, who knows how to express himself just as well with colours as he does as a rapper and singer. The success of the man in his mid-thirties, who seems to have a precise feel for the spirit of the times, is also consistent: Nobody expects anything other than the top of the charts anymore.
The word "high-flyers" may be worn out, but PROVINZ allow no other description. Their name may have once said it all, but even the pandemic didn't stop the quartet from a tranquil community in Baden-Württemberg from storming metropolises and big stages. Two acclaimed albums and an EP since 2020 are already lining their path, further milestones are only a matter of time.
Indie rock icons THE KOOKS, exceptional singer BOSSE and rap sensation SKI AGGU have also announced their presence, all three also guaranteeing acclaimed live performances. The punk icons DONOTS and FLOGGING MOLLY as well as folk-pop great BUKAHARA are in no way inferior to this, who are just as confirmed as MAKKO, $OHO BANI and ENNIO. In addition, MONTREAL, ROGERS and FJØRT will delight their audience, who can also look forward to shows by DOMIZIANA, FEHLKI, DILLA and ANTJE SCHOMAKER.
Tickets start at 159 euros and further information is available on the festival website
https://highfield.de
. On Thursday, September 21st at 12 p.m., the next price level starts at 179 euros. Further acts will be announced shortly.
Source: Press Release