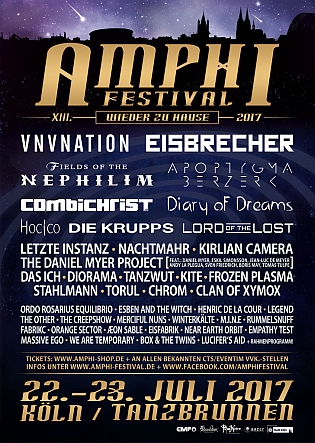 As we go the lines of the current Amphi Festival programme constantly keep filling with more and more artists. Thus we are happy to announce six additional bands again, waiting to stoke the fire at Tanzbrunnen Cologne, on next year´s 22. & 23. July:
FIELDS OF THE NEPHILIM | DIE KRUPPS | TANZWUT | CLAN OF XYMOX | M.I.N.E | EMPATHY TEST
FIELDS OF THE NEPHILIM – that's magic and mythos, the occult mystique of a band which shaped and continuously inspired goth rock with their dark visions since the mid-80s. Inseparably connected with the enigmatic personality of Carl Mc Coy, their rare and well-considered live-performances are always more than mere concerts. They are gathering and spiritual experience in one – soulfood of the highest!
As many of you know the cities of Cologne and Düsseldorf have been connected for centuries by an affectionately cherished rivalry. In the friendly strife for fame and favor in the Rhine area, it seems a matter of honor for our downriver neighbours to send out their finest contenders, representing them at Amphi Festival. A minstrel contest of metal-machine-music made in Düsseldorf - DIE KRUPPS! In other words: Jürgen Engler and his men, showing you where the steelhammer hits the anvil – heavily, energetically, legendary!
Also we will meet the devil himself in person of "Teufel", giving himself the honor as frontman of German mediaeval-rockers TANZWUT. Dancing, singing and rocking out to their minstrel art, paired up with heavy riffing and a hint of electronica. That's what we love the guys from Berlin for. Live always a force they already exist for 20 years in 2017! Time flies! Next we salute another valued institution with Dutch CLAN OF XYMOX, whose distinct dark-wave-sound mesmerizes the audience since the mid-80s. Gothic of the old school – and as you know that ain't actually the worst of schools. Looking forward to them!
At a certain time between Moscow, Berlin and Lima Jochen Schmalbach, Marcus Meyn and Volker Hinkel discovered their mutual ambition to develop another musical project beyond the band Camouflage, in which the three of them kept touring the world together for the last 15 years. By the name M.I.N.E they bring this musical vision to life, blending elements of electro-wave, gothic, pop and punk. Finally we close today's announcement with EMPATHY TEST. A sympathetic young electro-pop duo from London. Formed in 2013 the Brits are currently stirring up the scene, inspiring audiences with their modern sound while touring Europe, supporting Mesh.
Summing up the line-up so far, it includes the following artists plus more to come:
VNV NATION | FIELDS OF THE NEPHILIM | DIARY OF DREAMS | LORD OF THE LOST | DIE KRUPPS | LETZTE INSTANZ | NACHTMAHR | DIORAMA | TANZWUT | FROZEN PLASMA | STAHLMANN | TORUL | CLAN OF XYMOX | MERCIFUL NUNS | WINTERKÄLTE | M.I.N.E | FABRIKC | ÆON SABLE | EISFABRIK | NEAR EARTH ORBIT | EMPATHY TEST
For further info please visit
www.amphi-festival.de
or
www.facebook.com/amphifestival
.
Original Amphi Festival weekend tickets are exclusively available at Amphi Shop,
www.amphi-shop.de
! Furthermore festival tickets are available at all nationwide CTS/EVENTIM box-offices, online at
www.eventim.de
,
www.oeticket.com
,
www.ticketcorner.ch
,
www.eventim.nl
and as PRINT@HOME edition.
Source: Newsletter