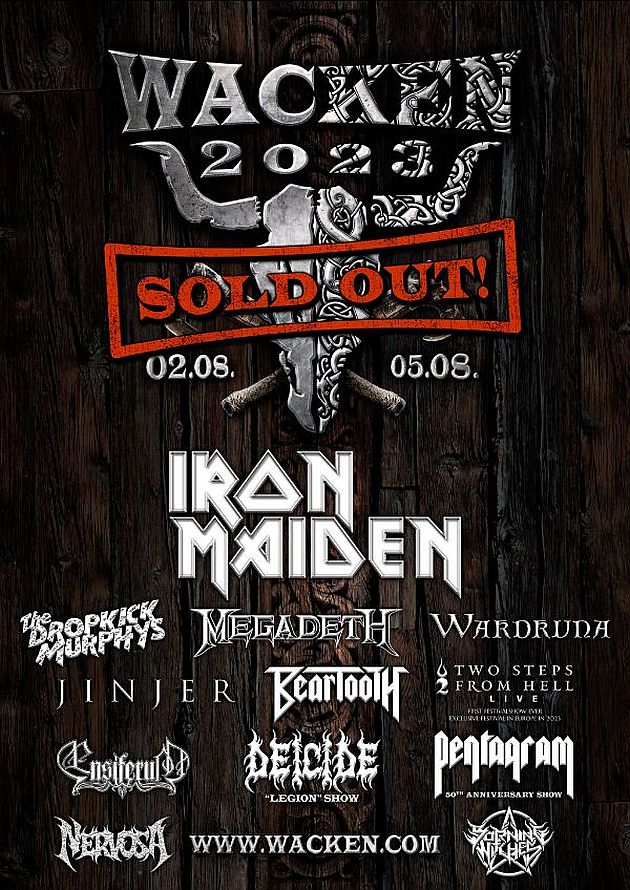 The Wacken Open Air 2023 sold out in a record time of just five hours with 80,000 tickets. Compared to the previous year, the advance sale for 2023 started this time on Sunday, August 7, 2022 at 8:00 p.m. In five hours, the set mark of 80,000 tickets was already reached and the organizer reports the 32nd Wacken Open Air, which will take place from August 2, 2023 to August 5, 2023 for the first time over 4 days, as sold out.
"A sold-out show is never a matter of course," says organizer Thomas Jensen, "and support from the community is extremely important, especially in these times. We're still dusting off this year's Open Air and, thanks to the trust of our fans, we can now continue to concentrate fully on the program in 2023 under the motto "Vikings", which will have one or the other highlight in the luggage in addition to the great IRON MAIDEN!"
"This is an unprecedented leap of faith from our fans and we really appreciate that," adds organizer Holger Hübner. "This enables us to push Wacken Open Air forward and to further develop various projects and topics alongside the billing, which we will announce throughout the year."
A remaining contingent of tickets will be reserved for the official travel partners of Wacken Open Air in order to be able to meet their needs as well. The line-up of W:O:A 2023 is led by a sensation: The mighty IRON MAIDEN are returning to the "Holy Ground" and will be on stage as headliners in Wacken for the fourth time in 2023. Hardly any band has classic Heavy Metal as defined as these British legends, who promise massive production, immense gameplay and, of course, their monstrous mascot, Eddie.
Other bands confirmed so far besides Iron Maiden are: Megadeth, Dropkick Murphys, Wardruna, Beartooth, Ensiferum, Pentagram (50th Anniversary Show), JINJER, NERVOSA, DEICIDE (Special Legion Show), BURNING WITCHES, TWO STEPS FROM HELL (exclusive Wacken show). The organizer advises that no tickets should be purchased from third parties - with the exception of the official travel partners listed under the following link: www.wacken.com/de/alle-infos/offizielle-reisepartner
Source: Newsletter