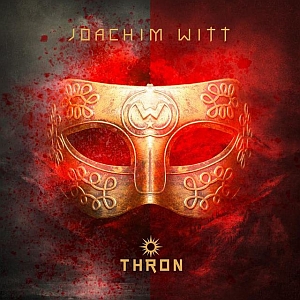 Over the course of a couple of decades, JOACHIM WITT earned the status of being one of the most exceptional artists in the German music scene. He is allowed to change genres, mix styles, and reinvent himself over and over again, all just as he pleases - WITT's fans will always loyal to him. How come? Because they know that there's always the same person behind all these musical transformations - a human being who is going through all kinds of moods in life, just as we all do. JOACHIM WITT, though, is able to convey these feelings with an unbridled intensity like none other.
That's why it's so easy to get into his by now 16th studio album titled 'Thron', in English "Throne". WITT manages to grab you right where it's hurting or where it does you good. For most parts, the record is aimed for the difficult times we're living in right now. The spirt to fight and the feeling of almost giving up hope and resigning are close together on WITT's 'Thron'. "Du wirst dich erholen vom Herbst" (transl.: "You are going to recover from autumn"), WITT is promising in the song 'Lebe dein Leben'(transl. "Live Your Life") - a quite minimalist line that describes the whole truth about the principle of hope. Of course some subliminal humour is also not to missed on a WITT record: When he sings "Alle nicken" - "all are nodding" - along to driving mosh rhythms, he's self-ironically alluding to his "Bayreuth" trilogy.
Even though one cannot put JOACHIM WITT's new songs into a clear sound category, the multi-facetted 'Thron' sounds like an opus that is a whole complete in itself with all its intensity and also intimacy. There are extensive guitar solos on the album that DAVID GILMOUR would be proud of. And in 'Tag für Tag' ("Day after Day"), WITT presents harmonies typical of Jazz (keyword: maj7) in the stanzas, only to play an epic power chord chorus thereafter - a meeting of great skill and playful freedom.
Together with producer and co-writer Bassel Hallak, WITT built an album overnight that is so inherently consistent, as if years and years of planning went into it. 'Thron' will be released on 9th September 2016.
Video for the Single "Lebe Dein Leben":
https://www.youtube.com/watch?v=oYcj4zqnJ0c
Source: Press Release