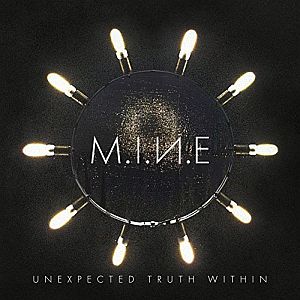 M.I.N.E consists of CAMOUFLAGE singer Marcus Meyn, FOOLS GARDEN guitarist / composer Volker Hinkel as well as drummer / keyboarder and producer Schmalbach (i.e. Madonna, Depeche Mode, Aha, Fanta 4).
How does Hermann Hesse describe his wonderful atmosphere? And every beginning has its magic. Better than Hesse's motto could hardly have been any other quote on M.I.N.E apply. Because indeed it is the magic of the new, coupled with the great experience and great musicality of all those involved that characterize the new German electro-pop trio M.I.N.E sustainably.
Meyn, Hinkel and Schmalbach have been working together successfully for many years already. Hinkel first played guitar for CAMOUFLAGE on the album 'Sensor' (2003) and then toured regularly with the group. Schmalbach joined the band in 2001 as a live drummer. Both are also co-producers and co-authors on the 2015 CAMOUFLAGE record 'Greyscale'. In May2018, the M.I.N.E debut album 'Unexpected Truth Within' will be released. Composed by all three band members, the disc proves that the mixture of Meyn's charismatic voice, the craftsmanship, compositional and production skills of his two bandmates Hinkel and Schmalbach, as well as the sure instinct for catchy melodies and catchy arrangements are all right. Of course you will find one or the other number among the twelve new songs, which would have been quite similar to CAMOUFLAGE.
In contrast, M.I.N.E have made their stylistic spectrum much broader, as the 'The One', which is permeated by a strong guitar riff, clearly shows. Speaking of which: According to Meyn, the driving 'Reach Out' is also characterized by "total guitar dominance" and documents where M.I.N.E's special journey is leading the band live on stage. In this context, 'To The Wonder' has to be mentioned, a piece that has gained in profile and class with each further development step. A very special feeling can also be found on what is probably the most extraordinary track on the album: the last track for 'Unexpected Truth Within' is the piano ballad 'World Without A Smile' which shines on three levels through Meyn's soulful vocals and a short acoustic guitar sequence.
All this and much more will be seen and heard by viewers over the coming months. In January 2018, the first single 'The One' was released and will be followed in March by a second release. For late summer 2018, a major tour is planned. And what would Hermann Hesse have said? Possibly: Also every concert has a special magic!
You can already pre-order the album via
http://amzn.to/2FKnym2
.
Source: Press Release