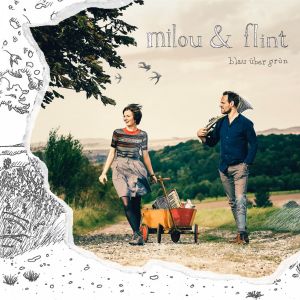 Take two crystal clear voices. Guitar and piano plus accordion, cello and glockenspiel. On top of that a bag of old screws, rolling marbles and salt shakers. Combine the whole thing with lyrics that tell of the love of life and the colourful temptations of the here-and-now. Garnished with humour, winking and the irresistible lightness of the French chanson. The icing on the cake is a chance encounter and et voilà, the most delicious musical treat since the invention of the two-part song: MILOU & FLINT.
MILOU & FLINT brings together a concentrated experience in the spotlight. Milou was in the cabaret scene with various programs and also sang in an a-cappella band, while Flint was on tour as a live musician for WIR SIND HELDEN and MARQUESS. Above all, however, it is the meeting of two multi-instrumentalists who can elicit a sound from almost every instrument. Not just piano, guitar, accordion, drums, cello, trumpet or melodies, but also a lot of everyday objects, creating a sound that ranges from acoustic to orchestral. In addition, Milou's natural and clear vocals harmonize perfectly with Flint's slightly rougher voice and make her songs unique with this two-parted voice.
The lyrics captivate with depth, poetry and good mood charm with a positive view of life, which invite to a relaxed listening. Their unmistakable style is able to spread a sense of well-being that some people may have already forgotten.
"It's challenging to write a life-affirming text that does not look cheesy or flat, yet points to the stones that sometimes get in your way. But stones can be known to build something beautiful,"
Flint explains the intention of her lyrics.
Everything from MILOU & FLINT has its own signature and that in the truest sense of the word. Not just the music and the lyrics, but also their videos and the artwork of the sound carriers. With infinite love for detail, Milou transmits the music in pictures and drawings for the design of the CDs.
"We like to do things ourselves. The inspiration for our graphic style came on a winter day on a Danish island, thinking of the little prince,"
says Milou. While she usually takes care of the intricacies of artistic design, Flint, as a passionate handyman, likes to saw, hammer and screw the scenes for the videos.
After their debut album 'orange bis blau' (2015) they are now expanding their "colour palette" with the new album 'blau über grün', which will be released on 7th September 2018. A first harbinger was the single 'Schwalben Anfang Mai', with which MILOU & FLINT emit a summery flair with flowing string sounds, a sparkling piano and a driving rhythm.
The song 'Hey Du' is surely another ear worm and celebrates the very latest video premiere and is already heard in advance at this point:
On 'blau über grün', the band has created a colourful potpourri, which inevitably sets the head cinema in motion. The matching "movie title" would be: "Life is beautiful (with everything that goes with it)". An attitude to life that is reflected in her music. Personality also flows into the songs, as their passion for being on the way and being in motion. Or for the savoir-vivre with sea, sun and chocolate. For Milou, a few balls of ice may be added. In short, MILOU & FLINT's creative poetry pop is German songwriting reminiscent of crackling campfires with good friends.
Tour Dates
16.08.2018 Hamburg Showcase
17.08.2018 Hildesheim, Marktplatz
07.09.2018 Düsseldorf, Freizeitstätte Garath
15.09.2018 Hamburg, Nacht der Kirchen
22.09.2018 Hanover, Pavillon
27.09.2018 Bodenwerder-Buchhagen, Gastronomie Mittendorf
05.10.2018 Wiesloch, Das Palatin
12.10.2018 Herrenberg, Mauerwerk
27.10.2018 Hanover, Kestnergesellschaft, Tuten & Phrasen
07.11.2018 Hanover, Kultur im Siloah
09.11.2018 Hanover, Leibniz-Theater
10.11.2018 Magdeburg, Festung Mark
16.11.2018 Koblenz, Burg Namedy
24.11.2018 Buchhagen, KulturMühle
07.12.2018 Neustadt a. Rbge., Schloss Landestrost
08.12.2018 Hanover, Tanzschule Step by Step
More Info: www.milou-flint.de / www.facebook.com/milouflint
Source: Press Release