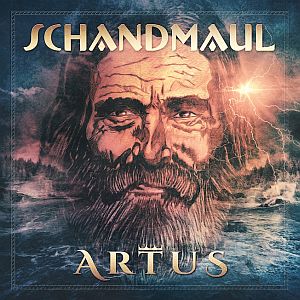 Artist: Schandmaul
Releases: 'Froschkönig' (Single/Clip), 'Artus' (Album)
Release Dates: 1st March 2019 (Single/Clip), 3rd May 2019 (Album)
Label: Universal Music
At first glance, SCHANDMAUL has an exquisite problem: expectations are running high over their new studio album 'Artus'! Gold has already been awarded for its forerunners 'Traumtänzer' (2011) and 'Unendlich' (2014), while the direct predecessor 'Leuchtfeuer' (2016) is also on way to reaching a similar path to gold status and, for the first time in the band's history, was ranked no.1 in the German album charts.
But on closer inspection, the folklore rockers from Munich get down to business on 'Artus'as carefree as if no pressure was on their shoulders. Already the opening track 'Master Thief' proves to be a clever move. Drums and bagpipes successfully simulate an electric loop in the intro and then transition into a melody line supported by rhythmic guitars. SCHANDMAUL skilfully play out all their strengths in this song and the lyrics prove to be an exciting vignette with the eponymous protagonist as narrator. Singer Thomas Lindner has long since become a terrific storyteller, seemingly effortlessly managing to incorporate the essence of such world-class literature like Herman Melville's 'Moby Dick' into a matter of minutes in the final track 'The White Whale'. But also musically, the 'Master Thief' steals listener's hearts by giving this mid-tempo rocker a captivating melody. As with the following goo-mood number, in which the celebrated musician Birgit Muggenthaler-Schmack once again shines, it is striking how the old instruments meld themselves into the song instead of just as an end in itself.
The grandiose sound is due to both years of experience and the production of Fabio Trentini. "We worked for the first time on 'Artus' with the producer and musician Fabio Trentini (he has worked with, among others GUANO APES, DONOTS, H-BLOCKX), who blew a breath of fresh air into our sails with his many years of experience," says Thomas Lindner. "Together with him, we developed a new way of working, using teams of specialists who accompanied the individual stages of production and recording with their 'know-how'. This time we put the mix in the competent hands of Ronald Prent (RAMMSTEIN, DEPECHE MODE, IRON MAIDEN), and the mastering was taken over by the three-time Grammy winner Darcy Proper (R.E.M., JOHNNY CASH, TOTO)."
With 'Artus', SCHANDMAUL once again demonstrate their skills organically grown over the many years. The unusual fact that the core of the band still consists of its founding musicians, singer Thomas Lindner, Birgit Muggenthaler-Schmack as the specialist for old wind instruments, string man Martin Christoph "Ducky" Duckstein and Stefan Brunner on drums. But even "new signing" Matthias "Hiasl" Richter on bass has been involved since 2002. Violinist Saskia Forkert only succeeded founding member Anna Katharina Kränzlein in 2018, after the band spent a year with friendly guest musicians such as Ally Storch (SUBWAY TO SALLY), who took over large parts of the violin work on 'Artus'. This time, too, SCHANDMAUL will draw on its own strengths. For example, the cover of 'Artus'stems from the drawing arts of singer Thomas Lindner personally.
Check out the new single, 'Froschkönig':
Summer festivals

30 Apr 2019 - Walpurgisdampfer MS RheinFantasie, Cologne
04 May 2019 - Felsenburg Festival, Bad Segeberg
08 Jun 2019 - Wave-Gotik-Treffen, Leipzig
22 Jun 2019 - Burg. Kranichfeld
28 Jun 2019 - Wolters Hof Open Air, Braunschweig
11 Jul 2019 - Area 53, Leoben AT
12 Jul 2019 - Burg, Wertheim
20 Jul 2019 - Summertime Open Air, Pratteln CH
26 Jul 2019 - Bassum Open Air, Bassumer Freudenburg
27 Jul 2019 - Sommersprossen Open-Air, Pforzheim
02 Aug 2019 - Freilichtbühne, Thale
09 Aug 2019 - Ebenwald Festival, Luhmühlen
10 Aug 2019 - Sommer am Kiez, Augsburg
23 Aug 2019 - Baltic Open Air, Schleswig
ARTUS Tour

24 Oct 2019 - Hanover, Capitol
25 Oct 2019 - Schaffhausen, Kammgarn
26 Oct 2019 - Solothurn, Kofmehl
31 Oct 2019 - Magdeburg, Altes Theater
02 Nov 2019 - Berlin, Huxley´s Neue Welt
03 Nov 2019 - Munich, Circus Krone Bau
07 Nov 2019 - Ulm, Roxy
08 Nov 2019 - Vienna, Arena AT
09 Nov 2019 - Stuttgart, Wagenhallen
14 Nov 2019 - Saarbrücken, Garage
15 Nov 2019 - Bremen, Kulturzentrum Schlachthof
16 Nov 2019 - Oberhausen, Turbinenhalle
20 Nov 2019 - Bielefeld, Lokschuppen
21 Nov 2019 - Wiesbaden, Kulturzentrum Schlachthof
22 Nov 2019 - Dresden, Alter Schlachthof
27 Nov 2019 - Hamburg, Grosse Freiheit 36
28 Nov 2019 - Kassel, 130 bpm
29 Nov 2019 - Nuremberg, Löwensaal
Source: Press Release