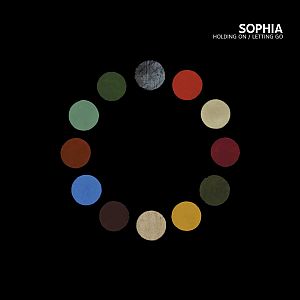 On August 21st, 2020 'Holding On / Letting Go' will be the eighth studio album by SOPHIA to be released and the first one as a full band since 'Fixed Water' from 1996. With this release, SOPHIA (2.0) will once again climb a new musical plateau of singing, Sound and creativity. The emotional 'Alive' with the legendary Terry Edwards on saxophone (NICK CAVE, TOM WAITS, PJ HARVEY) offers a first glimpse into the album! Undoubtedly SOPHIA's most sensual and thoughtful song to date!
It is an exciting, beautiful, moving and captivating song that shows once again the unique way of Robin Proper-Sheppard to be able to write songs that leave no listener untouched. Robin Proper-Sheppard has always been a hiker. A big city nomad! After deciding to leave his hometown of San Diego as a curious 20-year-old, he bought a one-way ticket for a Greyhound bus traveling across the country and wondered where the path would lead. And he's been on the road ever since.
First, he settled in New York, where he founded THE GOD MACHINE with his high school friends Ron Austin and Jimmy Fernandez, only to move on to London later. There they made the Rock scene of North London uncertain with their partly melodic, partly cacophonic noise rock and got a contract with Fiction Records, the label on which THE CURE was also at home. After Fernandez died of a brain haemorrhage, the story of THE GOD MACHINE ended after only two albums.
In the wake of this tragedy, Robin Proper-Sheppard founded The Flower Shop Recordings, a label on which he released the music of friends who were friends. He then decided to record his own music again and started the SOPHIA project, with which he released his debut album in 1996 with 'Fixed Water'. His path finally led him to Berlin, where he lives today (his live / work studio is in Kreuzberg). Accordingly, SOPHIA's new album 'Holding On / Letting Go' was created almost 10,000 kilometres from Proper-Sheppard's hometown and is the last step of a long journey that began thirty years ago without a destination.
In addition to the drama and depth that Proper-Sheppard has always shown in his songwriting, 'Holding On / Letting Go' harbours a new timbre, a new voice. A voice that reflects Proper-Sheppard's own experience and with which he also expresses himself the experiences of other people. Or as he sings in the string acoustics of 'Gathering The Pieces': "We're all just the same. We're all just afraid". Proper-Sheppard tries to accept the "we" of life. Even if we feel alone, we are never alone. Some say that vulnerability is the essence of SOPHIA. Robin Proper-Sheppard would say that the essence of SOPHIA is openness. We thank SOPHIA for both.
SOPHIA are

Robin Proper-Sheppard: Vocals / Guitars / Synths
Jeff Townsin: Drums / Percussion
Sander Verstraete: Bass / Moog
Jesse Maes: Guitars
Bert Vliegen: Keys / Synths
Tracklist

01. Strange Attractor
02. Undone. Again.
03. Wait
04. Alive
05. Gathering The Pieces
06. Avalon
07. Days
08. Road Song
09. We See You (Taking Aim)
10. Prog Rock Arp (I Know)
Source: Press Release