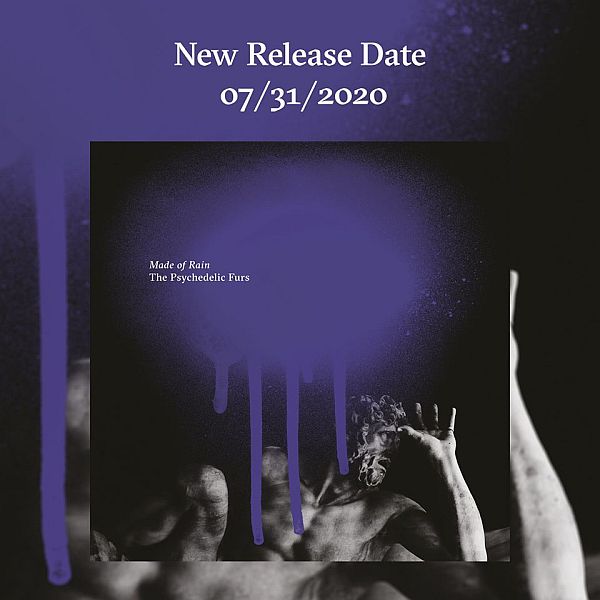 The upcoming album 'Made Of Rain' is postponed, new released date July 31! With 'Don't Believe' and 'You'll Be Mine', there are two singles of the new album released!

On July 31, the Post Punk stars THE PSYCHEDELIC FURS release their first new album since almost 30 years. 'Don't Believe' and 'You'll Be Mine' are already available as stream everywhere. Already the first beats of 'Made Of Rain' sound like only THE PSYCHEDELIC FURS are able to do that sound, but fresher than ever before. The new album was produced by Richard Fortus. The mixing was done by Tim Palmer, who already worked at records for DAVID BOWIE, U2 and ROBERT PLANT.
Over the last years, the band toured non-stop, did a North America tour in 2019, and played several shows at the Hollywood Bowl, at the All Points East in Hyde Park, and at the Benicàssim. A handful of UK shows, including a headliner show at the Royal Festival Hall Meltdown that took place upon request of Robert Smith of THE CURE. Last October, the band played a sold-out tour in Great Britain and Europe; highlight was a triumphant show at the Roundhouse in London. In recent years, the legendary band has grown enormously, what in the end is a result of the worldwide streaming of the songs more than 150 million times. Their influence, since they entered the Post Punk scene forty years ago, left foot prints at THE KILLERS, REM, the FOO FIGHTERS, BOB DYLAN, and many more. "I'm aware of the fact that people cite us an influence", says Richard, "though I don't often recognise it in their music. It's gratifying of course, as it is that there's still an interested and enthusiastic audience for us. That's an honour."
'Pretty In Pink' in the same-named John Hughes film, 'Love My Way' in the Oscar awarded film 'Call Me By Your Name', or 'The Ghost In You' in 'Stranger Things' - THE PSYCHEDELIC FURS are embedded in the Pop culture stronger than ever before. Everyone, who has seen the band recently, knows that Richard Butler still is one of the best band leaders.
The Psychedelic Furs - Made Of Rain
Release date: July 31, 2020
Label/distribution: Cooking Vinyl / Sony Music
'Made Of Rain' will be available as Gatefold double 12" vinyl, CD, cassette and digital download, where exclusive and signed items are only for sale at the official shop of the band.
Tracklist

01. The Boy That Invented Rock & Roll
02. Don't Believe
03. You'll Be Mine
04. Wrong Train
05. This'll Never Be Like Love
06. Ash Wednesday
07. Come All Ye Faithful
08. No-One
09. Tiny Hands
10. Hide The Medicine
11. Turn Your Back on Me
12. Stars
Line-up

Richard Butler – Vocals
Tim Butler – Bass
Mars Williams – Saxophone
Paul Garisto – Drums
Amanda Kramer – Keyboards
Rich Good – Guitar
Press statements

"The Furs - were as dark and driving as the first time I saw them in New York, in 1980, but with more greatest hits. Singer Richard Butler prowled the stage with a limber menace and that scoured-Bowie signature in his voice." - Rolling Stone
"A seamless six-piece creating a dense wall of noise... looks and sounds tremendous" - The Guardian
"By the time they hit their groove the Festival Hall resembled a student disco." - The Times
"The English sextet's swooning New Wave sound has influenced a legion of bands, from Echo & the Bunnymen to the Waterboys and the National." - The Independent
Source: Press Release