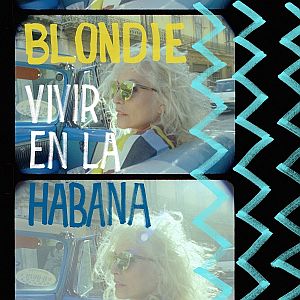 Legendary New York Rock band BLONDIE has announced the release of the official soundtrack for the short film 'Blondie: Vivir En La Habana' on July 16, 2021. The film documents the band's live debut in Havana, Cuba, and premieres in June in the UK at the Sheffield Doc / Fest and in North America at the Tribeca Festival. In 2019, a 40-year dream came true for the iconic band: BLONDIE were invited by the Cuban Ministry of Culture to perform in Havana as part of a cultural exchange. The four-day event titled 'Blondie in Havana' was a unique experience that included two cross-career sets and brought the band's extensive catalogue to Cuba for the first time.
This extraordinary experience and career highlight was captured in the new short film 'Blondie: Vivir En La Habana' by the artist and director Rob Roth. The official soundtrack of the same name will be released by BMG as a six-track EP as a limited blue vinyl edition. The cult hits 'The Tide Is High' and 'Wipe Off My Sweat' contained on it are already available digitally. Other musical pearls are 'Heart of Glass', 'Rapture', 'Dreaming' and 'Long Time' from BLONDIE's last UK Top 5 album 'Pollinator' (2017). Numerous guests such as Carlos Alfonso, Ele Valdés and María del Carmen Ávila from the Cuban group SÍNTESIS accompanied BLONDIE on stage at this special event.
"Singers, percussionists, wind instruments - many wonderful Cuban musicians have joined our concerts and raised our songs to a great, exciting level. At 'The Tide Is High' the SÍNTESIS singers Ele Valdés and Maria del Carmen Avila sang and played with me the original harmonies that John Holt wrote for the song at the time. It was unbelievably beautiful! Latin American music has always been part of the New York way of life, so it was great to finally be able to give the heartbeat of Cuba a very personal touch. VIVA!", Debbie Harry is happy. Clem Burke adds, "It was a unique opportunity to experience the sights and sounds of Cuba. It is such a beautiful and friendly country. There is so much appreciation for art, music and nature. The Cuban people have an incredible zest for life, and it was unprecedented to experience it first-hand."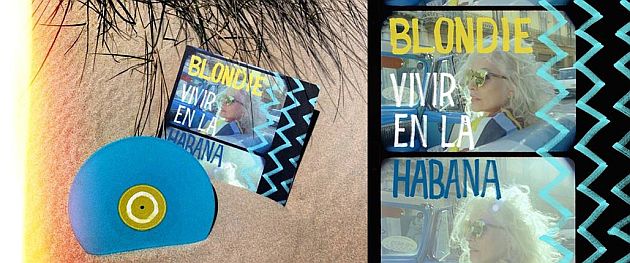 The film 'Blondie: Vivir En La Habana' is due to be released later this year and highlights topics such as the influence of Cuban artists, the transition from Havana to New York City, politics and also the last-minute surprise and disappointment that Chris Stein unexpectedly could not attend. Directed by Roth, the film, narrated by Debbie, Chris and Clem, is like a meditation on this formative journey. It shows the highlights of the two live concerts as well as unique, intimate moments behind the scenes during their stay in Cuba. It is a wonderful portrait of the first experiences of this legendary band in Havana, the magical exchange between the musicians of both cities, who both call their home, and their mutual influence.
"When this opportunity arose, I couldn't help but document it. I knew it was going to be very special", explains director Rob Roth. "We were only there for a few days, but we managed to capture some really nice moments and authentic interactions with people. That's what the title is about of the film: Living in Havana, not just being there. The music, the live performances, watching the Cubans enjoy life, the expressions on their faces... all that means to me Live and be alive."
'Blondie: Vivir En La Habana' premieres in the UK at Sheffield Doc / Fest June 4-13 and North America at the Tribeca Festival June 9-20. He already received great praise at the Rizoma Film Festival in Madrid (May 12) and the SeeYouSound International Music Film Festival in Italy in February. In addition to the release of the soundtrack, Debbie Harry and Chris Stein planned the "In Conversation" reading tour, which should actually have taken place in autumn 2021. This has now been postponed to February 2022. Tickets and further information are available at www.blondie.net.
The official soundtrack will be released on July 16, 2021 as a six-track EP digitally and on blue vinyl in a limited edition via BMG. 'Blondie: Vivir En La Habana' can now be pre-ordered as a limited blue vinyl edition here: https://blondie.lnk.to/vivrenlahabanaPR. The songs 'The Tide is High' and 'Wipe Off My Sweat' can be streamed or downloaded here: https://blondie.lnk.to/tideishighPR.
Tracklist

01. The Tide Is High
02. Long Time
03. Wipe Off My Sweat
04. Heart of Glass
05. Rapture
06. Dreaming
About BLONDIE

BLONDIE is the front woman and songwriter Debbie Harry, the guitarist and conceptual mastermind Chris Stein, the powerhouse drummer Clem Burke and long-time bandmates, bassist Leigh Foxx, guitarist Tommy Kessler and keyboardist Matt Katz-Bohen. The band is undeniably one of the most innovative and influential of our time. Her hits include the ground-breaking Rock-Disco hybrid 'Heart of Glass', the equally influential Hip-Hop fantasy 'Rapture', the stalker love song 'One Way Or Another' and the lively calypso 'The Tide Is High'. Over the past four decades, BLONDIE brought Punk to the dance floor, introduced Hip-Hop sounds to a wider audience, and created a vast repertoire of timeless hits. BLONDIE became a true global icon whose influence has shaped and continues to shape the world of music, fashion and the arts. From disrespectful Lower East Side punks to international ambassadors of New York coolness, the band will forever be synonymous with the Punk spirit that resides in each of us. To date, they have sold over 40 million albums worldwide and were inducted into the Rock'n'Roll Hall of Fame in 2006. If you look back on the band's eventful career, the rare longevity of over 40 years of band history is all the more astonishing.
About Rob Roth

Rob Roth is a multidisciplinary artist and director based in New York City who graduated from the Pratt Institute with a Bachelor of Fine Arts. In his unmistakable works of art, he repeatedly combines a variety of media such as theatre, film, audio or performance. His work has been shown at the New Museum for Contemporary Art, PS122, Abrons Art Center, Here Arts, Museum of Arts and Design, Deitch Projects and the Whitney Museum of American Art, among others. Roth directed the music video for 'Doom or Destiny' by BLONDIE featuring Joan Jett, which was listed in several "Best Of 2017" polls, and at the "Into The Veil" event by Atlas Obscura at Green-Wood Cemetery. He took over the creative direction of Debbie Harry's long-awaited memoir 'Face It', which became an instant New York Times bestseller.
Web links

Facebook: https://blondie.lnk.to/vivrenlahabanaFA
Twitter: https://blondie.lnk.to/vivrenlahabanaTW
Instagram: https://blondie.lnk.to/vivrenlahabanaIN
YouTube: https://blondie.lnk.to/vivrenlahabanaID
Website: https://blondie.lnk.to/vivrenlahabanaWE
Source: Press Release