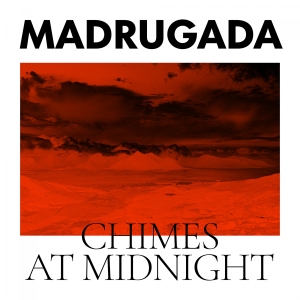 MADRUGADA announce new album 'Chimes At Midnight', Release Date: Jan 28, 2022 (Label/Distribution: Warner Music), incl. first two singles 'Nobody Loves You Like I Do' and 'Dreams At Midnight'

When MADRUGADA got together again in 2019 after a ten-year break to celebrate the 20th anniversary of their debut album classic 'Industrial Silence' with an extensive comeback tour through Europe, they made two positive statements. First: interest in her band had not decreased in her absence, on the contrary - it had even increased on the European continent. Second, they loved being together again. In the almost 25 years since it was founded, it has never been so much fun to be in MADRUGADA.
Sivert Høyem, singer and guitarist, said: "It was as if the last piece of the puzzle had slipped into place. I had never felt so comfortable on stage. It was no stress at all, very different from before, where I always felt great stress." The tour was a veritable triumph, with sold-out shows in their home country Norway, many festival dates and a large number of concerts all over Europe, where the band now sold-out halls that were twice the size of the venues, they had previously played in.
Ten years after the band split up due to the death of guitarist Robert Burås, the three remaining founding members - Høyem, Frode Jacobsen (bass) and Jon Lauvland Pettersen (drums) - felt a new energy and were ready for more. They wanted to play more concerts. New music had to be made for this. Because they agreed on this: they didn't want to keep surfing the wave of nostalgia forever. And so it happened that MADRUGADA, a band that normally takes an eternity to agree on even the smallest things, rushed from the stage straight back to the rehearsal room in December 2019.
Madrugada - Nobody Loves You Like I Do (Official Music Video)
"We had a tight schedule," says Frode Jacobsen. "We booked into the Sunset Sound Studio in Los Angeles at the end of February and had about a month and a half to develop the material and get it into shape. It went like clockwork. We were still high from touring and took that energy with us into the recording booth". "Each of us brought melodies and ideas, which was very beneficial to the creative process," adds Høyem. "And then we just saw where we were headed. We still had the 'Industrial Silence' album in our veins after we played it played live on the tour and I had the feeling that there was a direct connection to our formative years. No matter what we touched - it sounded like MADRUGADA in the end."
As a result, the band continued to work on the songs in their own rehearsal room / studio in Oslo and another studio 45 minutes out of town, Velvet Recordings, followed by another week of fine-tuning in Berlin. 70% of the developed material is completely new, the remaining 30% originated from some older songs that they saved from oblivion, 'The World Could Be Falling Down', for example, which dates from the time of their first album, or 'Slowly Turns The Wheel', which has its origin somewhere between the third and fourth album.
"The process was fundamentally different from recording my last album with the band ['The Nightly Disease', 2001]," says Lauvland Pettersen. "Back then, it was a classic case of 'second album syndrome' - we didn't have much prepared, but just went in and tried to get the most out of the time. This time the material was not only written in advance, but also carefully arranged".
Prepared in this way, the band arrived in Los Angeles at the end of February and was looking forward to recording in a legendary studio that had already created classic albums by LED ZEPPELIN, FLEETWOOD MAC, THE DOORS and THE ROLLING STONES. "A childhood dream came true, without question," says a deeply grateful Lauvland Pettersen: "What a gift: I'm here with my dear friends and we have the time of our life."
Producer Kevin Ratterman (RAY LAMONTAGNE, MY MORNING JACKET, THE FLAMING LIPS) was waiting for them. The plan was the same as before in the Sunset Sound Studio: get into the flow and work quickly. The band had given themselves two weeks to record the music live in the studio and play it on analogue tapes.
They met the deadline, which turned out to be a win in two respects, because short after the last song on the album, 'Ecstasy', was finished, the world as we knew it went into shutdown. It was March 2020, and the plan was for MADRUGADA to go home, rest for a week, and then return to overdub and mix the album at a studio in Silver Lake, L.A. Instead, they drove home - and stayed there. "It was a 'last flight from Saigon'-like scene," recalls Høyem. "And the tickets weren't cheap."
Up until that point in time, 'Chimes at Midnight' had actually been created in no time at all. When it became clear that the world would be in a state of emergency for quite a while, it was important not to lose momentum. In order to complete the album, unorthodox means had to be resorted to. The main tools: zoom and a large screen TV, with Ratterman and the American team on one side in Los Angeles and MADRUGADAD on the other in Oslo, Norway. Frustrating? Oh yeah. But the esprit de corps remained strong.
Madrugada - Dreams at Midnight (Official Music Video)
"Technology made it possible for us to overdub in real time while Kevin was producing us from across the Atlantic," says Jacobsen. "Unusual and, to put it mildly, quite interesting. But it slowed the process down tremendously." It goes without saying that Høyem, Jacobsen and Pettersen were painfully aware of Robert Burås' absence while working on the new songs, personally as well as professionally. But what else has changed since the last album 'Madrugada' (2008) and 'Chimes at Midnight'?
"The songs are a reflection of who we are in the here and now," says Høyem. "We're older. We're all fathers. I think I have a more differentiated view of life than 20 years ago, a bigger ability to feel more than one thing at a time. The aesthetic of MADRUGADA was very New York City and Berlin, we were a punk band that played the blues. All of these elements are still there. But this time we felt an appeal, we felt stronger to dedicate to the dreamy aspects of our work. The city in which we recorded has encouraged us to do so." The result, however, is "not a conceptual album," as Jacobsen says, referring to 'Chimes at Midnight'. "It doesn't point in any particular direction, which makes it special for me in a way that is common to all of our albums: it's made to be played live".
"I think it maybe has a stronger singer-songwriter vibe," Lauvland Pettersen also sees differences to the band's previous works. "If I want to write a ballad and give it full orchestral treatment, I'm free. It even had a therapeutic effect. The concerts were pure pleasure, but the album made me feel like I could close with something. 'Chimes at Midnight' emerged from an atmosphere of great joy and benevolence. For me it's a passionate album," concludes Høyem.
And if there is such a thing as an idealistic superstructure, it is Høyem, Jacobsen and Pettersen's respect for their shared history. "I've always had romantic ideas about bands in general - and about our band in particular," said Jacobsen. "I never wanted to make music outside of MADRUGADA. I wanted to do it with the people who were the reason why I started all of this back then."
MADRUGADA - 'Chimes At Midnight' (Album)
Label/distribution: Warner Music
Release date: Jan 28, 2022
MADRUGADA - 'Dreams At Midnight' (Single)
Label/distribution: Warner Music
Release date: Sep 24, 2021
MADRUGADA - 'Nobody Loves You Like I Do' (Single)
Label/distribution: Warner Music
Release date: Sep 10, 2021
Tour starts on March 25, 2022

March 25, 2022 Cologne - Victoria Carlswerk
March 26, 2022 Wiesbaden -Schlachthof
March 27, 2022 Stuttgart - Im Wizemann
March 29, 2022 Munich - Muffathalle
April 1, 2022 Berlin - Tempodrom
April 2, 2022 Dresden - Schlachthof
April 4, 2022 Hamburg – Markthalle
Source: Press Release