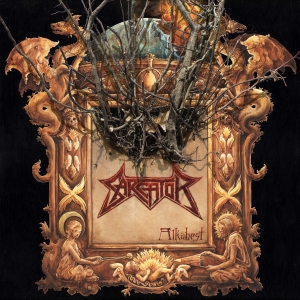 Swedish Black / Thrashing troop SARCATOR is gearing for the sophomore album, 'Alkahest', out 21 October via Black Lion Records on CD, vinyl, cassette, and digital formats. Aged 17 to 23, these reapers have continued sharpening their blades ever since their emergence in 2010. SARCATOR is now streaming the lyric video for the track 'The Long Lost', the album's third and final single.
SARCATOR informs: "'The Long Lost' is an experimental song but at the same time a pretty simple one. The western inspiration for this song really shines through in the acoustic intro, middle part, and outro. We wanted those parts to sound like 'a man and his guitar doing his thing.' This song is the only one where we chose to tune down the guitars, which we thought the song demanded to show the full potential of its heaviness."
'The Long Lost' will be available on digital / streaming platforms this Friday, 30 September 2022. PRE-SAVE the single right here: https://orcd.co/the-long-lost. 'The Long Lost' lyric video:
Having two EPs and an album, SARCATOR beckons new hope for Swedish Metal. These young adults from Trollhattan evoke titans of the genre that blurred the lines between the first wave of black metal and the Teutonic thrash. After spawning two mini albums, they headed to the Studio-MT in their home town to record their self-titled debut, released in November 2020. Only a few months after the release, they got nominated for the P3 Gold radio listeners award for Best Swedish Metal Group. Even though they didn't win, it was still significant proof that the band was on the right path and not bad for four guys still in high school.
On the new album 'Alkahest', SARCATOR progresses forward in their approach, with new territories explored. It is a heartfelt album with a broader palette of influences and inspirations. This time, their already discharged merciless blackened thrash triumphantly came to grips with melodic death metal sparks of THE CROWN, DISSECTION, and AT THE GATES. THE CROWN influences probably came by birth as the line-up includes Mateo Tervonen - the son of Marko Tervonen from THE CROWN. Tearing the ground and tearing the skin, SARCATOR is poised to release the blood and life within.
Tracklist

01. Ascend
02. Perdition's Hand
03. Grave Maggot Future
04. Dreameater
05. The Long Lost
06. He Who Comes from the Dark
07. Devil Sun
08. Sorrow's Verse
09. Alkahest
Line-up

Mateo Tervonen – Lead Guitar & Vocals
Felix Lindkvist – Bass & Backing Vocals
Emil Eriksson – Lead Guitar & Backing Vocals
Jesper – Drums
Recorded, Mixed, & Mastered by Marko Tervonen at Studio-MT, Trollhattan, Sweden
Guitars, Bass, and Vocals were tracked at Studio-MT, Trollhattan, Sweden.
Drums tracked at Studio N3, Trollhattan, Sweden.
Artwork by Dávid Glomba
Source: Press Release