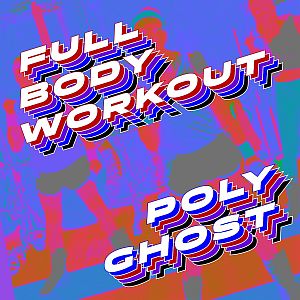 Artist: Poly Ghost
Title: Full Body Workout (Single / Video), Miracle (Album)
Genre: Synth Pop / Indie Rock
Release Date: 20th January 2023 (Single / Video), 2nd June 2023 (Album)
Label: recordJet
It's January and it is time to start making new resolutions! POLY GHOST support you! With the single 'Full Body Workout' they released a Synth Pop / Indie Rock firework on January 20, 2023, reminiscent of the golden days of the French house gods JUSTICE and DAFT PUNK. That grabs you, shakes you up and lures you onto the mat for a workout. The song opens with 70s vocal samples that are chopped up to the maximum and alienated with Bitcrush. Slap bass and synthesizers clearly drive and the chorus suddenly lets distorted guitars take over.
'Full Body Workout' is about the bittersweet state of life that makes you love yourself before anyone else can. If you're feeling shitty and even if nothing helps anymore, there is still the jump over your own shadow, the metamorphosis from your own snail shell and reaching for the stars. "When life pushes you down, and you don't know what to do: Push up, work it out and dance, just for you".
Watch the official clip for the single 'Full Body Workout' here:
The trio from Hanover / Hildesheim / Chemnitz combines Pop references and sounds from a decade in which bitter trench warfare was once fought out. VIVA and VIVA 2 finally united, confetti rain in Seattle, fuzz guitars at The Dome. Playing with signature sounds and expectations, opening chains of associations with keywords that lead to infinity: POLY GHOST follow what they enjoy and the penchant for the absurd is a recurring companion.
Where else should the music video for 'Full Body Workout' take place than in the gym. The trio takes you back to the days of the 80's workout VHS cassettes. On the sports floor and under office lights, they take you into their development program, in which sport is a symbol of motivation and endurance. 'Full Body Workout' is the second single after 'Artificial Crush' from the album 'Miracle', which will be released on June 2, 2023.
Website: https://www.polyghost.de/
Facebook: https://www.facebook.com/polyghost.polyghost/
Instagram: https://www.instagram.com/poly.ghost/
Source: Press Release