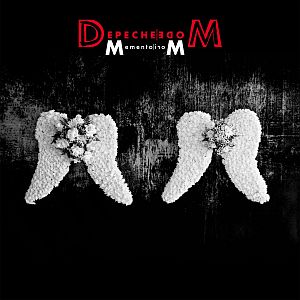 DEPECHE MODE release the first single plus video from their upcoming album today, 'Ghosts Again'! The long player 'Memento Mori' will follow on march 24, 2023 via Columbia Records. From May live on tour in Europe including dates in Germany!
With the single 'Ghosts Again', the album release of 'Memento Mori' is already preceded by the first pre-outtake. 'Ghosts Again' was first heard last October during a secret preview as part of the exclusive 'Memento Mori' tour announcement event in Berlin and already represents nothing less than a flawless DEPECHE MODE classic: Dave Gahan's visually stunning lyrics like "Wasted feelings, broken meanings... a place to hide the tears we cry" combine with a hypnotic guitar character by Martin Gore over an uplifting, upbeat groove. 'Ghosts Again' is available now on all digital streaming services and as an instant download Pre-saves and pre-orders of 'Memento Mori' available. The album will be released in the following formats: (exclusive) 2LP vinyl, CD, cassette and digital.
"For me, 'Ghosts Again' captures the perfect balance of melancholy and joy," says Gahan. "It's not often that we record a song that I can't just listen to over and over again - I'm delighted it's also huge to be able to share it with the world," adds Gore.
Long-time DEPECHE MODE collaborator and artwork designer Anton Corbijn, who also created the album cover for 'Memento Mori', is once again responsible for the visual realization of 'Ghosts Again'. See Corbijn's extraordinary visual translation in sober yet rich monochrome tones here:
'Memento Mori' marks DEPECHE MODE's 15th studio album overall, while Gahan and Gore present the first long-player in a two-piece line-up after the tragic death of band co-founder Andrew "Fletch" Fletcher in 2022. Produced by James Ford with support from Marta Salogni, 'Memento Mori' matured during the early stages of the global Covid pandemic; a period that also had a thematic impact on the songs. The album's twelve tracks bridge a variety of moods and musicals textures - from the menacing opener to the resolution at the end, the emotional spectrum spans from paranoia and obsession to psychological release and joy and countless emotional overtones.
Tracklist

01. My Cosmos Is Mine
02. Wagging Tongue
03. Ghosts Again
04. Don't Say You Love Me
05. My Favourite Stranger
06. Soul With Me
07. Caroline's Monkey
08. Before We Drown
09. People Are Good
10. Always You
11. Never Let Me Go
12. Speak To Me
As previously announced, DEPECHE MODE will embark on 'Memento Mori' tour to coincide with the album release. The concert tour, presented by Live Nation, marks DEPECHE MODE's first tour in more than five years and the band's 19th tour overall is taking place on March 23 in the form of a special series of North American arena concerts, which will see DEPECHE MODE at New York's Madison Square Garden, the United Center in Chicago, the Kia Forum in Los Angeles, the Scotiabank Arena in Toronto, as well as other metropolitan stations From May 16, DEPECHE MODe will be guests in European stadiums such as the Paris Stade de France, the San Siro Stadium in Milan or the Twickenham Stadium in London. In Germany, the band will visit Leipzig, Düsseldorf, Munich, Frankfurt and Berlin. Due to the high demand, additional shows have been planned in many countries. Further information at www.depechemode.com.
With over 100 million records sold and a worldwide live audience of more than 35 million enthusiastic fans, DEPECHE MODE represent a constantly evolving and ground-breaking musical source of inspiration. As an inspiration for fans, critics and fellow artists alike, it is impossible to imagine popular music without it, With the album 'Memento Mori' and the following tour, DEPECHE MODE open the next chapter in which they continue their incomparable and living legacy.
German Tour Dates

26. May - Leipzig, Leipziger Festwiese
04. Jun - Düsseldorf, Merkur Spiel-Arena
06. Jun - Düsseldorf, Merkur Spiel-Arena
20. Jun - Munich, Olympiastadion
29. Jun - Frankfurt, Deutsche Bank Park
01. Jul - Frankfurt, Deutsche Bank Park
07. Jul - Berlin, Olympiastadion
09. Jul - Berlin, Olympiastadion
All dates on www.depechemode.com
Tickets:
https://tidd.ly/3DXG9LQ
Source: Press Release