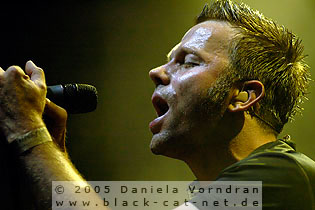 Rosenhof, Osnabrück, Germany
17th September 2006
Camouflage
German Synth pop veterans 'Camouflage' are back with new material – a single, an upcoming CD and of course the tour to support the CD. The single 'Motif Sky' was just released a short time ago and now it's time for the new album 'Relocated' to come. The album will be promoted by a tour. More information on
http://www.camouflage-music.com/
.
The single 'Motif Sky'
In Friday, 28th July, the new single 'Motif Sky' was released in Germany and it will make the hearts of 'Camouflage' fans beating faster. It was released as a five-track limited edition in a high quality digi-pack folder for the price of a usual MCD. Besides the single version and a highly demanded extended version the release contains also the 'Smallboy Remix' which was made by the live drummer Jochen Schmalbach who also produced remixes for 'Madonna' or 'Depeche Mode' as part of the project 'Tiefschwarz'. The MCD contains another appetizer for the new album – the longer version of 'Real Thing' sung by Oliver Kreyssig. This version is nearly double as long as on the album and captivates with lots of new elements compared with the album version. The album is topped off with the non-album track 'Conversation' which is a very club-compatible song that was tested live during the last year.
Tracklist
1. Motif Sky
2. Real Thing (Longer)
3. Conversation (Non-Album Track)
4. Motif Sky (Extended Version)
5. Motif Sky (Smallboy Dub Remix)
The album 'Relocated'
After the release of the single 'Motif Sky' it's finally time that the album 'relocated' will be released on 25th August 2006 in Germany. 'Relocated' is a smart title for the seventh album of the band. It combines old and new times – ideas for titles like 'Dreaming' or 'Motif Sky' date back to the early 90s. They were modernised and newly instrumented. An optimistic love song like 'The Pleasure Remains' is standing besides a stirring song like 'Passing By' which is described by Marcus as "Space drama with a Happy End". In total, 'Relocated' is complex and wears the lineaments of a typical 'Camouflage' album.
Tracklist
01. Memory
02. We Are Lovers
03. Motif Sky
04. Real Thing
05. Passing By
06. Confusion
07. The Perfect Key
08. Stream
09. Dreaming
10. The Pleasure Remains
11. Bitter Taste
12. Something Wrong
13. Light
14. How Do You Feel?


The release parties

To promote the album, several release parties will take place where the new album will be presented and where 'Camouflage' t-shirts and signed posters can be won.

Dates
24.08. Leipzig - Darkflower
24.08. Oberhausen - Eisenlager
25.08. Frankfurt - U60 311
26.08. Rostock - MAU Club
26.08. Munich - Millenium Club
26.08. Berlin - BKA
31.08. Ludwigsburg - Rockfabrik
08.09. Cologne - Alter Wartesaal
09.09. Berlin - Insel
09.09. Werdau near Zwickau - Linde
09.09. Hamburg - ReturnOfLivingDead @ Markthalle
09.09. Stuttgart – Röhre


The 'Relocated' tour

Of course, the new album will be presented live on stage as well. Here are the dates:
15. September 2006 Hamburg – Markthalle
16. September 2006 Magdeburg – Factory
17. September 2006 Osnabrück – Rosenhof (REVIEW PLANNED)
19. September 2006 Cologne – Live Music Hall
20. September 2006 Krefeld – Kulturfabrik
21. September 2006 Frankfurt – Unionhalle
23. September 2006 Soest – Sonic
24. September 2006 Saarbrücken – Garage
26. September 2006 Nürnberg – Hirsch
27. September 2006 Ludwigsburg – Scala
28. September 2006 Munich – Alabamahalle
29. September 2006 Leipzig – Anker
30. September 2006 Dresden – Reithalle
1. October 2006 Berlin – Postbahnhof
2. October 2006 Gera – Metropol
4. October 2006 Zurich (Switzerland) – Abart
5. October 2006 Vienna (Austria) – Planet Music
6. October 2006 Hannover – Capitol
7. October 2006 Rostock – Scanline Arena
10. November 2006 Ankara (Turkey) – Saklikent
11. November 2006 Istanbul (Turkey) – Studio Live
25. November 2006 Krakow (Poland) – Studio Club
1. December 2006 Riga (Latvia) – Sapnufabrika
2. December 2006 Vilnius (Lithuania) – tba
3. December 2006 Tallin (Estonia) – Club Hollywood