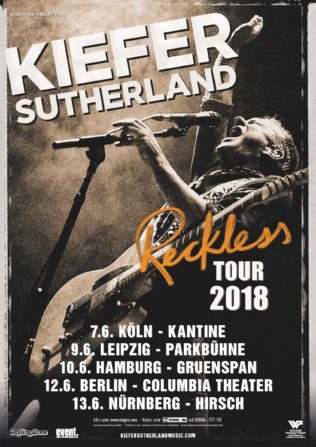 Hollywood and TV star to visit Germany for the second time with his band. June 2018 Concerts in Cologne, Leipzig, Hamburg, Berlin and Nuremberg. Current album 'Down In A Hole' in stores now. Presale Tickets available from Wednesday, March 21, 2018
Following on from his sold-out concert successes last June in five German cities, Hollywood star KIEFER SUTHERLAND is touring for the second time in Germany. The 51-year-old Canadian Emmy and Golden Globe winner has confirmed five more shows to present his debut album 'Down In A Hole' (Warner Music Nashville) live in 2018. KIEFER SUTHERLAND will play several shows in Germany. You'll find the tour dates below.
For over three decades KIEFER SUTHERLAND has been known for his stellar acting career. One of his first films 'Stand By Me' (1986) became a cinema classic. This was followed by other blockbusters such as 'The Lost Boys', 'Young Guns', 'Flatliners', 'A Question of Honor', 'The Jury', 'Dark City', 'Phone Booth', 'Melancholia' and 'Forsaken', a classic western with his father Donald Sutherland, as well as the TV series 'Designated Survivor'. As Agent Jack Bauer in the TV real-time series '24', he revolutionized a whole genre for eight seasons from 2001 to 2010, becoming the then highest paid actor in the world.
Fewer people know that other talents and interests reside in Sutherland, or that he also approaches them with the same dedication as his acting. Since 1992, he has worked together with John English as a cattle farmer and is a member of the US national rodeo team USTRC as a professional rodeo rider. With this team he has won several rodeos in Phoenix and Los Angeles.
In 2002, together with his best friend Jude Cole, he founded the small but fine record label Ironworks. The aim of the label was to support and give local musicians a platform at a time when the music industry was undergoing a monumental upheaval. Among the better known Ironworks artists are ROCCO DELUCA AND THE BURDEN, HONEYHONEY and BILLY BOY ON POISON. In 2009, Sutherland left the label to face new challenges. They are coming in spring 2015 when Kiefer played his friend Cole two of his self-written songs, his reaction convinced Sutherland not to give these pieces to other artists, but instead to make an own album. The result, released in the summer of 2016, was called 'Down In A Hole' and was, according to Sutherland, a kind of diary. "All eleven songs are based on personal experiences. It is a beautiful and very satisfying thing to be able to look back on one's life, and to express the good and the bad times with music. Best of all, as much as I enjoyed writing and recording the songs, I'm so excited to play them in front of a live audience; that's something I never expected."
The Stagecoach Festival in Indio, California, at the end of April, began a world tour which brought Sutherland to Germany for the first time in June 2017 as a musician. The concerts in this country should again be a triumph, as press and fans gather to celebrate the actor for his unique and nonchalant way he presents his songs on stage. Sutherland is currently working on another album, a few tracks from which will probably be heard this upcoming June.
German Dates

07.06.2018 KÖLN – Kantine
09.06.2018 LEIPZIG – Parkbühne
10.06.2018 HAMBURG – Gruenspan
12.06.2018 BERLIN – Columbia Theater
13.06.2018 NÜRNBERG – Hirsch
The general presale starts on Friday, March 23, 2018. Tickets are available at www.myticket.de as well as by phone at +49 (0)1806 - 777 111 (20 Ct./Call - mobile prices max 60 Ct./Call) and at the known ticket agencies. Already from Wednesday, 21st March 2018 - 10:00 am, Ticket providers Myticket and
CTS Eventim
offer tickets.
Further Information from: www.kiefersutherlandmusic.com