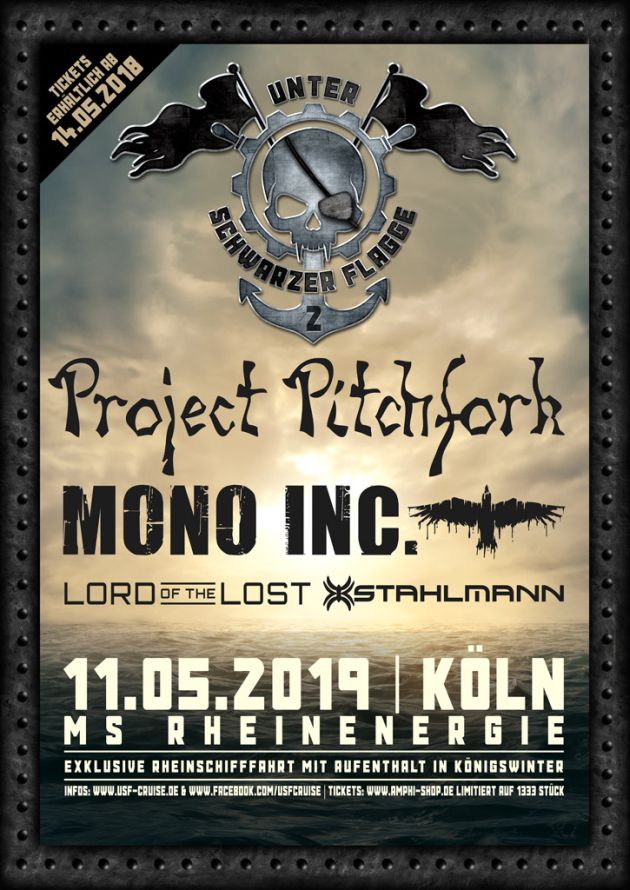 MS Rheinenergie, Cologne, Germany
11th May 2019
Unter schwarzer Flagge ("Under Black Flag") 2019 with Project Pitchfork, Mono Inc., Lord Of The Lost & Stahlmann

On May 11th, 2019, the Rhine once again turns into a black sea, when Jolly Roger lifts the anchor for the grand ride. Festival meets day trip with hard riffs, legendary electro waves and a unique backdrop - strictly limited to just 1,333 tickets! "Under black flag" the course leads from Cologne upstream into the legendary Siebengebirge to the historic old town of Königswinter, at the foot of the Drachenfels. On the way, four selected bands provide for increased sea state.
The riff-thunderstorm by STAHLMANN, which opens the program, is followed by the Gothic rockers MONO INC. as headliner of the outward journey, which are thematically fully on course with their 2017 album 'Together Till The End' and the hit 'Boatman'. On the way back to Cologne we stay directly in Hamburg. LORD OF THE LOST first serves a heavy rock thunderstorm before the electro icons PROJECT PITCHFORK ask for an epic dance into the night.
Between the concerts on afternoon and evening, the MS Rheinenergie will drop anchor in Koenigswinter for a three-hour shore leave and offers all participants the opportunity to explore the city of Koenigswinter on their own. For example you could climb up the Drachenfels and enjoy the phenomenal view on the Rhine River. You may visit the Niebelungenhalle (with a reptile zoo) or take a ride with the Drachenfels train. Another highlight of the city is the fairy-tale castle Schloß Drachenburg. More information about ticket prices and opening times will be announced soon.
This unique combination of a boat cruise and a music festival, merged with the wonderful landscape of the Siebengebirge will care for unforgettable moments.
Tickets

The tickets are strictly limited to 1,333 units and exclusively available NOW at the Amphi Shop under www.amphi-shop.de for a pre-sale price of 69 euros plus 7 euros fees. Shipping will be on top. The price includes the cruise on the Rhine on board of the MS Rheinenergie on 11th May 2019 from Cologne to Koenigswinter and back. NOT included are possible entrance fees for the sights during your shore leave as well as all costs for accommodation or food and beverages. Information about possible rebates for participants of the cruise are available via www.usf-cruise.de/tourismus.html. All fees have to be paid directly at the respective venues.
Additional Information

UNTER SCHWARZER FLAGGE - 11th May 2018 - Cologne | MS Rheinenergie
Bands: Project Pitchfork, Mono Inc., Lord Of The Lost & Stahlmann
Date: 11th May 2019
Doors: 11:00
Departure: 12:00
Shore Leave Koenigswinter: 16:30 - 19:30
Arrival: ca. 00:00
Info: www.usf-cruise.de
Tickets: www.amphi-shop.de