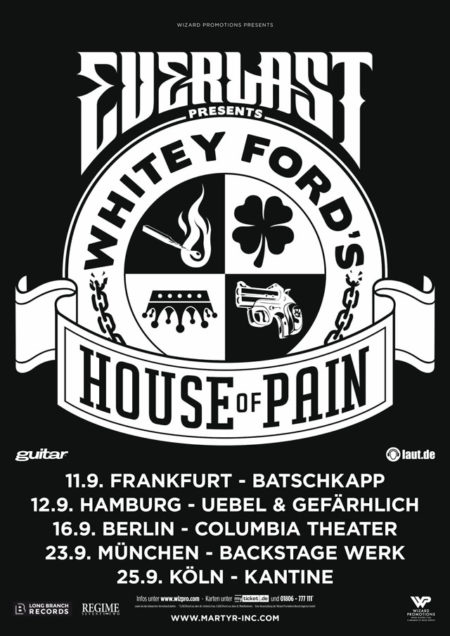 The Grammy winner and multi-platinum seller is a welcome guest in Germany. Mostly,
EVERLAST
aka Erik Schrody appeared as a solo artist, this time he travels with his band to Germany. The appearance will consist of two parts. The first part will mark the 20th anniversary of the multi-million seller 'Whitey Ford Sings The Blues' (1998). The second part will feature a mix of HOUSE OF PAIN songs, old and new EVERLAST tracks, and songs from his album, 'Whitey Ford's House Of Pain'. EVERLAST will pay visits to Frankfurt, Hamburg, Berlin, Munich and Cologne.
The general presale starts on Friday, June 22, 2018. Tickets are available at www.myticket.de as well as by phone at +49 (0) 1806 - 777 111 and at the known ticket agencies. From Tuesday, 19 June 2018 - 11.00 clock, the ticket providers MyTicket and
CTS Eventim
offer presales.
The Irish-born American began his career with Ice-T's RHYME SYNDICATE CARTEL. Later, he became part of the Irish-American Rap group HOUSE OF PAIN, who promptly sold millions of their self-titled debut. As their success eased off a little, EVERLAST launched a solo career. With his second album, 'Whitey Ford Sings The Blues' he resumed the tradition of 'Talkin' Blues'. "My storytelling comes from Rap. I take all the things that inspired me in life and mix them. A DJ does this with his records. I really like (Talking Blueser) John Lee Hooker, but I never wanted to emulate him," says the 48-year-old. "For me there are no rules, I have no musical education. The first music I loved was Hip Hop, which is well known everywhere. Samples of old songs turn into new music. With the attitude of a hip-hopper, I now take old music and make something new out of it. "
A hallmark of EVERLAST is his mix of Blues, Country, Soul, Rock, Irish Folk and even classical music. "Hip Hop must open itself up" became Schrody's credo. For example, in 1999 he collaborated with Carlos Santana for his mega-seller 'Supernatural', and the single 'Put Your Lights On' won a Grammy. Later, with the former HOUSE OF PAIN members Danny Boy & DJ Lethal, he founded the hip-hop super group LA COKA NOSTRA, which also features electric guitars. Their album debut had guests such as Snoop Dogg, B-Real (Cypress Hill), Sick Jacken and others. EVERLAST has been the recipient of numerous guest appearances on songs and remixes by other artists - MADONNA, KURUPT, CYPRESS HILL, SICK OF IT ALL, XZIBIT, KORN etc.
As Whitey Ford (named after an American baseball player), he also took up the guitar. "I played the guitar as a small child, although I hardly learned any lessons. Even as a teenager I played for a couple of years, then I started rapping, so I had no need for a guitar," Schrody recalls. "When you're in the music business, you can find guitars everywhere, on the bus and in the studio. I wrote some songs, but then I was a narrow-minded rapper and never thought I would record them. The older I got, the more I was convinced that these songs had to be put on record - and so this new direction opened up for me."
EVERLAST - Presents Whitey Ford's House Of Pain 2018
11.09.2018 Frankfurt - Batschkapp
12.09.2018 Hamburg - Uebel & Gefährlich
16.09.2018 Berlin - Columbia Theater
23.09.2018 Munich - Backstage Werk
25.09.2018 Cologne - Kantine