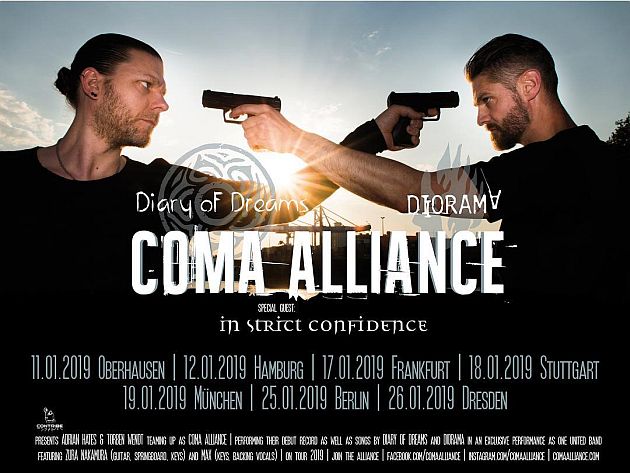 COMA ALLIANCE is for many fans of the bands DIARY OF DREAMS and DIORAMA a huge dream to come true. The two bands' paths crossed several times in the past two decades and the first signs of COMA ALLIANCE in September 2016 with three live concerts as a co-headliner tour were already a great pleasure. As it seems, not only the fans wished an even greater alliance but the musicians itself seemed to like the idea. Already in 2016 there was a promise to continue the project. Two years later we know it's all coming true in such a great way! The project's first album is going to be released on the 16th November 2018 (pre-order available with the same link as ordering the tickets, see below) and a whole 7 shows tour will take place in January 2019! The shows will be consisting of well-known songs of both bands in a new interpretation as well as brand new songs from the new album.
The members of the new-born project are masterminds Adrian Hates (DIARY OF DREAMS) and Torben Wendt (DIORAMA), completed on tour with Max (DIARY OF DREAMS) and Zura Nakamura (DIORAMA). We still don't know what is exactly to be expected of this project, but knowing the names of its creators and seeing the breath-taking promo pictures taken by Silke Jochum promises something that might exponentially increase all we know and love from the two 'D bands', D² if you like.
The new music is still a surprise, it's not known yet if there will be a single or video in advance, but the musicians are very active at the moment, so keep an eye on the Facebook pages or websites, so you don't miss anything. Exciting times ahead. Stay tuned and don't forget to buy your tickets in advance to support the artists. As support, IN STRICT CONFIDENCE will accompany the tour!
"Join The Alliance" © Coma Alliance
Tour Dates

11 Jan 2019 - Oberhausen, Kulttempel
12 Jan 2019 - Hamburg, Markthalle
17 Jan 2019 - Frankfurt, Batschkapp
18 Jan 2019 - Stuttgart, Im Wizemann
19 Jan 2019 - Munich, Backstage Werk
25 Jan 2019 - Berlin, Huxley's Neue Welt
26 Jan 2019 - Dresden, Reithalle
Tickets for all shows: https://www.diaryofdreams.de/shop/produkt-kategorie/coma-alliance/ and
Eventim
Info: https://www.facebook.com/comaalliance / https://www.diaryofdreams.de / http://diorama-music.com
More on
Coma Alliance
,
Diary of Dreams
,
Diorama
and
In Strict Confidence