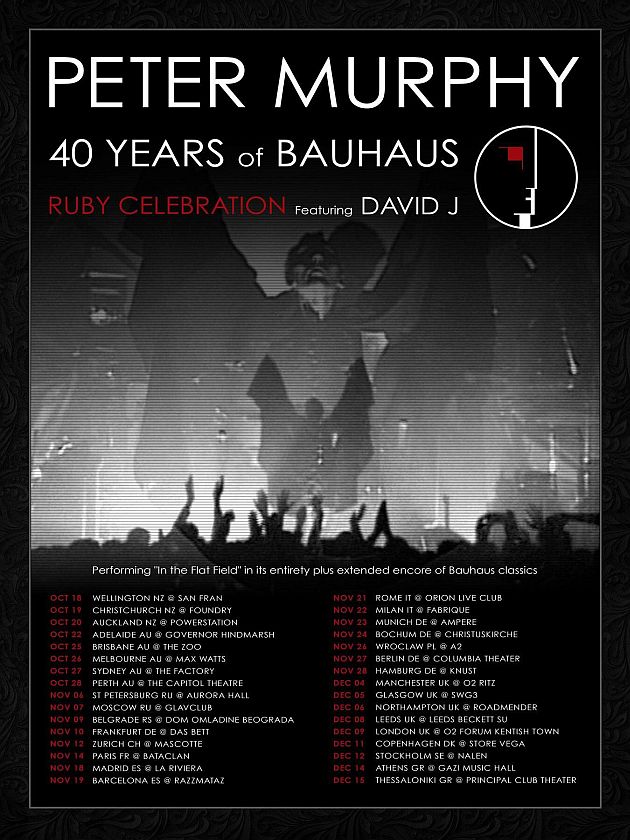 CKA@, Wroclaw, Poland
26th November 2018
Peter Murphy & David J. - "40 Years Of Bauhaus"

The vocalist PETER MURPHY together with the bass player DAVIDE J. (Bauhaus, Loves And Rockets) start on tour to celebrate the 40th anniversary of their original band BAUHAUS. The only Polish point on the map is Wroclaw. wROCKfest.pl has an honour to invite you on 26th of November to CK A2 for the concert "40 years of BAUHAUS"! The concert setlist will include the songs of the debut album by BAUHAUS, 'In The Flat Field', and other best pieces including the unforgettable hit 'Bela Lugosi's Dead'. The Polish fans have never had a chance to see BAUHAUS live and here comes a perfect chance to see the unique formation in Wroclaw.
BAUHAUS, the British Rock band, one of the Gothic Rock music and scenic style pioneers. They take greatly from glam rock enriched by Punk Rock dynamism. The project was founded in 1977 in Northampton, Great Britain and its line-up was Daniel Ash (guitar), David Jay (bass), Kevin Haskins (drums) and Peter Murphy (vocals). In 1979 their first single was released, 'Bela Lugosi's Dead'. The very title being a reference to Hungarian actor Bela Lugosi famous for his Dracula movies, says a lot about the band's inspirations. Add to it characteristic scenic manner, gloomy music and you'll get a combination unlike anything you could come across the 70s, apart from JOY DIVISION. In 1980 their first album, 'In the Flat Field', was out with the release of 'Mask' to follow the next year.
The project disbanded in 1983, but they still occasionally play together as BAUHAUS. After the project ended, Peter Murphy played solo. He released several albums, e.g. 'Love Hysteria' (1988), 'Deep' (1990), 'Dust' (2002). The other musicians played in other various projects (e.g. Tones on Tail) but their greatest one was LOVE AND ROCKETS that released e.g. 'Earth Sun Moon' (1987), 'Love And Rockets' (1989), 'Sweet F.A.' (1996). In 1998, the BAUHAUS members played together at "Resurrection Tour", they also shared stage with NINE INCH NAILS. In 2008 BAUHAUS released their first studio album after 1983 and it was the last one in their career.
https://www.youtube.com/watch?v=bf7MfFPaXR4
https://www.youtube.com/watch?v=1U1SiIWuZeE
https://www.youtube.com/watch?v=Qxqq5vahHKk
https://www.youtube.com/watch?v=rhJZrRV5YKo
Additional Concert Info

PETER MURPHY & DAVID J. - "40 years of BAUHAUS" - 26th Nov 2018 - 8 p.m. CK A2, Góralska 5
Tickets: 120 PLN presale / 140 PLN at doors
Meet & Greet: PETER MURPHY & DAVID J. - 26th Nov 2018 at.5.30 p.m CK A2, Góralska 5. Ticket Meet & Greet entitles you to take part in the final part of the band rehearsal, short meeting with Peter Murphy and David J., photos with the artists and autographs. The price is 120PLN and the Meet & Greet Ticket does not entitle you to enter the concert
Tickets available at: Empik, Saturn and MediaMarkt in Poland and also at www.wrockfest.pl/bilety-online, www.biletin.pl, www.ticketmaster.pl, www.biletyna.pl, www.eventim.pl, www.ebilet.pl, www.kupbilecik.pl
Booking:
This email address is being protected from spambots. You need JavaScript enabled to view it.
More on
Peter Murphy
and
Bauhaus