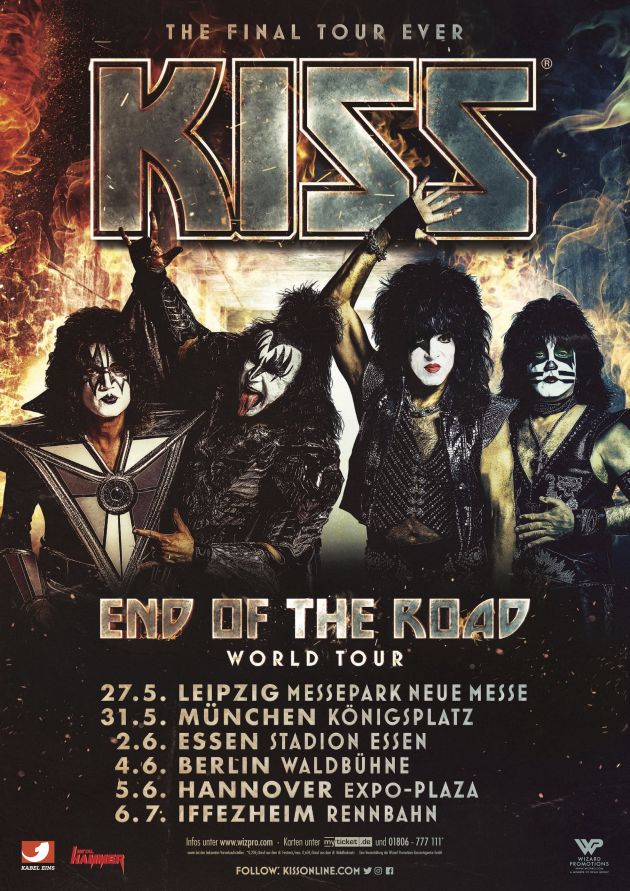 The icons of rock on Farewell Tournament. Six open air shows in Germany in the summer of 2019 in Leipzig, Munich, Essen, Berlin, Hanover and Iffezheim! Tickets available on Thursday, November 1, 2018, in the online presale.
After a legendary and historic 45-year career that ushered in an era of Rock'n'Roll icons, KISS announced that the band will be performing their very last tour, appropriately named "End of the Road". The first announcement made a month ago on American TV show "America's Got Talent" on NBC sparked an internet storm by expectant fans hoping to attend a final KISS concert in their city. The band today released the first dates and cities in North America, as well as their international appearances. In Germany, KISS will play six shows.
Advance ticket sales for the KISS Army fan club and KISS Meet & Greet Experience will begin on Tuesday, October 30th at 11.30am. More information is available at www.kissonline.com. From Thursday, 1st November 2018 - 10:00 am, ticketing providers MyTicket and CTS will be offering
Eventim
pre-sales. The general presale starts on Friday, November 2, 2018, 10:00 am. Tickets are available at
Eventim
, www.myticket.de as well as by calling +49 (0) 1806 - 777 111 (20 Ct./Call - mobile phone prices max 60 Ct./Call) and at the known ticket agencies.
Known for their typically legendary, breath-taking performances, KISS has been proving for decades why the band undoubtedly delivers the most iconic live Rock'n'Roll show ever. The member of the Rock & Roll Hall of Fame, with more than 100 million albums sold worldwide, announced that the tour was dedicated to the millions of KISS Army fans.
"Everything we've built and achieved over the past four decades would not have been possible without the millions of people around the world filling clubs, arenas and stadiums all these years. The tour will be the ultimate celebration for those who have seen us live before and one last chance for those who have not made it yet. KISS-Army, we say good-bye on our final tour with our biggest show so far and go the same way we came... unabashed and unstoppable," noted KISS.
More information at: www.kissonline.com
KISS - End Of The Road - World Tour 2019 - German Dates

27.05.19 - Leipzig / Messepark Neue Messe
31.05.19 - Munich / Königsplatz
02.06.19 - Essen / Stadion Essen
04.06.19 - Berlin / Waldbühne
05.06.19 - Hanover / Expo-Plaza
06.07.19 - Iffezheim / Rennbahn
More on Kiss