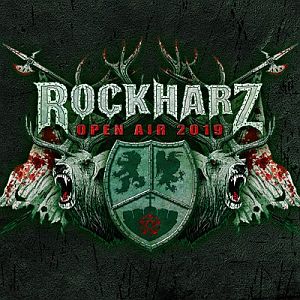 Airport, Ballenstedt / Harz, Germany
3rd - 6th July 2019
RockHarz Festival 2019 with Amon Amarth, Burning Witches, Children Of Bodom, Cradle Of Filth, Dimmu Borgir and many more!

The history of the RockHarz festival goes back over 25 years - and like many other festivals also started very small - with no admission charge and around 100 fans. Nowadays it is one of the biggest and best of Germany's Metal festivals.
Last year there were about 17,000 daily visitors to the festival grounds. Organisationally too, the festival is getting bigger and better. The team of organisers and overseers do a perfect job. You can reserve larger camping areas for groups of 15 people or more in advance. There are RV sites with electricity, you can even rent toilets and since last year there is even a child care service offered! With such facilities you can easily spend four days or longer on the festival grounds. It is even possible to arrive from Tuesday 2nd July.
Over the four days over 50 bands will be playing on two equivalent-sized open-air stages. The good thing about the RockHarz festival is that they avoid time overlaps of the bands, so you never miss out on the bands you want to see. Admission to the festival site is on Wednesday 14:00, on Thursday from 13:00, on Friday and Saturday from about 11.00.
So far, many fantastic bands have been announced for 2019 - providing the best entertainment for every metal fan.
Festival tickets are available for 109.80 € incl. fees via https://shop.rockharz-festival.com/rockharz-2019-festivalticket.html and
EVENTIM
Facebook: https://www.facebook.com/events/270392756869714/
Current Line-up

Amon Amarth, Anvil, Apocalypse Orchestra, Bloodred Hourglass, Brothers Of Metal, Burning Witches, Caliban, Children Of Bodom, Combichrist, Coppelius, Cradle Of Filth, Dimmu Borgir, Dragonforce, Elvenking, Elvellon, Epica, Feuerschwanz, Follow The Cipher, Freedom Call, From North, Grand Magus, Grave, Hämatom, Hell Boulevard, Hardline, Hypocrisy, Kärbholz, J.B.O., Kissin' Dynamite, Korpiklaani, Lacrimas Profundere, Legion Of The Damned, Lordi, Milking The Goatmachine, Mono Inc., Mr. Irish Bastard, Nailed To Obscurity, Nervosa, Omnium Gatherum, Overkill, Russkaja, Saltatio Mortis, Soilwork, Stam1na, The Night Flight Orchestra, The O'reillys & The Paddyhats, The Unguided, U.D.O., Vader, Van Canto, Visions Of Atlantis, Warkings, Wintersun, Witt