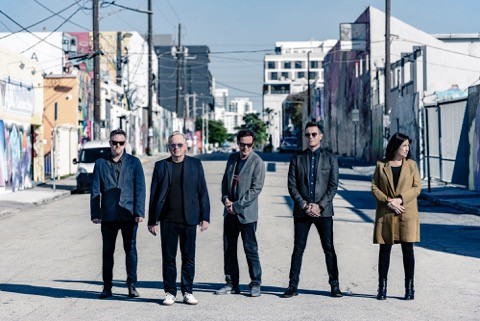 If you listen to hits like 'Blue Monday', 'Crystal' or 'Sooner than you think' and keep the fact in mind, that NEW ORDER were founded by one of the most tragic happenings in Pop history, then you are probably still saddened a bit. How was it possible to go from JOY DIVISION and their dark masterpieces like 'Love will tear us apart' or 'Atmosphere' to NEW ORDER? The recently republished debut album 'Movement', that is available as collector's box since April 5, gives the answer. The scars are fresh and Bernard Sumner, Peter Hook, Stephen Morris and Gillian Gilbert take their first careful steps out of the dark.
Song number two, 'Truth', maybe gives the best possible proof: the bass play of Hook is totally JOY DIVISION, the keyboards sound like sad violins, Sumner's vocals roar New Wave lamenting, but the rhythm already has something twitching that makes you want to dance! Even their first album without Hook and his formative bass, 'Complete Music' from 2016, gave birth to some firecrackers like 'Restless', 'Unlearn this hatred' or the funky and danceable 'People on the high line', and they again underline, what differentiates NEW ORDER from other Pop / Rock bands. This is exactly what NEW ORDER will prove again in October on German stages in Munich in Berlin: they invite us to a ride through their impressive history.
Dates

Oct 5, 2019 Munich, Philharmonie im Gasteig
Oct 7, 2019 Berlin, Tempodrom
Tickets

Regular ticket sale starts on Friday, April 26, .2019 at 10 am. Munich tickets are available for EUR 45.00 - 60.00, Berlin tickets for EUR 55.00 (plus fees) at tickets.de and all known ticket shops like
Eventim
.
More info at: www.neworder.com
More on
New Order