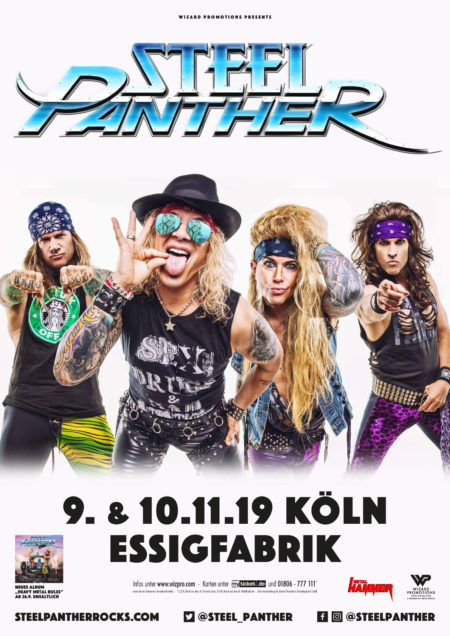 Essigfabrik, Cologne, Germany
9th & 10th November 2019
Steel Panther

Exclusive double concert on Nov 9 and 10, 2019 in Cologne confirmed! Fifth studio album 'Heavy Metal Rules' to be published on Sep 27, 2019! Limited weekend tickets available! Ticket presale starts on Wednesday, July 10, 2019! That's the main information for all who do not dare to ready any further. But of course we have more information of the exclusive event and the upcoming album for you!
The declared feminists STEEL PANTHER from California interrupted the processing of their multiple orgasms promising guitar pedal and recorded their fifth studio album. The band is happy to announce the release of 'Heavy Metal Rules' on September 27. The quartet, consisting of singer Michael Starr, guitarist Satchel, bassist Lexxi Foxx and drummer Stix Zadina, delivers a mixture of guidance on self-help and the ultimate party album - all embedded in the usual STEEL PANTHER Heavy Metal version.
With the new album release, STEEL PANTHER will go on an extensive world tour. First stop is the legendary The Whiskey in their hometown Los Angeles, where they will play an exclusive release show on September 26. In this country, STEEL PANTHER play some festival shows and then provide a fulminant return to Germany in November, when they play two shows in a row in Cologne in the Essigfabrik on November 9 and 10, 2019.
The online presale via CTS Eventim and MyTicket starts on Wednesday, July 10, 2019 at 10.00 a.m. The general ticket sale for both concerts in Cologne starts on Friday, July 12, 2019 at 10.00 a.m. Tickets are available at www.myticket.de or by phone via +49 (0) 1806-777111 (20 cent/call, mobile calls max. 60 cent/call) and at the known ticket shops like
EVENTIM
. There will be a limited contingent of weekend tickets that apply for both shows. Information about fan club presale, that starts right now, and special VIP offers at: http://steelpantherrocks.com/tour/.
"'Heavy Metal Rules' is the ultimate party album. Just hits, just hooks, these songs deliver the soundtrack of your new heavy metal life. The first single 'All I wanna do is fuck (myself tonight)' is the ultimate song about self-love and the creation of a positive self-image. It's that kind of song, that you play when you want to get into a special mood - no matter if you want to have sex with yourself or with '17 girls in a row'", say STEEL PANTHER about the new album.
From the opener 'Zebraman' (with a sample of the classics 'Heavy Metal Parking Lot' from 1986) to the emotional final song 'I Ain't Buying What You're Selling', Steel Panther created a 36-minute or(ear)gasm. Songs like 'Let's get high tonight', 'Fuck everybody' and 'Gods of Pussy' will seamlessly fit into the live set of the band. 'I'm Not Your Bitch' is a hymn for all - completely independent from the sexual orientation or sex. The video for the first single 'All I Wanna Do Is Fuck (Myself Tonight)', which was filmed in Las Vegas, presents several celebrities from the music business, the comedy business and YouTube.
In the year 2000, singer Michael Starr, guitarist Satchel, bassist Lexxi Foxx and drummer Stix Zadina founded STEEL PANTHER in their hometown Los Angeles, the epicentre of Rock n'Roll. Since then, Steel Panther established as first-class party band all over the world with their virtuoso Glam Rock und their incredibly good looking. Steel Panther is a global phenomenon with almost 20 years of band history, four studio albums, worldwide tours, millions of YouTube clicks and great TV appearances at Jimmy Kimmel Live, Larry King Now or FOX NFL Sunday.
Pre-order the new album here: https://lnk.to/HeavyMetalRules.
More on
Steel Panther