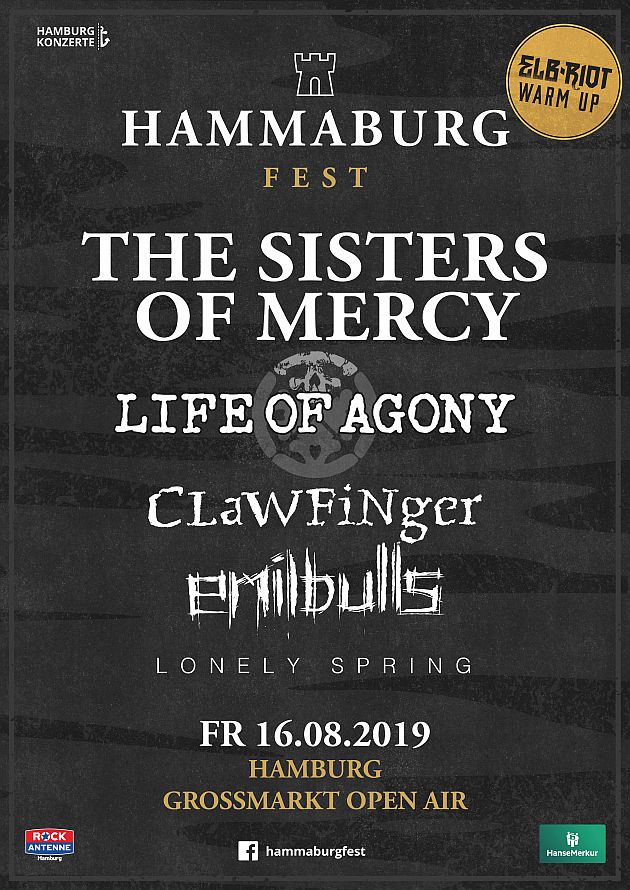 Großmarkt Hammerbrook, Hamburg, Germany
16th August 2019
Hammaburg Festival 2019 with The Sisters Of Mercy, Life of Agony, Clawfinger, Emil Bulls, Lonely Spring

Never heard of the Hammaburg festival? No worries, actually this is quite a new event. The first festival of this name took place last year only. The festival is named after the lowland castle which was located in the later city of Hamburg in the 8th century.
While last year's line-up focused on Medieval Folk Rock this year's festival has a broader range of Rock bands on the bill. First of all the well-known SISTERS OF MERCY. Singer Andrew Eldritch lived in Hamburg for several years in the late 80ies and early 90ies and is supposed to enjoy playing in his former home town. However fans hope he is going to meet his old German mates after the gig and not before. Several years ago the band performed a (relative) mediocre set in Hamburg's Docks. Rumours said the "Sisters" were partying hard the night before the show and therefore were a bit weary the next day. Fans might be interested in the fact that there is a new guitarist in the band: Dylan Smith, an Australian instrumentalist and composer who replaces Chris Catalyst. Also on the bill: Alternative Metal band LIFE OF AGONY and Crossover veterans CLAWFINGER amongst others.
Frequent festival visitors may note that there are kombi tickets available for both the Hammaburg and Elbriot festival for 89.90 EUR instead of 2x 46.90 EUR for each festival alone.
Additional Festival Information

Line-up: The Sisters Of Mercy | Life of Agony | Clawfinger | Emil Bulls | Lonely Spring
Tickets: 46:90 EUR via bit.ly/hammaburg2019 or via
Eventim
General information: http://openairamgrossmarkt.de/
Location & how to get there: Großmarkt Hammerbrook, Banksstraße 28, 20097 Hamburg / http://openairamgrossmarkt.de/#anreise
Event on Facebook: https://www.facebook.com/hammaburgfest/
Bands: http://www.the-sisters-of-mercy.com / https://www.lifeofagony.com / https://www.clawfinger.net / https://www.emilbulls.de / https://monster-artists.com/lonely-spring