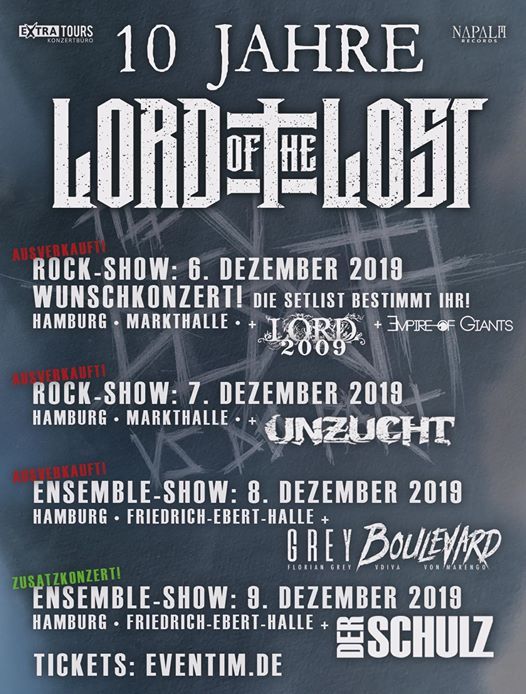 Markthalle & Friedrich-Ebert-Halle, Hamburg, Germany
6th & 7th December 2019 (Rock Shows) + 8th & 9th December 2019 (Ensemble Shows)
Lord Of The Lost - "10th Anniversary" - Special guests: Lord 2009, Empire Of Giants (6th Dec), Unzucht (7th Dec); Grey Boulevard (Florian Grey & Hell Boulevard - 8th dec), Der Schulz (9th Dec)

10 years on the road, conquering the stages of the world, creating music, celebrating life and diversity - LORD OF THE LOST came, saw and conquered the hearts of their fans worldwide in no time. The indescribable success is the result of hard work, discipline, friendship, bravery to experiment and stay true to themselves - with hundreds and hundreds of shows, eight long-players in 10 years, many videos and collaborations LORD OF THE LOST truly earned the fame they enjoy now while keep on working hard and nonstop.
For the current album, 'Thornstar' that was released in 2018, LORD OF THE LOST were touring through many cities in Germany, all over Europe, China, Russia, Mexico and many more. But no rest for the "lost" - after the four anniversary shows the shows goes on with an extended tour supporting EQUILIBRIUM in January and February 2020. The four anniversary shows themselves won't literally leave any wishes - the first two nights will be rock shows at Markthalle in Hamburg. Friday is the "wish concert" that fans were able to decide on the setlist. Special guests on that evening are "LORD 2009" - the very first band line-up will be performing that night. Another special guest are EMPIRE OF GIANTS - Postcore from Berlin.
The second rock show will be supported by long-time friends from UNZUCHT. The third and fourth shows are ensemble shows - in the best tradition of 'Swan Songs I & II'. Special guests on the first ensemble evening are FLORIAN GREY and HELL BOULEVARD melting together to GREY BOULEVARD for that night. The special guest on the final night will be DER SCHULZ, also known as Daniel Schulz, singer of UNZUCHT. The first three shows are sold-out for a long time, only some tickets for the last night - the ensemble show on 9th December 2019 at Friedrich-Ebert-Halle are left. Don't miss your chance to celebrate 10 turbulent, glorious and exciting years of LORD OF THE LOST and on to the next 10!
Additional Concert Info - 6th December 2019 - Rock Show Markthalle

Doors: 19:00
Start: 20:00
Tickets: sold-out
Additional Concert Info - 7th December 2019 - Rock Show Markthalle

Doors: 18:00
Start: 19:00
Tickets: sold-out
Additional Concert Info - 8th December 2019 - Ensemble Show Friedrich-Ebert-Halle

Doors: 19:00
Start: 20:00
Tickets: sold-out
Additional Concert Info - 9th December 2019 - Ensemble Show Friedrich-Ebert-Halle

Doors: 19:00
Start: 20:00
Tickets: from 39,45 (+ charges & shipping) via
Eventim
Additional General Concert Info
Info: https://www.fkpscorpio.com/de/bands-archiv/lord-of-the-lost/
Artist: https://www.facebook.com/lordofthelost
Supports: https://www.facebook.com/EmpireofGiants / https://www.facebook.com/Unzucht / https://www.facebook.com/floriangreyofficial / https://www.facebook.com/hellboulevard / https://www.facebook.com/derschulz.official
More on
Lord of the Lost