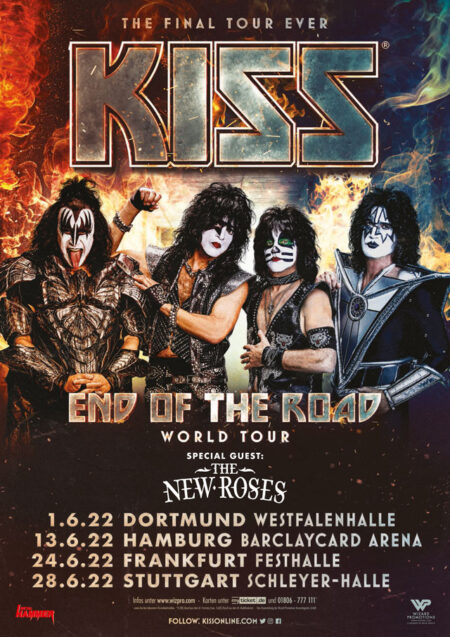 Attention: Due to the Corona pandemic, the tour is postponed from summer 2020 to June / July 2021 and now to June 2022! Tickets remain valid!
The final KISS tour continues to go around the world, and in summer 2022, the legendary hard rockers come back to Germany with great Rock'n'Roll spectacle in Dortmund, Hamburg, Frankfurt, and Stuttgart! Tickets as of now available via online pre-sale.
Explosions, riffs, and flying super heroes: KISS pull out all the stops during their "End Of The Road" world tour, and celebrate a very loud spectacle with huge production and legendary songs. With this world trip, the iconic band says goodbye to their fans after 45 years full of superlatives. As the quartet announced few days ago during the "KISS Kruise", the tour that is planned to last several years, includes some 2022 shows in the biggest venues of Dortmund, Hamburg, Frankfurt, and Stuttgart.
Not less than a massive Rock show with pyrotechnics, lasers, a huge stage, and more flashing lights than you will see in a small city, is what the make-up monsters have to offer. Paul Stanley, Gene Simmons, Eric Singer, and Tommy Thayer breathe blood and fire; they shoot rockets out of their instruments, and the fly over the audience. For more than two hours, KISS celebrate the songs that influenced an entire genre and brought them to the Rock And Roll Hall Of Fame. There will be classics like 'I Was Made For Lovin' You', 'Love Gun', 'Deuce', 'Rock And Roll Nite', and other pearls taken from 24 studio albums honoured with gold and platinum.
In January 2019, the END OF THE ROAD tour started in Vancouver, Canada, and then came to the biggest venues in North America, Europe and several important festivals where KISS performed the headliner slots. Next in line will be Oceania, Asia, South America, and a second trip to the U.S. KISS are a worldwide phenomenon, so they end their career all over the world with a powerful bang, or better to say, with lots of powerful bangs. KISS further promise: "The tour will be the ultimate party for all who have seen us live in the past, and it is the last chance for all, who missed us so far."
KISS already announced the final show. For the last time, on July 17, 2021, the band founded in 1973, comes back to the stage of the city where all started: New York City. From a realistic point of view, even the coolest party won't last forever. With the END OF THE ROAD World Tour, KISS say goodbye in full glory and celebrate 45 years of music history, where they sold more than 100 million copies of their albums, broke records and influenced almost every band, that ever was dedicated to Rock'n'Roll.
With the upcoming dates in Germany, "Demon", "Starchild", "Spaceman", and "Catman" keep their word and come back to the South, after their last gig at Iffezheim (Baden) last year in July had to be cancelled after 40 minutes because of a massive thunderstorm. To all the rockers, music fans and lovers of extraordinary concert experiences, this is your motto: "You wanted the best, you got the best. The hottest band in the world… on their final tour ever: KISS!"
As of now, the ticket providers MyTicket and CTS Eventim start their ticket pre-sale. General pre-sale starts on Friday, November 8, 2019 at 10:00 a.m. Get your tickets at www.myticket.de or by phone at +49 (0) 1806 - 777 111 (20 cents/call, mobile max. 60 cents/call) and at all known ticket shops. Further information here: www.kissonline.com
KISS - End Of The Road World Tour 2021

June 01, 2022 - Dortmund, Westfalenhalle (postponed from June 14, 2020 & June 10, 2021)
June 13, 2022 - Hamburg, Barclaycard Arena (postponed from June 15, 2020 & June 15, 2021)
June 24, 2022 - Frankfurt, Festhalle (postponed from July 10, 2020 & June 25, 2021)
June 28, 2022 - Stuttgart, Schleyer-Halle (postponed from July 11, 2020 & July 8, 2021)
More on
Kiss