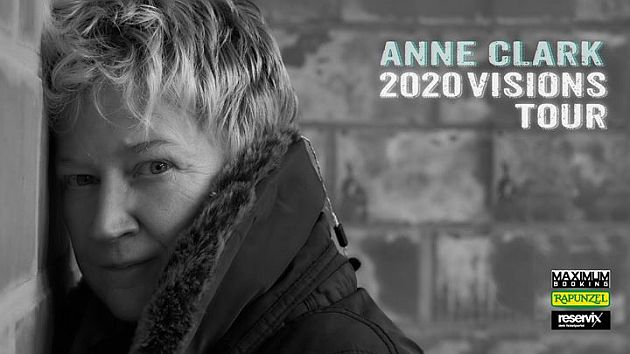 Christuskirche, Bochum & Kulturkirche, Cologne, Germany
19th & 20th November 2020
Anne Clark - "2020 Visions Tour"

Besides other countries, the "2020 Visions Tour" brings the music of Irish-British poet ANNE CLARK to Germany. The anniversary tour celebrates 40 years of creativity filled with concerts and performances - and a new semi-acoustic line-up. The output of forty years as an artist, inclusive greatest hits, is performed live on stage.
ANNE CLARK, Irish-British poet, icon of the music scene and grandiose pioneer of the Spoken Word Art, enters the stages in 2020 to perform what she created during her 40-years carrier. She set new standards as eloquent, but modest rebel. Together with David Harrow and John Foxx, Anne is called a pioneer of New Wave and all kinds of Electronic music scenes. Shaped by the Punk scene, Anne started her career in the late 70s. With her New Wave classics 'Sleeper in Metropolis' and 'Our Darkness' she gained great fame and success.
The combination of Spoken Word and analog synthesizer music made her a pioneer of the Techno movement, as well as an inspiration to a new generation of Classic and Crossover composers and musicians. With existential lyrics, tangible poetry, and acoustic experiments, ANNE CLARK created a repertoire of finest electronic music. She exposed herself to new challenges, and the same she did with her audience. Anne changed her style constantly, the only thing she always remained true to is her identity, and this is what it is until today with a virtuosity that can't be found elsewhere.
Additional Concert Info Bochum

Doors: 19:00
Start: 20:00
Tickets: are available from 47.35 plus charges (pre-sale) via
Eventim
Info: https://matrix-bochum.de/event/anne-clark-visions-tour-2020-christuskirche-bochum/
Additional Concert Info Cologne

Doors: 19:00
Start: 20:00
Tickets: are available from 47.25 plus charges (pre-sale) via
Eventim
Info: https://prime-entertainment.de/index.php?id=34&eventid=6234&p=
More on
Anne Clark