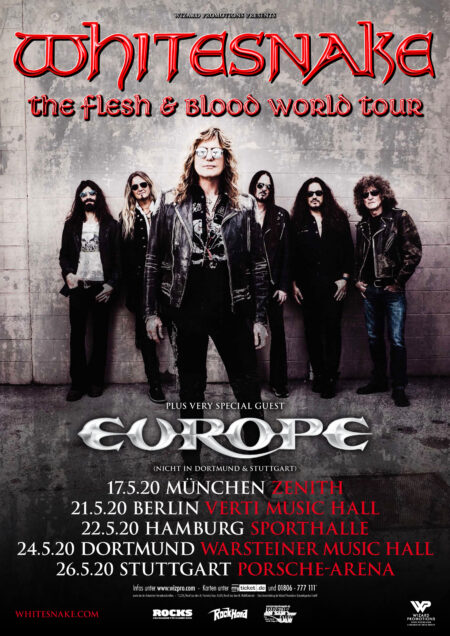 David Coverdale's WHITESNAKE comes back to Germany in May 2020 with arena shows in Munich, Berlin, Hamburg, Dortmund, and Stuttgart and EUROPE as Special Guest in Munich, Berlin, and Hamburg. The current album 'Flesh & Blood' still available via Frontiers/ Soulfood.
After the sold-out and acclaimed only concert in Germany (Cologne) in July 2019, the legendary mega-platinum awarded Rock'n'Roll band WHITESNAKE around former DEEP PURPLE singer David Coverdale announces five concerts in Germany in 2020. The current Top 3 album 'Flesh & Blood' (Frontiers/ Soulfood) of course is a big part of the show. Please find all dates below. Special guest in Munich, Berlin, and Hamburg is the Swedish Hard Rock band EUROPE.
General ticket presale starts on Wednesday, December 18, 2019. Get your ticket via www.myticket.de, by phone at +49 (0)1806 - 777 111 (20 cents/call - mobile max. 60 cents/call) and at all known ticket shops. Already on Tuesday, December 17, 2019 at 10:00 a.m., CTS Eventim and Myticket start their online ticket presale.
On July 7, 2019, the audience, partially travelled from far away, experienced the so far only German concert of the "The Flesh & Blood World Tour" in Cologne at the sold-out Palladium. Now, the platinum-awarded band around former DEEP PURPLE singer David Coverdale, comes back to Germany to introduce the Top 3 album 'Flesh & Blood' (Frontiers Records/ Soulfood) live and in in detail. More than 40 years after their debut album 'Trouble' was released, the band still is a public attraction.
David Coverdale worked hard to reach that status. After his going from DEEP PURPLE in 1976 and two solo albums ('White Snake' and 'Northwinds'), he founded WHITESNAKE in 1978. Then a journey started, that led him from early Heavy Blues Rock of the late 70s with releases like 'Trouble' (1978), 'Lovehunter' (1979), 'Ready And Willing' (1980), 'Come An' Get It' (1981), and 'Saints & Sinners' (1982) to the explosive Hard Rock of the 80s. The reworked "Snake" sound created multi-platinum awarded records like 'Slide It In' from 1984 and the absolute mega-million smash hit album 'Whitesnake' (1987).
Also later releases like 'Forevermore' (2011, position 16 of the German charts) or 'Flesh & Blood' (2019, position 3 in Germany) show, that the international music business can't be imagined without WHITESNAKE. Among others, the band performed as headliner at legendary festivals like Rock In Rio or Monsters Of Rock and significantly shaped the MTV era with videos like 'Here I Go Again' or 'Still Of The Night'. In the wake of the promotion for the 13th studio album, an extensive world tour is coming now.
Singer David Coverdale about the "The Flesh & Blood World Tour": "We are really excited and look forward to play again all around the world in 2020 to continue the celebrations for our 40th anniversary as WHITESNAKE. I feel very honoured to have travelled that unbelievable world we share with each other, enjoyed unforgettable moments and celebrated with millions of people over a time of forty years. I really love all common experiences the same way I love my job, and I will always do. More than four decades full of fun - thank you!!!"
WHITESNAKE are David Coverdale (vocals), Reb Beach (guitar), Joel Hoekstra (guitar), Michael Devin (bass), Tommy Aldridge (drums), Michele Luppi (keyboards). More information here: www.whitesnake.com | www.frontiers.it
WHITESNAKE - The Flesh & Blood World Tour 2020 - German Tour Dates

Sun May 17, 2020 – Munich, Zenith - Special Guest: Europe
Thu May 21, 2020 – Berlin, Verti Music Hall - Special Guest: Europe
Fri May 22, 2020 – Hamburg, Sporthalle Hamburg - Special Guest: Europe
Sun May 24, 2020 – Dortmund, Warsteiner Music Hall
Tue May 26, 2020 – Stuttgart, Porsche-Arena
More on
Whitesnake
and
Europe