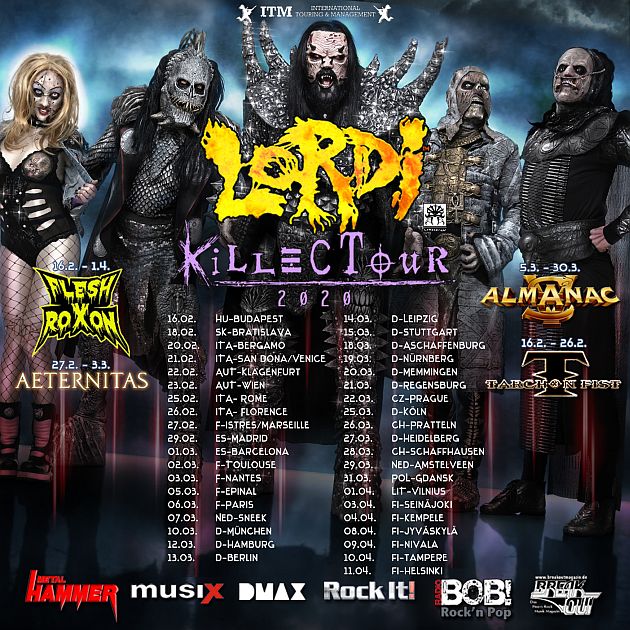 Halle 02, Heidelberg, Germany
20th November 2022
Lordi - "Killection" Tour

Attention: due to the Corona pandemic, this concert is rescheduled from March 2020 to February 2021 and further to September 2021 and now to November 2022. Tickets remain valid!
Tomi Petteri Putaansuu also known as Mr Lordi is the songwriter and costume maker of the band LORDI. The Finnish Hard Rock and Heavy Metal band formed in 1992. They are known for their scary monster masks and pyro effects during their shows. They became famous for winning the Eurovision Song Contest in 2006 and their hit 'Hard Rock Hallelujah'. They are on tour with their new album 'Killection' now and you can see them in many different cities all across Europe.
The line-up of the band changed several times but Mr Lordi and Amen (guitar) are still active members of the band. LORDI was inspired by bands like KISS and Mr Lordi once said that without bands like KISS, LORDI probably would not exist. Mr Lordi is also a professional make-up artist and sculptor that's the reason why their masks look so good. He is the one who prepares them for the whole band. Like I mentioned before they are also famous for their pyrotechnics during their shows. If you like Finnish heavy metal and a good show don't miss LORDI's current "Killection" tour. I hope we can show you some awesome pictures from their hot gig at the Halle 02 in Heidelberg. Hope to see you there!
Additional Concert Info
Doors: 19:00
Start: 19:30
Tickets: are available for 35.15 plus charge (pre-sale) via
Eventim
Info: https://www.halle02.de/programm/live/detail/event/lordi-guests/
More on
Lordi