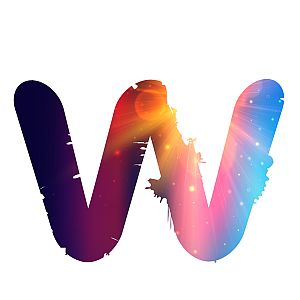 Expo, Waregem, Belgium
14th to 17th August 2020
W-Fest 2020 with OMD, Marc Almond, DAF, Kissing the Pink, 40 Years Visage, Kim Wilde, The Stranglers, Midge Ure, Cock Robin, Front 242, Dead Souls, Diary of Dreams, Fields of the Nephilim, KMFDM, Leaether Strip and many more

Attention: due to the Corona pandemic, this event is cancelled! A new Edition will take place in 2021 with possibly equal line-up! We will update this preview as soon as we have any news. Insteadt of W-Fest 2020, there will be a news Sinner's Day last October weekend with several of the bands which were announced for W-Fest. Check out their website for more info.
The previous editions of W-Fest were taking place in August. Last year, the festival moved to the Expo in Waregem, an indoor venue. This year, the festival will already take place in May and just like last year, nearly the entire line-up was already announced during the running festival in summer 2019.
There will be some special performances during the festival. One of them is the "Great English Electric - 40 years of OMD" show. Andy McCluskey is pushed to pick his highlights from the 40 years of ORCHESTRAL MANOEUVRES IN THE DARK (OMD): there have been so many. There's the time he first held their debut single, 'Electricity', on Factory Records. There was the first of their staggering 29 Top Of The Pops appearances, when the Wirral electronic giants-to-be were initially so surprised to find themselves on the telly alongside Elton John and Bonnie Langford he mouthed "What are we doing here?!" at synth-playing OMD partner Paul Humphreys. Then there was signing his ever autograph at Liverpool Eric's; being paid by the venue for the first time (with half a crate of beer), or standing on stage at the Rewind festival in 2018 with "35,000 people going wild".
Meanwhile, Paul whittles his highpoints down to two most significant achievements: meeting Tony Wilson, who told them he wanted to put out a record, and "every gig now, because it's such a thrill that we're still doing it". However, the pair would be more than entitled to add their triumphant gigs with the Royal Liverpool Philharmonic Orchestra, the Liverpool's British Music Experience exhibition dedicated to their impressive legacy as well as their 2019 sell-out UK tour. Four decades has seen - give or take a decade break - ORCHESTRAL MANOEUVRES IN THE DARK sell an astonishing 25 million singles and 15 million albums, establishing them as electronic synthesiser pioneers and one of Britain's best-loved pop groups. Their 13 long players include benchmark-raising classics 'Orchestral Manoeuvres In The Dark' (1980), 'Organisation' (1980), 'Architecture & Morality' (1981) and 'Dazzle Ships' (1983). Three more since their reactivation 12 years ago have culminated in 2017's 'The Punishment Of Luxury', which was hailed by fans and critics alike as a return to the shimmering brilliance of classic early singles such as nuclear lament 'Enola Gay' and the plangent 'Souvenir'. Their incredible career and 40th anniversary was celebrated last year with the release of a momentous anniversary box-set and critically-acclaimed world tour.
The W-fest performance of another mythic band, VISAGE, on May 22nd will celebrate their 40th anniversary as well. Founding member Rusty Egan and FADE TO GREY (& Gary Numan Keyboardist) Chris Payne have joined forces to celebrate this momentous occasion. Midge Ure and Rusty Egan deliberated for months on who could take on guitar and lead vocals in a 4 man line up, not a lead singer band line up but a performance of the music of early VISAGE. Rusty: "In 1980 Steve Strange was the chosen VISAGE [the face] and we would be the music. VISAGE 1980 - 2020 is all about the music and we found just the man for the job". Now it's going to be very non-stop electronic synth pop 80s sound & vision. VISAGE promises a 90min show which will feast your eyes and ears. Await an audio-visual show which will last in your memories for decades to come! A must see, once in a lifetime experience!
A selection of confirmed acts: OMD, MARC ALMOND, D.A.F., KISSING THE PINK, RUSTY EGAN & CHRIS PAYNE PRESENT: 40 YEARS VISAGE '1980X2020', KIM WILDE, THE STRANGLERS, MIDGE URE: THE 1980'S TOUR, COCK ROBIN, ROLAND GIFT (FYC), TECHNOTRONIC, THE CHRISTIANS, BIG COUNTRY, ABC, HEAVEN 17, SX, PRAGA KAHN, JAH WOBBLE, BERLIN, THE YOUNG GODS, RED ZEBRA - 40 YEARS LIVING ROOM, FRONT 242, DEAD SOULS, DIARY OF DREAMS, FIELDS OF THE NEPHILIM, KMFDM, LEÆTHER STRIP, MINIMAL COMPACT, MINUIT MACHINE, SUICIDE COMMANDO, TEST DEPARTMENT, THE KVB, ZANIAS, COLD CAVE, TRISOMIE 21. The full line-up can be found at: https://www.w-festival.com/en/line-up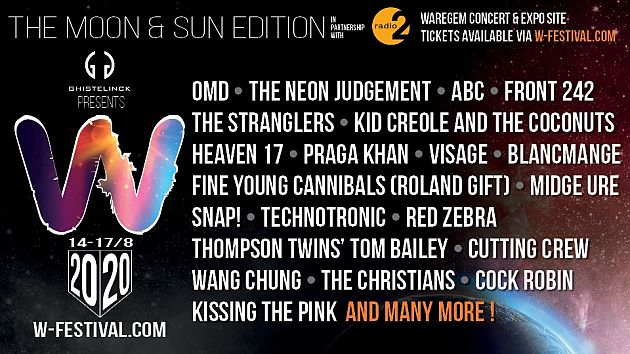 Line up per day (subject to changes due to corona rescheduling!):

All info and the (almost) finalized program can be found on the festival website (https://www.w-festival.com/nl/line-up). Below you will find all acts per day:
Thursday 21 May 2020

Fuzzbox, Cock Robin, Cutting Crew & Wang Chung, The Christians, Roland Gift (FYC) (ex Fine young Cannibals), Jah Wobble, Snap! & Technotronic: 90ties set; Kim Wilde, Ground Nero, The Telescopes, Astari Nite, Noire Antidote, KMFDM, A split second, Front 242, Frozen Nation, Minuit Machine, Red Mecca, Mark E Moon, Vomito Negro, Conjure one
Friday 22 May 2020

Dr & The Medics, Kissing the Pink, Living in a box, Marc Almond, Visage, OMD, Your life on hold, Aeon Sable 10th anniversary concert, Haujobb, Ellen Foley, BFG, Diary of Dreams, Fields of the Nephilim, Enzo Kreft, The Invincible Spirit, Partenaire Particulier. Leaether Strip, Funeral Dress, Light Asylum, Trisomie 21 (40th Birthday)
Saturday 23
May 2020
Dead Man Ray, Big Country, Matt Bianco, SX, Berlin, Red Zebra '40 years Living Room', D.A.F, White Coal Addiction, Test dept, The Arch, Kloot Per W group, Monaco, Suicide commando, Praga Khan, OHMelectronic, Vuduvox, Outpost, Glen Matlock (Sex Pistols), Isolated Youth, THE KVB, Dead Souls
Sunday 24
May
2020
Blancmange, Heaven 17, D:uel (formerly known as Propaganda), ABC, Midge Ure 1980's tour (Vienna & Visage), The Stranglers, We are Waves, Zanias, M.I.N.E feat Marcus Meyn (Camouflage), A Slice of life, And Also The Trees, The Young Gods, Cold Cave, Starcontrol, Meta Meat, Undertheskin, The underground youth, Big Brave, Torul, Minimal Compact
Location

W-Fest is taking place at the Expo Waregem with two indoor stages and one outdoor stage.
Tickets

Prices including service costs. All types of tickets and their prices can be found on the website, see
https://www.w-festival.com/en/ticketinfo
. A 4-day ticket (Thursday to Sunday) will cost 220 Euros (price from 8th Dec 2019)
Camping
W-fest has a large camping with great facilities and a large choice of accommodation, see https://www.w-festival.com/en/where-to-stay
Website & Social Media

https://www.facebook.com/W-Festival-513141505533140/
https://twitter.com/festival_w
https://www.instagram.com/wfest2019/