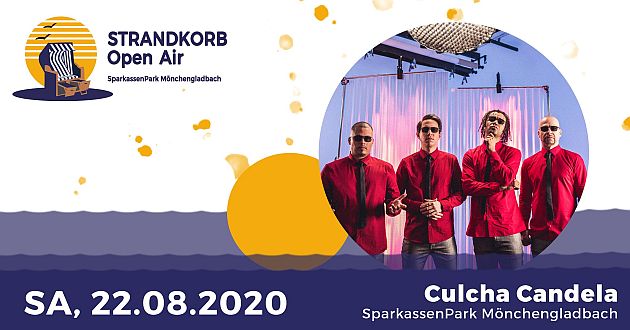 Sparkassenpark, Mönchengladbach, Germany
22nd August 2020
Culcha Candela - Beach Chair Concert - "Top 10 Open Airs 2020"

The weather is fine, the sun is shining, a beach chair is just the right place and it's time to enjoy the music of CULCHA CANDELA. In Mönchengladbach CULCHA CANDELA will perform top 10 hits. Every song a real hit, where everybody must move his feet. CULCHA CANDELA was formed 2002 in Berlin with members from all around the world. This mix of culture you can hear in their music: Salsa meets ChaCha meets Reggae meets Dancehall meets HipHop, that's the definition of CULCHA CANDELA.
'Hamma!' or 'Monsta' are only two songs of a lot of hits in the career of this multi-ethnic band. Come to Mönchengladbach and experience an excellent show of pure energy.
From each ticket 1€ will be donated to "Corinna e.V." Mönchengladbach. Here you find more information: https://corinna-mg.de/
Additional concert info

Doors: 19:00
Start: 20:00
Tickets are available from 45.85 euros via
Eventim
Facebook Event: https://www.facebook.com/events/1205481176459473/
FAQ: https://sparkassenpark.de/faq-strandkorb/
Special Info: When parking, please note the additional information on your ticket and the guidance systems.
More on
Culcha Candela