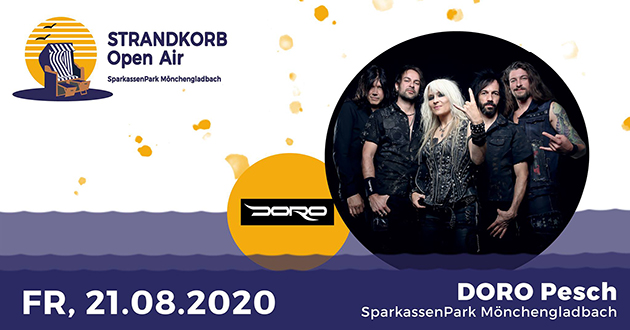 Sparkassenpark, Mönchengladbach, Germany
21st August 2020
Doro - Beach Chair Concert

Doro Pesch, for years the German Queen of Rock & Metal, rocks the SparkassenPark in Mönchengladbach on August 21st. The former frontwoman of the German group WARLOCK has been going her own way under her own name since the 1990s. An appearance in front of many beach baskets is certainly something extraordinary for DORO. Compared to the current usual drive-in events, DORO can also see her audience and their emotions. There will certainly be many songs from their last album 'Forever Warriors, Forever United' for sure!
From each ticket 1€ will be donated to "Corinna e.V." Mönchengladbach. Here you find more information: https://corinna-mg.de/
Additional concert info

Doors: 19:00
Start: 20:00
Tickets are available from 42.00 euros via
Eventim
Facebook Event: https://www.facebook.com/events/182320053208290/
FAQ: https://sparkassenpark.de/faq-strandkorb/
Special Info: When parking, please note the additional information on your ticket and the guidance systems.
More on
Doro