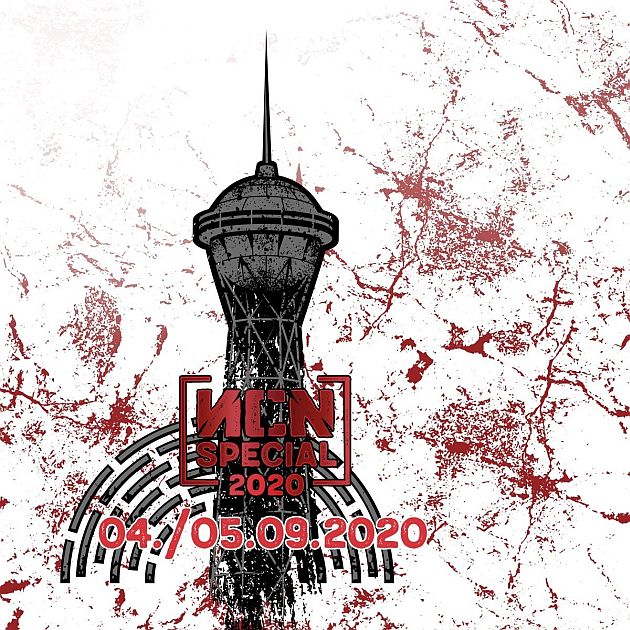 Kulturpark, Deutzen, Germany
4th & 5th September 2020
NCN 2020 Special with Saigon Blue Rain, Orange Sector, Suicide Commando, Peter Heppner, Mila Mar, In Strict Confidence (Vintage Show), Rome (Solo), Ost+Front, Adam Is A Girl, Empathy Test, Fix8:Sed8, Amnistia, Goethes Erben and many more

In another world the Nocturnal Culture Night Festival in Deutzen marks slowly the end of the outdoor festival season, presenting old and new gems of the music world paired with the romantic atmosphere of the Kulturpark Deutzen (Cultural Park in Deutzen, close to Leipzig in Easter Germany). This year we were already looking towards celebrating the 15th full edition on the first weekend of September.
But in our current world in 2020 things are different and the full 15th edition, as many other festivals, had to be moved to next year, but the organizers didn't give up and present this year as smaller, cosy event, called NCN Special - this year it will mark for many of us the first and probably also the last open air festival. The concept is fully pandemic conform and therefore just less than 1,000 tickets were sold and the festival was sold-out immediately. This shows how much people are craving for festivals and live music. Please read the full concept regarding the rules this year on the festival website.
Though NCN is one of the smaller festivals, the program is more than diverse. And also, this "Special" edition is no exception. There are all in two stages this year. You'll follow the paths from the park to find them, passing by old tiny houses, beautiful weeping willow trees and more. Also, there will be a market, a merch stall and a selection of gastronomy choices. Very special about NCN is that the organizers don't care much about trends, but invite bands and artists of all the different kinds to the festival. From 80s legends to almost unknown or forgotten artists to newcomer bands and many of the popular names are also showing up, of course. The genres are as diversified as the decades that they come from. From Post Punk, to Dark Wave, 80ies Pop, Synth Pop, Goth Rock, Metal to Indie and Electro - you will find all the shades of dark and colourful music here.
Line-up per 2020 in alphabetical order

AD:keY, Adam Is A Girl, Amnistia, Empathy Test, Fix8:Sed8, Goethes Erben, Hekate, Kaelte, In Strict Confidence (Vintage Show), Kiew, Lizard Pool, Mila Mar, Orange Sector, Ost+Front, Painbastard, Palast, Peter Heppner, Rome (Solo), Saigon Blue Rain, Suicide Commando, Traum'er Leben
Tickets

For the NCN Special 2020 only 2-day-tickets with and without camping were available and immediately sold-out.
The tickets categories:
NCN Special weekend ticket with camping: 120.00 € (sold-out)
NCN Special weekend ticket without camping: 100.00 € (sold-out)
Further information, also very detailed one regarding the pandemic concept for the event is available at: https://www.ncn-festival.de/