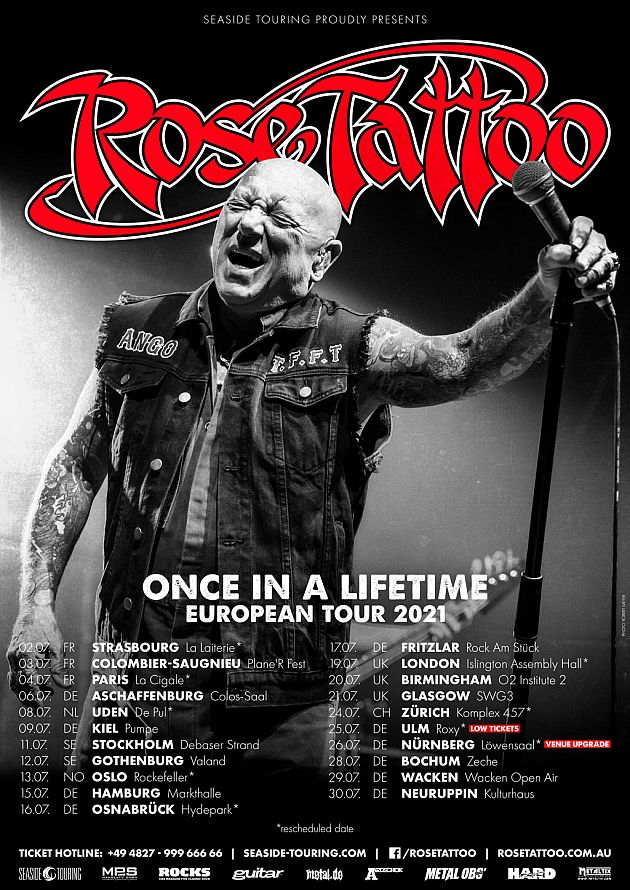 ROSE TATTOO just announced new and updated shows of "Once in a Lifetime European Tour 2021". "All I need is a Rock 'n' Roll band and somewhere new to play" is one line of 'Rock 'n' Roll Outlaw', the first song on the album with which the Australians ROSE TATTOO made their eponymous and angry debut. Today, more than 40 years later, neither the songs, nor the legendary album, nor the joy of playing and the curiosity for new stages have diminished. Due to the most loyal followers still standing in front of the European stages, ROSE TATTOO have just announced their "Once in a Lifetime European Tour 2021" including a bunch of new dates adding up to already rescheduled 2020 shows. The tour will run through Europe in summer 2021 including France, Germany, the Netherlands, Sweden, Norway, UK and Switzerland.
"Once in a Lifetime European Tour 2022"

FRI - Jul 08, 2022 - DE Wunstorf, Küsters Hof Open Air
SAT - Jul 09, 2022 - FR Paris, La Cigale
SUN - Jul 10, 2022 - FR Strasbourg, La Laiterie
TUE - Jul 12, 2022 - DE Aschaffenburg, Colos-Saal
WED - Jul 13, 2022 - DE Übach-Palenberg, Rockfabrik
THU - Jul 14, 2022 - NL Uden, De Pul
FRI - Jul 15, 2022 - DE Kiel, Pumpe
SUN - Jul 17, 2022 - SE Stockholm, Debaser Strand
MON - Jul 18, 2022 - SE Gothenburg, Valand
TUE - Jul 19, 2022 - NO Oslo, Rockefeller
THU - Jul 21, 2022 - DE Hamburg, Markthalle
FRI - Jul 22, 2022 - DE Osnabrück, Hydepark
MON - Jul 25, 2022 - UK London, Islington Assembly Hall
TUE - Jul 26, 2022 - UK Birmingham, O2 Institude 2
WED - Jul 27, 2022 - Uk Glasgow , SWG3
FRI - Jul 29, 2022 - BE Sint Niklaas, De Casino
SAT - Jul 30, 2022 - CH Zürich, Komplex 457
SUN - Jul 31, 2022 - DE Ulm, Roxy
MON - Aug 01, 2022 - DE Nürnberg, Löwensaal
WED - Aug 03, 2022 - DE Bochum, Zeche
THU - Aug 04, 2022 - DE Wacken, WOA Festival
SAT - Aug 06, 2022 - SE Knislinge, Time To Rock Festival
ROSE TATTOO return to Europe to demand everything from their fans with all their immortal songs, their devotion to a hot, sweaty live show - and to prove it once more impressively: Long live Rock 'n' Roll! Make sure to be part of it and grab your tickets here: https://www.seaside-touring.com/tours/#rose-tattoo
In 1976, the hard rock icons laid the foundation for a career that really deserves the attribute "legendary". The longest serving still active hard rock band has stood up like the often-quoted Phoenix out of the Rock 'n' Roll ashes despite some time off and line-up changes, only to hit it even harder now. The "extreme band for extreme people", as front man Gary "Angry" Anderson puts it in retrospect, is the energetic soundtrack of several generations, the musical expression of a distinctive lifestyle and last but not least important, inspiration for numerous bands like GUNS 'N' ROSES. The special mix that ROSE TATTOO musically brings to the stage today appeals to a very wide range of audiences who celebrate this pure energy and like it raw and loud between Rock 'n' Roll, Blues, Punk and Heavy Metal. The strong rhythm section around bassist Mark Evans (ex-AC/DC) and of course the legend that is Angry Anderson will power every location from the first note on. Even though the rage of the past has changed, it is not outdated and is still looking for its expression in the impressively heavy power that this band has to offer live with songs like 'Bad Boy for Love', 'The Butcher and fast Eddy', 'Nice Boys' or 'Rock 'n' Roll Outlaw'.
ROSE TATTOO online: http://www.rosetattoo.com.au / https://www.facebook.com/RoseTattoo
More on
Rose Tattoo