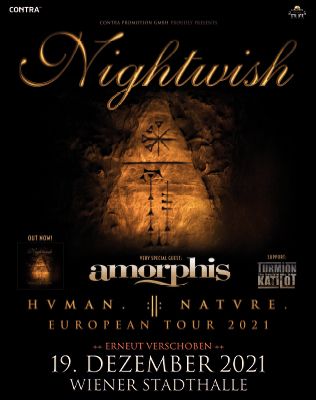 Stadthalle - Halle D, Vienna, Austria
4th December 2022
Nightwish - "HUMAN :II: Nature" Tour 2022 - Support: Beast in Black, Turmion Kätilöt

Attention: due to the Corona pandemic, the show is postponed from 2021 to 2022. Tickets remain valid!
The year 2020 started with a roll of thunder from Scandinavia! AMORPHIS from Finland were on tour in January and February and will be back on stage in December 2021, supporting NIGHTWISH. After their very successful 'Decades' tour in 2018, NIGHTWISH continued work in the studio and released their new record, the double album 'HUMAN. :II: NATURE.', in April 2020. The album was highly acclaimed by the press and the fans and so NIGHTWISH will hit the road to play the songs live on stage for their fans.
AMORPHIS are replaced no by BEAST IN BLACK. TURMION KÄTIOLÖT from Finland will join NIGHTWISH and AMORPHIS on the road and you can be sure, they will play some tracks from their latest release 'Global Warning' released in April 2020.
Additional Concert Info

Doors: 18:00
Start: 18:45
Ticket price starting at 61.49 € (+ charges/shipping) via
Eventim
Info: https://www.stadthalle.com/de/schauen/events/935/Nightwish
Bands: https://nightwish.com / http://www.amorphis.net / https://www.turmionkatilot.com