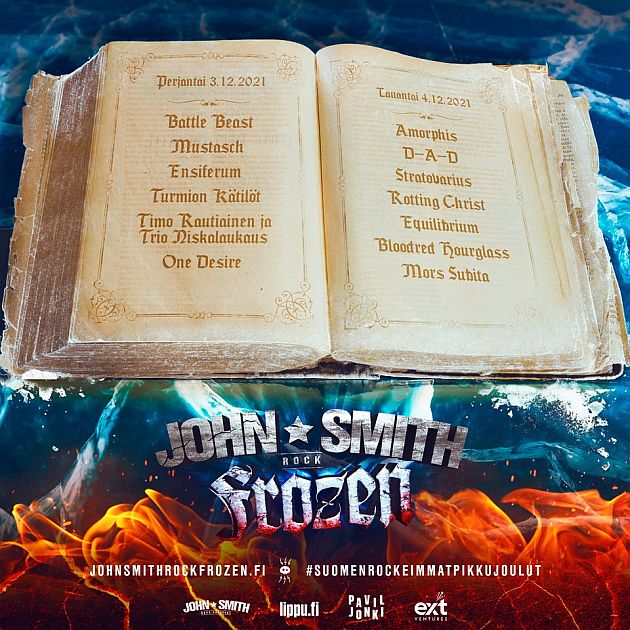 Paviljonki, Jyväskylä, Finland
3rd - 4th December 2021
John Smith Rock Frozen 2021 with Battle Beast, Mustasch, Ensiferum, Turmion Kätilöt, Timo Rautiainen ja Trio Niskalaukaus, One Desire & Amorphis, D-A-D, Stratovarius, Rotting Christ, Equilibrium, Bloodred Hourglass, Mors Subita

If you already miss the summertime festival feeling and don't feel ready to give in to the winter, you should hurry to Jyväskylä the first weekend in December. The organizers of "John Smith Rock Frozen" have organized a fantastic event and the line-up will make sure, that you are going to leave the venue with sore neck muscles.
The event takes place at Paviljonki, which is close to the city centre and the station. The city of Jyväskylä has many hotels, so you'll find an accommodation that suits you perfectly for sure.
On Friday, ONE DESIRE, ENSIFERUM and TIMO RAUTIAINEN JA TRIO NISKALAUKAUS from Finland will be on stage, as well as MUSTASCH from Sweden. So, you will already have heard a good amount of Rock and Metal, when TURMION KÄTILÖT, who played an amazing gig at Rock Castle Festival this year, will shake your bones. BATTLE BEAST will be the headliner on Friday. On Saturday, the line-up will be a bit more international with EQUILIBRIUM from Germany, ROTTING CHRIST from Greece, and D-A-D from Denmark as well as BLOODRED HOURGLASS, MORS SUBITA and STRATOVARIUS from Finland. The headliner will be AMORPHIS, who are currently working on a new album.
VIP tickets are available and the upgrade includes

- VIP area with seats
- VIP bar with a larger selection of drinks
- Welcome drink
- VIP dinner
- Free cloakroom
Info: https://johnsmithrockfrozen.fi/en/vip-2/
Additional Festival Info

Start: 17:00
Tickets: 1-Day-Ticket from 69 € (+ charges/shipping) / 2-Day-Ticket from 109 €(+ charges/shipping) / VIP Tickets from 129 € (+ charges/shipping) via
https://johnsmithrockfrozen.fi/en/shop/
Info: https://johnsmithrockfrozen.fi/en/frontpage/#