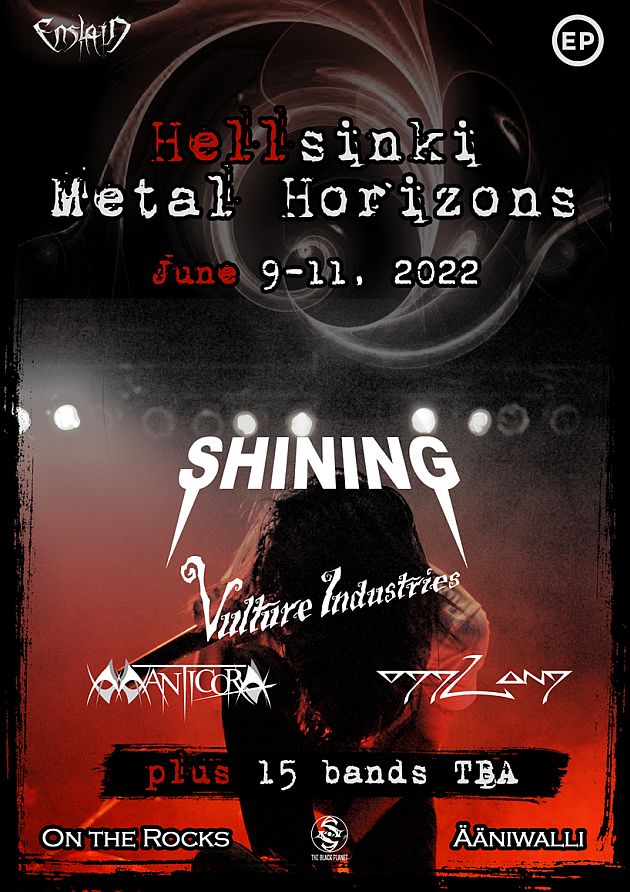 Hellsinki Metal Horizons, a club festival with eyes to the horizons, scouring the metalverse for acts that you don't see every summer around every corner - instead inviting those that delight us with their progressive complexities, their thundering technical aptitudes, their modern propensities, or their idiosyncratic quirks.
Legends and rarities, favourites and oddities, Horizons is a new conceptual festival that's here to provide an aural adventure to those longing for inspiring new flavours. The main festival event will take place June 10th-11th at Ääniwalli, in the Vallila district of Helsinki, with a warm-up club gig at downtown On The Rocks, on June 9th.
Expect to find more than just bands, as the event is designed as an experience, of which more will be revealed in due time. Hellsinki Metal Horizons is brought to you as a collaborative effort from Elektrik Products (EP) and Enslain. Horizons can be seen as a cousin event to EPs well-established and long-revered Hellsinki Industrial Festival incorporating the same high-quality visuals and venue trimming.
Meanwhile the partnership with Enslain - a metal 'zine published since 97 and a merch team that serves on the front line of events - ensures that the metal audiences are served up a tasty array of fresh metal slices. Widen your metal horizons!
Confirmed Line-up

Shining (NO)

Leave your saxophone at the cloakroom; Norway's kings of Blackjazz have got you covered. SHINING returns to Finland with their whack-tastic repertoire of hybrid Metal styles to keep you on your toes and then subsequently knock you off them.
Vulture Industries (NO)

Avant-garde to the max, with a smooth Scandinavian style! Norway's VULTURE INDUSTRIES dropped jaws with their zany stage performance on their last Finland visit some seven years ago. Now it is time for a victorious comeback!
Oddland (FI)

One of Finland's most prominent and inspiring prog-metal bands, Turku's ODDLAND are vaulting to the forefront of the international scene with their brilliant upcoming album. A lot of dazzling guitar-driven Prog, a bit of pensive Groove, a healthy dose of Djent - wonderful, we say!
Manticora (DK)

The headlines will read: mythical beast spotted in Finland's capital. That beast is MANTICORA, and trust us: they're legit! Denmark's premier progressive Power Metal act prepare for their long-overdue debut on Finnish shores.
15 more acts to be announced!
Tickets: https://www.tiketti.fi/hellsinki-metal-horizons-aaniwalli-helsinki-lippuja/79728
https://www.hellsinkimetalhorizons.com/