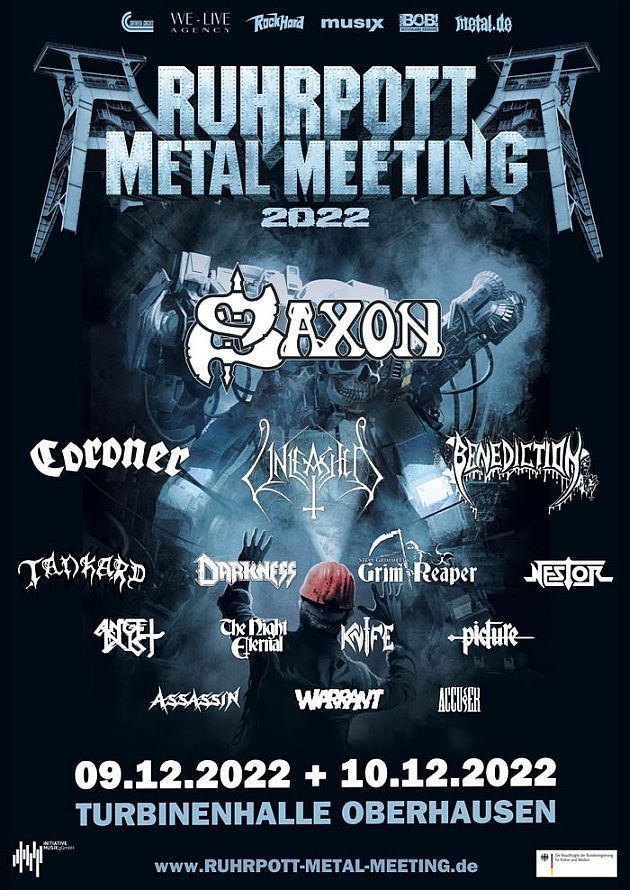 Turbinenhalle, Oberhausen, Germany
9th & 10th December 2022
Ruhrpott Metal Meeting with Saxon, Coroner, Tankard, Grim Reaper, Nestor, Darkness and Assassin and more

Back from the dead! Continental Concerts, WE-Live Agency, Rock Hard Magazin, musix, Radio BOB & metal.de presents: More Metal is not possible! Some of the greatest German heavy bands ever come from the Ruhrpott. The great heroes of the genre, including a few local ones, will finally return here when the legendary and fortunately indestructible Ruhrpott Metal Meeting takes place in December. On two days and also in the most suitable environment!
The Turbinenhalle in Oberhausen is one of the most beautiful and hottest venues in Germany. And given the typical industrial architecture, along with the associated rough charm, optimally suited for the Ruhrpott Metal Meeting. And for the resurrection, some of the particularly great grenades have already announced themselves for this year!
First and foremost, the glorious Brits SAXON. In over 40 years, Biff Byford and his guys have brought it to a considerable number of hard rock anthems. Soon there will be 'Wheels Of Steel', 'Motorcylce Man' and 'Denim And Leather' to experience live again. And new material from the current chart breaker album 'Carpe Diem'. British steel at its finest and hardest!
Also on the bill are the ingenious progressive thrashers CORONER from Switzerland - just think of ground-breaking albums like 'Punishment For Decadence' - and the "bad" boys of Benediction from Birmingham, who are hitting the people with their powerful and precise death metal. Not for nothing is their masterpiece from 2008 called 'Killing Music'. Unleashed hailing from Sweden will bring you "heavy" Death Metal. Straight, martial, without frills. Cult!
Look forward to the Frankfurt thrash and beer legend TANKARD. They will turn the Turbinenhalle into a huge bar and wish you a nice 'The Morning After'! GRIM REAPER - the cult band of NWOBHM from England - rock for 40 years and will give you hell. See you in Hell! The Swedish youngsters NESTOR revive the 80s. Dancing, rocking, headbanging and at the end we all call the police! DARKNESS AND ASSASSIN from Essen and Düsseldorf hold the local cult and Thrash flag high and will represent the Ruhrpott worthy and massive.
ANGEL DUST from Dortmund never had to hide behind their musical US colleagues and will prove that at the Ruhrpott Metal Meeting and present you with a potpourri of Power and Thrash Metal. Dutch metal veterans PICTURE with Peter Strykes call you to the general headbanger party! Eternal Dark! THE NIGHT ETERNAL, also from the Ruhr area, take a classic and sinister approach, while KNIFE from Hesse let it rip black and fast. Fresh and powerful, ACCU$ER - the torchbearers of German Thrash Metal – will bang into your ears from the stage.
This powerful portion of heavy metal with all its facets and shades is only - and finally again - served at the Ruhrpott Metal Meeting! The Ruhrpott Metal Meeting delivers the all-round happy package for all friends of hard-hitting sounds - let it rip! A-M-E-N! Or: The Ruhrpott Metal Meeting will not be for posers again this year! AMEN!
Tickets:
https://www.deinetickets.de/event/rmm/