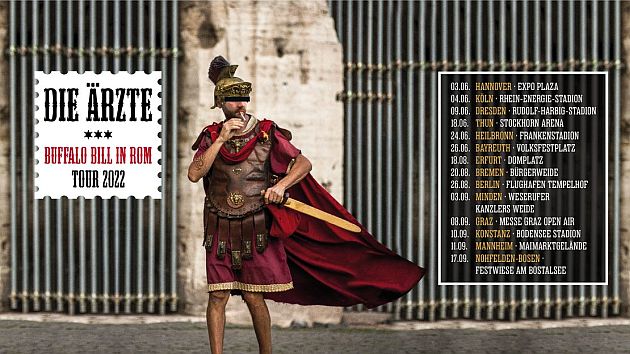 Festwiese am Bostalsee, Nohfelden-Bosen, Germany
17th September 2022
Die Ärzte - "Buffalo Bill in Rom Tour 2022" - Support: Beatsteaks, Chubby And The Gang

In autumn 2021, the band DIE ÄRZTE celebrated one year of 'Hell' with a matching album. With 'Dunkel', Farin Urlaub, Bela B. and Rodrigo González have released their 14th work. Now the "Best Band in the World" is back on tour and bringing summer to Europe! All over Europe? No, but almost, to Germany, Austria and Switzerland. Finally jumping, dancing, wall-of-deathing, backstaging, senseless la-oling and subjecting your ears to a limitless stress test again!
Finally celebrate, rejoice, flirt and "fünfegradeseinlassen" again! Finally sweating, clapping, cheering and singing along to lyrics that critically question the present! Finally listening to questionable announcements again, demanding forgotten favourite songs, enjoying breath-taking light shows or actively participating in them and enduring pelting downpours stoically! And using toilets, as they only exist in this state at concerts! YEAAAAAH!
Finally, back to being a bit numb, a bit smelly, a bit dusty and exhausted, but all-round happy enjoying life aka the Best Band in the World with like-minded people! (Alternatively: Finally standing at the back of the bar again and singing the "Früherwarnsebesser-Blues"). Finally buying T-shirts with the portraits of Bela, Farin and Rod and all of their records! There is only one God: BelaFarinRod! And finally, they are live on stage again after such a long time! With hopefully the best weather, there will now be the opportunity to refresh old memories and experience new songs by the Best Band in the World live at Bostalsee on 17 September 2022.
German Tour Dates

03.06.22 Hanover – Expo Plaza
04.06.22 Cologne – Rhein-Energie-Stadion
09.06.22 Dresden – Rudolf-Harbig-Stadion
18.06.22 Thun – Stockhorn Arena
24.06.22 Heilbronn – Frankenstadion
26.06.22 Bayreuth – Volksfestplatz
18.08.22 Erfurt – Domplatz
20.08.22 Bremen – Bürgerweide
26.08.22 Berlin – Flughafen Tempelhof
03.09.22 Minden – Weserufer Kanzlers Weide
08.09.22 Graz – Messe Graz Open Air
10.09.22 Konstanz – Bodensee Stadion
11.09.22 Mannheim – Maimarktgelände
17.09.22 Nohfelden-Bosen – Festwiese am Bostalsee
Additional Concert Info

Doors: 16:30
Start: 18:30
Tickets: SOLD-OUT
Info: https://www.poppconcerts.de/popp_events/2209171_die-aerzte/