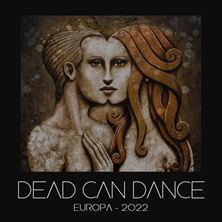 Haus Auensee, Leipzig, Germany
24th October 2022
Dead Can Dance - "Live 2022"

Since their founding in 1981, DEAD CAN DANCE have drawn on at least 800 years of European music tradition and what is laboriously referred to as world music. DEAD CAN DANCE have always fused many different elements together in their very own style. From Rock to Medieval melodies and traditional Gaelic folk, from Arabic harmony and Eastern European or African rhythms, parts were taken over as well as from Gothic or Post Punk.
The instrumentation was also always open to any kind of playing. Electric guitar, a synthesizer, a didgeridoo, a violin, electric sound generators or a glockenspiel, everything is allowed as long as it serves the sonority. But the voices are particularly characteristic, Brendan Perry's warm baritone, which is so clearly the opposite of Lisa Gerrard's bright sound. In the 80s, the two core members laid the foundation for their long career with the first acclaimed records, which even a ten-year break for solo projects could not harm. Most recently, 'Dionysus' was released in 2018, a major work that DEAD CAN DANCE call an oratorio.
In fact, the two-act, almost 40-minute work is enormous. Perry links the myth surrounding the multifaceted Greek god of wine, joy, fertility and madness with religious practices and impressions of nature. Animal sounds or noises from the forest combine with rhythms and instruments from all over the world and celebrate an old pagan cult. In short, DEAD CAN DANCE still manage to create a very special atmosphere in their music. This is especially true when it comes to their live performances. In October they will come to Leipzig for a show as part of their big European tour.
Additional Concert Info

Doors: 19:00
Start: 20:00
Tickets: can be bought for 55.50 + charges (pre-sale) via
Eventim
Band: https://www.facebook.com/DeadCanDanceOfficial / https://www.deadcandance.com
Facebook Event: https://www.facebook.com/events/5074379535942796/
Info: https://haus-auensee-leipzig.de/dead-can-dance