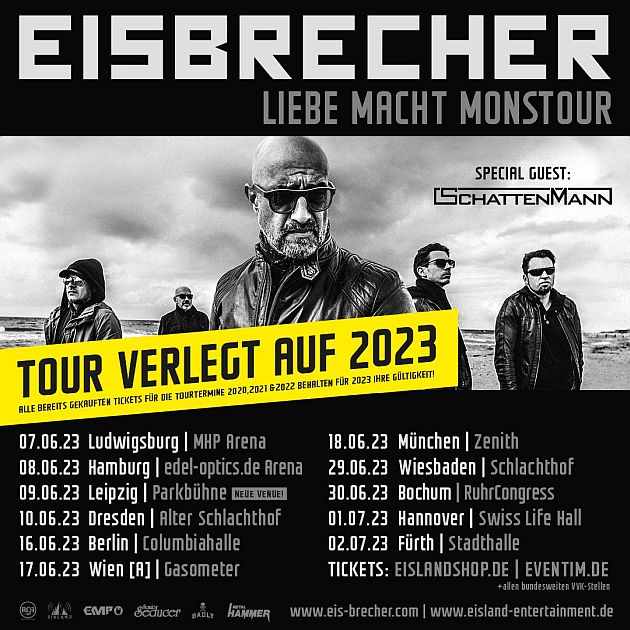 edel-optics.de Arena, Hamburg, Germany
8th June 2023
Eisbrecher - "Liebe Macht MonsTour" 2023 - Special Guest: Schattenmann

EISBRECHER live promise you nothing less than 100 percent of the finest Rock music, paired with the extraordinary entertainer qualities of their frontman. The new album 'Liebe macht Monster' was out in 2021 and will be presented finally live on stage. So look forward to (according to the band:) "being able to belt out old hits and new songs"! EISBRECHER will be supported by SCHATTENMANN.
Originally planned for September 2022, the tour is postponed again to 2023. Here is the statement of the band:
"Dear EISBRECHER family,
We will make it short and painful: We have to move our tour planned for autumn 2022 to June 2023! All bad things come in threes! It breaks our hearts, but there is no other option. With the new federal and state decisions on Corona, we now have the sad certainty that everything we all don't want when it comes to live shows can come at us at any time, out of nowhere: tests, mandatory masks, spacing rules, attendance limits...!
So after a live summer of superlatives, now the sober statement: The 'new normal' means: Corona madness 'from O to O' (Oktober bis Ostern = October to Easter) and the narrow rest of the year (end of April to end of September) is released for real live-life, without restrictions... in the hall and on the green meadow. We've all experienced it in 2022. We have five months left in the year (the very five months that no band used to want to tour in) for all that we used to have 12 months for." Read the full statement from the band and management here: https://www.eis-brecher.com/news/2022/9.html
Additional Concert Info

Doors: 19:00
Start: 20:00
Tickets: are available for 51.60 euros (plus charges pre-sale) via
Eventim
Facebook Event: https://www.facebook.com/events/2741770149213714