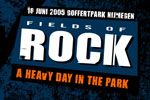 Fields of Rock: "A heavy day in the park"

June 18th 2005
Goffertpark, Nijmegen, the Netherlands
Organised for the first time in 2003, Fields of Rock is a real festival newbie, yet one with a spectacular first year. As Festival director Rob Trommelen tells in an Interview on the website of Fields of Rock (FoR): "Fields Of Rock started in 2002. Metallica's agent called, announcing that the band was planning to tour and that Holland was on their wish list. Fine… But Metallica only wanted to do festivals. At that point in time there really wasn't a suitable festival. So what do you do? You make up one: Fields Of Rock. The location was there in a whiff: De Goffert in Nijmegen. A beautiful festival terrain. Next I started to find out what was on sale: Marilyn Manson, Slayer, Metallica of course… That first edition in 2003 was an enormous success: 41,000 visitors. Metallica put on a fantastic show. One year later there wasn't quite as much hard rock on tour. The decision was made quickly: no Fields Of Rock. This festival will only be held if there's something special on offer." And yes the last part is all true for this years FoR, A spectacular line-up makes this years festival a true Hardrock festival with a smile.


A small grasp from the line-up: Alter Bridge, Motörhead, Black Sabbath, Papa Roach, Slayer, Audioslave, Rammstein, Chimaira, Soulfly, Flogging Molly.
Bands with mighty courtesy and experience. The Netherlands are represented well on this years festival by the bands After Forever and Dreadlock Pussy. Two formations who have been around for a while and survived many hypes. Most bands don't need an introduction they have been around for so long, everyone knows at least one song, especially the older formations like Slayer and Black Sabbath (yes Ozzy Osbourne is there as well), do ring a bell. Also a for the Netherlands a relative new band is represented: Bullet for my Valentine.
The one band not really in place by style is actually The Irish/American formation Flogging Molly, with their Folk/Punk-rock they will be a welcome change between all these Old-school and Nu-Metal Bands.
While the Festival is only a month away, we decided to zoom in on the line up and give you all a small preview.
After Forever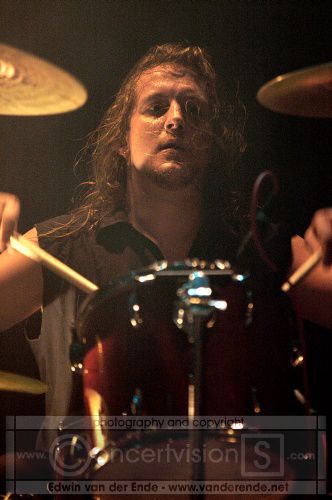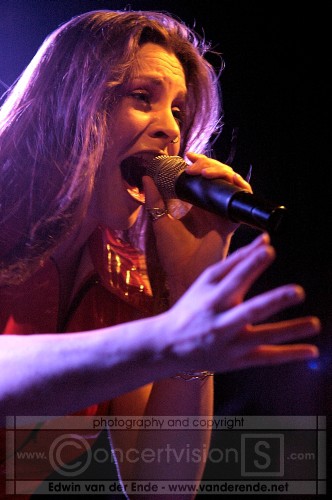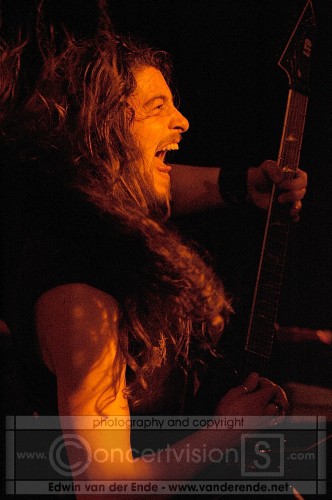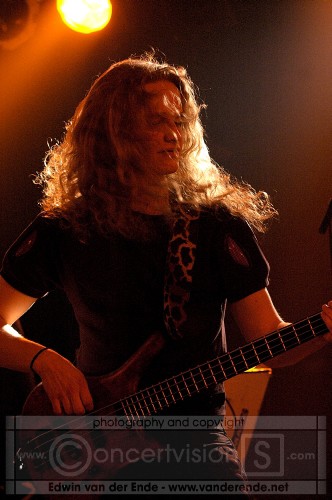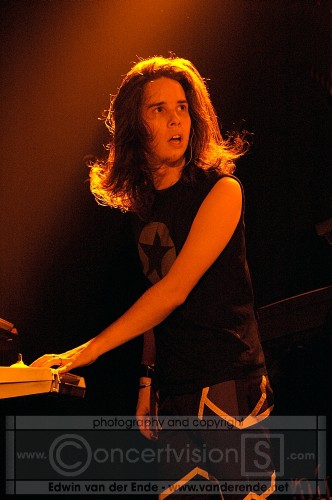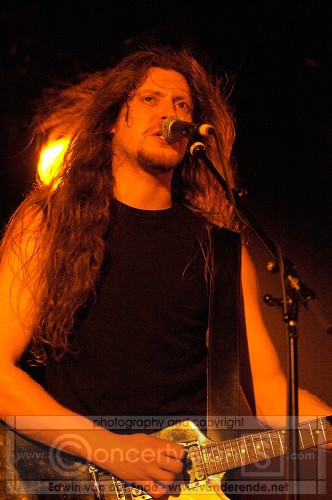 Floor Jansen - Vocals
Sander Gommans – Guitar /Grunts
Bas Maas – Guitar
Luuk van Gerven – Bass
Joost van den Broek - Keys
André Borgman - Drums
The band was formed in 1995 en after Floor Jansen joined in 1997, the mix between Death Metal and Classical music was complete. The first album was recorded in 2000 namely 'Prison Of Desire' , by that album the foundation for recognition was made and soon they toured throughout Europe and the band became one of the best Female Fronted Metal Bands.
By the mini album 'Exordium', (which holds a Brilliant cover of Iron Maiden's –'The evil That men do' nothing but respectful), released in 2003, they've had performed in practically in every Dutch venue.
On this mini album there was to be found a small preview of their in 2004 released album 'Invisible Circles', a concept album with a very serious topic.
Even though the band has had several setbacks in the past year, they are working very hard on a new album and of course just like any of you, we as well are very curious towards the release….Anyway it definitely is promising for FoR this year.
http://www.afterforever.com/

Alter Bridge

Myles Kennedy – Vocals, Guitar
Brian Marshall – Bass
Scott Phillips – Drums
Mark Tremonti – Guitar, Vocals
Alter Bridge was formed after the band Creed decided to disappear of stage, 3 of the members Brian Marshall, Scott Phillips, Mark Tremonti, decided to continue making music and when Myles Kennedy (The Mayfield Four) joined, the formation Alter Bridge was complete. In 2004 They released their "first" album 'One Day Remains'
Alter Bridge is a bridge in the hometown of Mark in Detroit. The locals look it at as a dividing line between two very different areas. As a kid, he was told not to go over the bridge. It symbolizes the unknown, not knowing what's on the other side. Not knowing where they are at with the band the name was easily found.. Of course the rock scene is not totally unfamiliar to these guys, they have been around for quite some time and I am definitely looking forward to their performance. Truly good Rock and definitely worth it!
http://www.alterbridge.com/

Audioslave

Chris Cornell – Vocals
Tim Commerford – Bass
Tom Morello – Guitar
Brad Wilk – Drums
In memory of the super bands of the past, two of the most talked about bands of the nineties combined their talents, namely Soundgarden and Rage against the Machine (RATM), to create a new band: Audioslave, which is more traditional minded, as we can hear on the equally named debut album released in 2003. Instead of Raging Protest Songs like RATM or super Grunge like Soundgarden used to make Audioslave follows a more modest path creating great and breakable songs with deep meanings as a result.
But fans of the first hour! Audioslave pledged to FoR that they will play RATM and Soundgarden songs as well!
The new album is expected around the 24th of May 2005 and we expect a lot of new material as well!
http://www.audioslave.com/

Black Sabbath


Ozzy Osbourne – Vocals
Tony Iommi – Guitar
Geezer Butler – Bass
Bill Ward – Drums
Adam Wakeman - Keyboards
Having no need for an introduction, as FoR mentions: "It may be a bit bold to state that heavy metal never would have existed if it weren't for Black Sabbath, but it is a fact that in 1970 the "Brummie" quartet turned out the blueprint for a complete music genre." Thirty-five years later, it will be the same four men who will shake the grounds of the Goffert to the sounds of classic songs as 'War Pigs', 'Iron Man', 'Children Of The Grave', 'Black Sabbath', 'Snowblind', 'Sabbath Bloody Sabbath' and of course 'Paranoid'.
They have been an inspiration to many bands and a true Nightmare to many Moms, but I am truly glad to finally see them on FoR even though the band was formed eight years before I was born.
To the ones who would like to dive into the history of Black Sabbath:
http://www.black-sabbath.com/
.

Bullet for my Valentine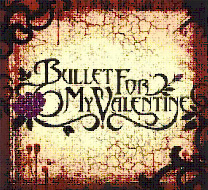 Matthew Tuck – Vocals
Michael Padget – Guitar
Michael Thomas – Drums
Jason James – Bass
FoR:
Who? Indeed, Bullet for my Valentine is still a blank page in Holland. But last year the Welsh quartet already got the chance to open the prestigious Download Festival in the English city of Donington, on the basis of just one untitled mini album."
They are already compared to Pearl Jam and LinkinPark, Inspired by bands like Metallica and Iron Maiden, with the astonishment of how come they became so big? ("and not out of jealousy but why shouldn't we be able to?" As said by Bullet for my Valentine) The Foursome hit the studios and recorded their first album. With no budget to make a grand video, they became inspired by the Wesly Snipes movie Blade for the video of the song 'Hand Of Blood' (yes indeed the Vampire Disco scene with bloody showers) as They explain on their website:
http://www.bulletformyvalentine.com/
. Luckily they don't believe in re-inventing the wheel, so it should be promising.
Chimaira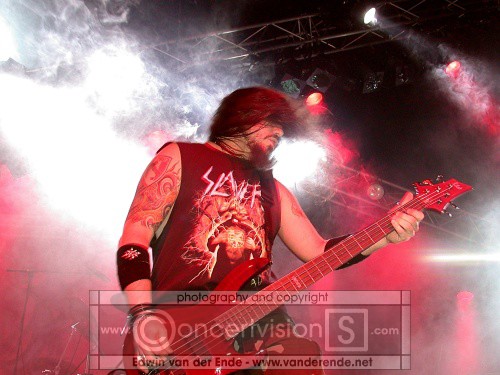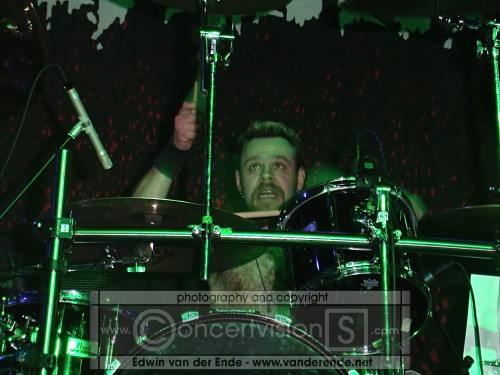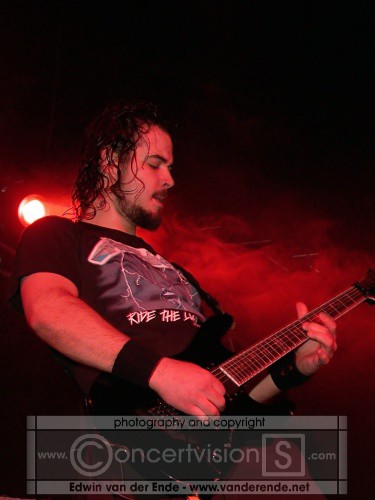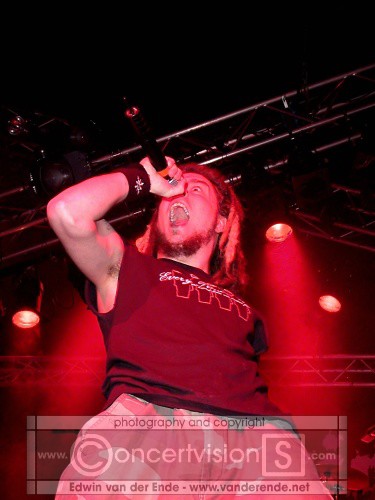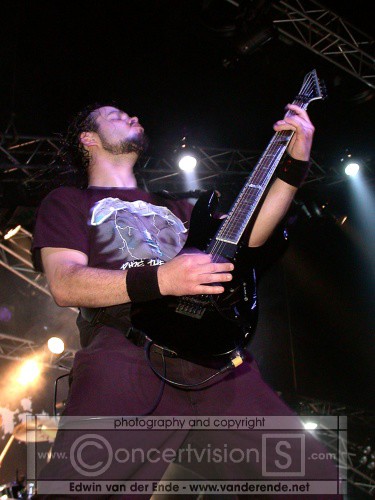 Mark Hunter – Vocals, Guitar
Matt Devries – Guitar
Rob Arnold – Guitar
Jim LaMarca – Bass
Chris Spicuzza - Electronics
If there is one band who has all it takes to surprise us with their performance it should be Chimaira. By the Blood rushing album 'The Impossibility Of Reason' Chimaira is setting a new line: The New Wave Of American Heavy Metal". An album which is completely trend free, armoured with that kind of hard work and compassion it blows everyone else far and far away.
Chimaira has metal in it's DNA. Influenced by Metallica, Slayer and Pantera, they very well could surprise us!
http://www.chimaira.com/
Flogging Molly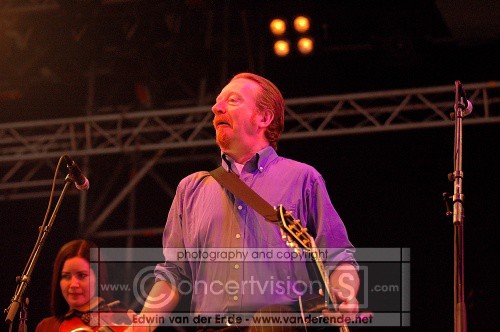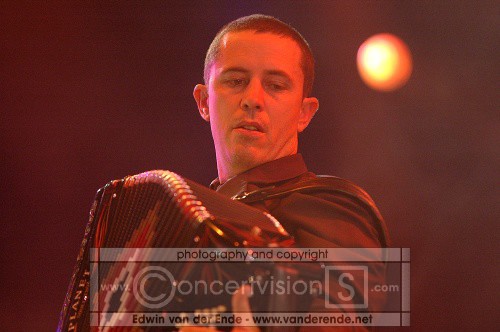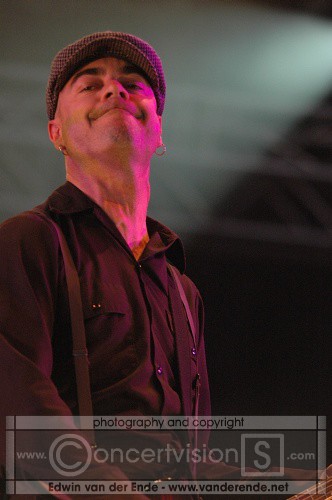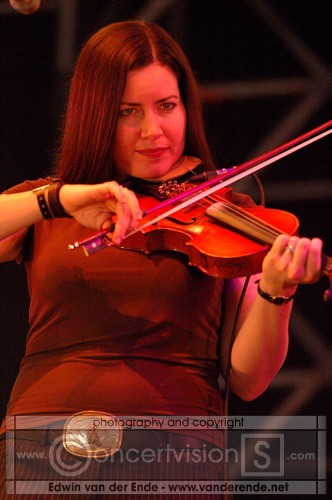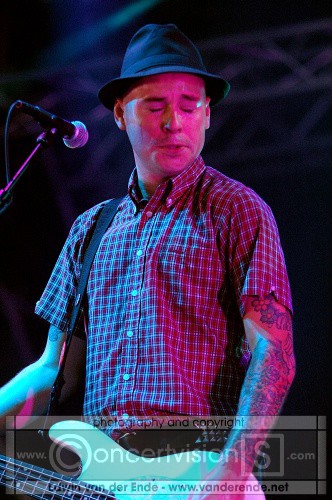 Dave King: Lead Vocals, Acoustic Guitar, Banjo, Bodhran, Spoons, Backing Vocals
Bridget Regan: Fiddle, Tin Whistle, Uilleann Pipes, Backing Vocals
Dennis Casey: Electric Guitar, Backing Vocals
Matt Hensley: Accordion, Concertina
Nathen Maxwell: Bass, Backing Vocals, Lead Vocals on "Queen Anne's Revenge"
Robert Schmidt: Mandolin, Banjo, Bazouki, Mandola, Backing Vocals
George Schwindt: Drums, Percussion
A nice change of sound from this Irish/American formation. With their Folk-Punk-Rock I am really looking forward to see them yet again!
In the Album biography Dave king Explains how this actually works so well:
"We've developed a really unique sound," says King of his seven-piece outfit. "The first time we all got together to play, there was an energy in the room that I'd never experienced in any other band I'd ever been in and it wasn't due to any single ingredient, instrument or individual. We started playing in a bar and just played and played and played. We're a live band. We'll always have that."
The band's fabled energy and presence can be heard loud and clear on the band's new album 'Within A Mile Of Home', which follows 2000's 'Swagger' and 2002's 'Drunken Lullabies'. Describing the band's unique melting pot, King has said, "If it didn't have mandolin, accordion, fiddle and whistle, it would be punk-rock, and if it didn't have guitar, bass and drums, it would be traditional Irish music. Flogging Molly has both."
http://www.floggingmolly.com/
Motörhead

Lemmy Kilmister – Vocals, Bass
Phil Campbell – Guitar
Mikkey Dee – Drums
FoR:
"If there is one constant factor in the world of Heavy Metal, then it's Ian 'lemmy'Kilmister and his band Motörhead: The world's loudest trio, named after the last song lemmy wrote for his former band, Hawkind. "
The song also symbolises the ruthless, straightforward metal-'n-roll that Motörhead is turning out for thirty years now. At an age at which normal people consider early retirement, Lemmy and his men only kick up the gear, as witnessed by their brilliant latest album 'Inferno'.
Concessions, experiments, surprises, Motörhead loathes them all. So it is beyond doubt that we can count on motor-smashes like 'Bomber', 'Overkill' and the mother of all metal hymns, 'Ace Of Spades'.
A peak in their history then hasn't been done in a sec. Wherever you look you could fill many pages with it. Knowing the guys, they will definitely let us know that they have been walking the face of the earth for about thirty years know bringing us their Rock Hard Metal.
http://www.motorhead.com/
Papa Roach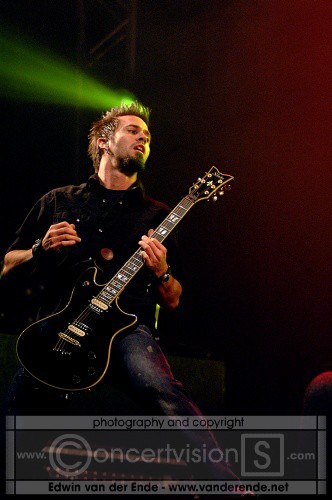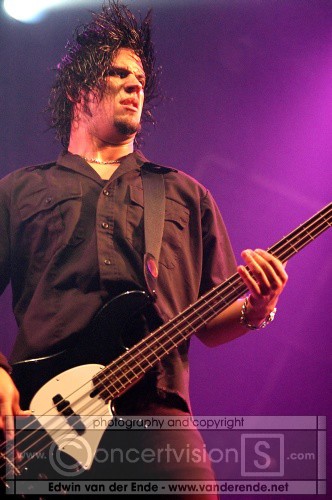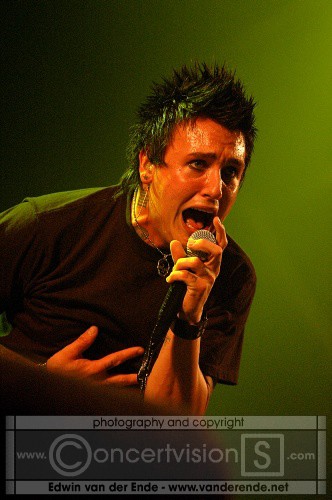 Coby Dick – Vocals
Jerry – Guitar
Tobin – Bass
Dave – Drums
The enlarging popularity of Papa Roach never missed the Promoters, just as many other bands they started as a support act. In April 1998 they released '5 Tracks Deep' with indeed 5 Tracks which sold a thousand copies within a month's time.
A perfectly good example of their style and trademark is the song: 'Revenge In Japanese', Hip Hop Lyrics with a radio friendly Chorus. Most well known songs: 'Last Resort', 'Broken Home', 'She Loves Me Not'.
http://www.paparoach.com/
Rammstein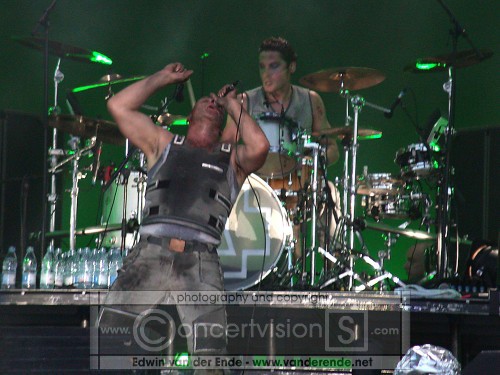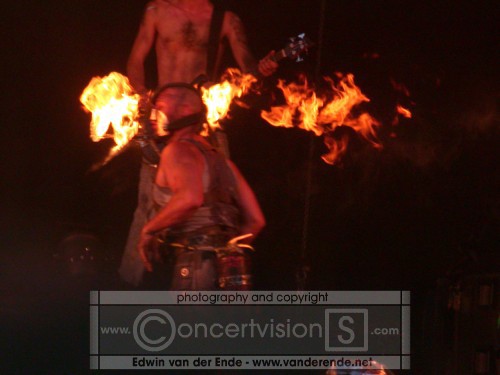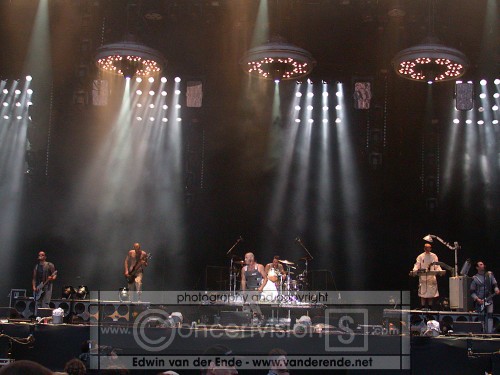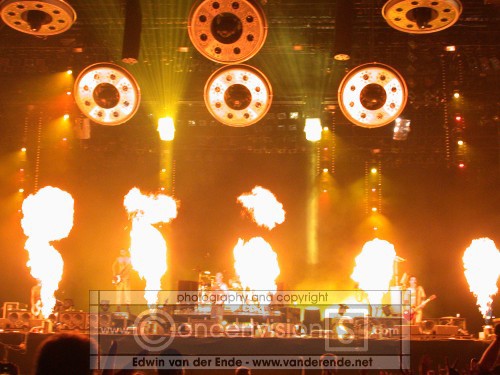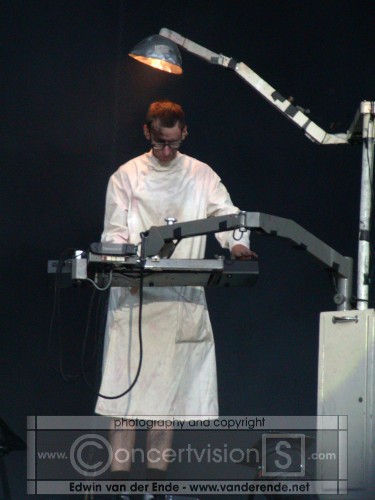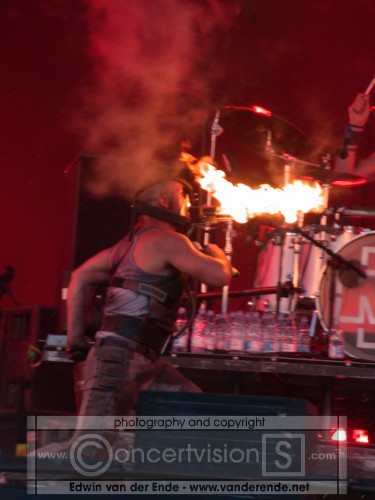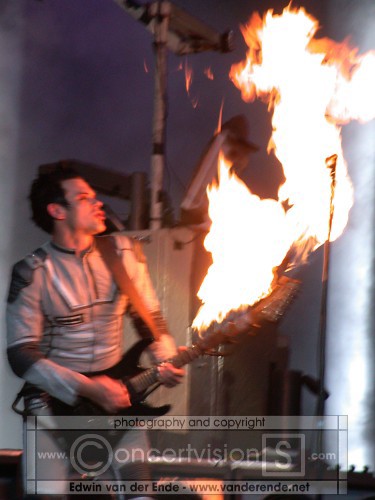 Till Lindemann – Vocals
Richard Z. Krupse-Bernstein – Guitar
Paul Landers – Guitar
Oliver Riedel – Bass
Flake Cristian Lorenz – Electronics
Chistoph Schneider - Drums
It all started in 1993 when the band Rammstein was formed, all of the band members were living in the former East-Berlin and already in different bands. The name Rammstein was found by it's rough sound and the tragedy which found place at the Army base Ramstein in 1989, where during an Air show one of the planes crashed on the audience leaving many dead and burned. Which the band explains in the song "Rammstein".
Rammstein is a band of which in first hear you can't tell what they exactly want. Their lyrics are hard and without the image display you really could develop a wrong image about the band. Their sarcasm about all the wrongs in the world, makes them who they are. For instance the song 'Mein Teil' is about the German cannibal who put an add in the newspaper in search of anyone who would wanted to become dinner.. With their very sarcastic minds they also turned this song in a great show during their 'Reise Reise' tour. Guess who was holding the flames and who became dinner?
http://www.rammstein.com/
Slayer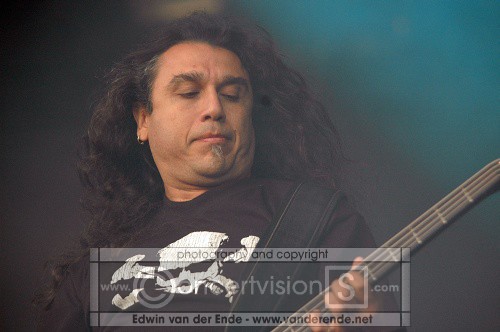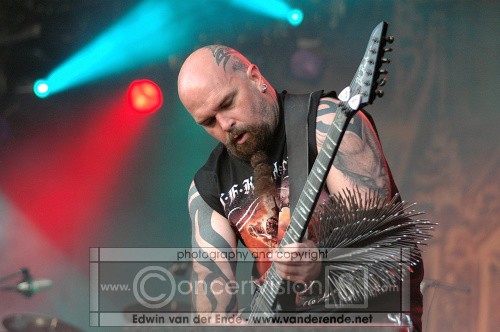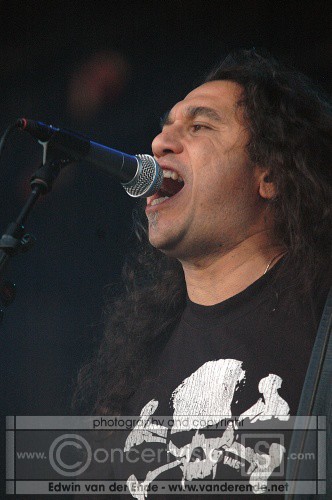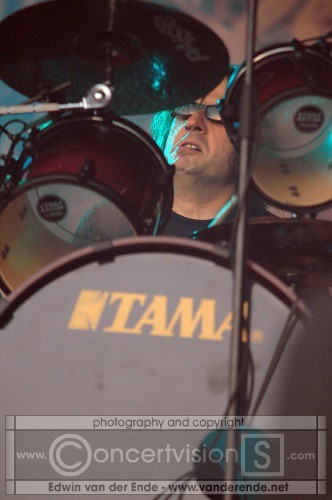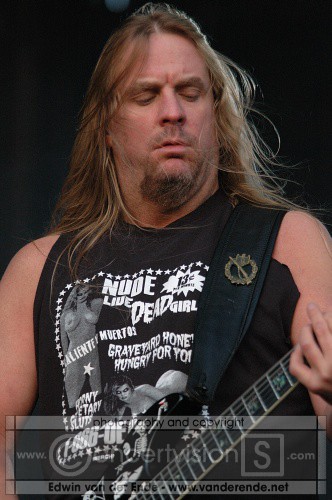 Tom Araya – Vocals, Bass
Kerry King – Guitar
Jeff Hanneman – Guitar
Dave Lombardo – Drums
FoR:
"Three time's a charm"
"Firstly for Ozzfest, then headlining Dynamo Open Air and now at Fields Of Rock. Slayer, often imitated but never equalled. Who isn't familiar with the album classics 'Show No Mercy', 'Hell Awaits', Reign In Blood', South Of Heaven' and 'Seasons In The Abyss'? Milestones in the history of metal, piece by piece. After master drummer Dave Lombardo packed his bags at the beginning of the nineties, it all caved in a little, but... Dave is back! And so the one and only true Slayer line-up is re-established. All hail to the kings of thrash!"
Unfortunately there isn't much news about the band, they released a new CD 'Still Reigning' of which you can find a preview on:
http://www.americanrecordings.com/slayer/
, in October. So I guess the true fans already have it. No need for further introduction, I am curious how big the "sound wall" will be this year!
Soulfly


Max Cavalera - Throat & Guitar
Bobby Burns – Bas
Marc Rizzo – Guitar
Joe Nunez – Drums
The music on the previous albums: 'Soulfly', 'Primitive' and '3' is Fluid, Experimental and unpredictable. It seeks change. For their fourth yet self produced album, 'Prophecy', Soulfly and their front man Max Cavalera decided to turn the wheel around in a different direction. accompanied by a complete new group of musicians "Prophecy" Represents a Fresher, newer, and revitalising Soulfly.
http://www.soulfly.com/

Yes! Yet again a Super! Line-up this year!! Reflections of Darkness hopes you'll all enjoy yourself during this fantastic but "heavy day in the park" and See U There!
Thanks to all our Sources: