Bospop
Weert, Sportspark Boshoven,The Netherlands
July 2nd and 3rd 2005
www.bospop.nl
Tickets are available at the Postoffice, touristinformation office (vvv) and GWK or at
http://www.ticketservice.nl/
Tickets (excl.reservation fee)
Saturday (02-07-2005): Presale 50,- Euro
Sunday (03-7-2005): Presale 50,- Euro
Saturday & Sunday: Presale 90,- Euro
Bospop, the 25th anniversary congratulations!

Bospop is an old fashioned comfy pop-rock festival which shall take place for the 25th time this year on the 2nd and 3rd of July. What started as a small scaled festival in 1980, meant for regional amateur bands has grown over the years to a full sized Music spectacle with bands of international allure. Bands who have already made an appearance in the past are: Simple Minds, ZZ-TOP, INXS, Toto, UB40, Alice Cooper, Steve Lukather, Status Quo, Bryan Adams, Golden Earring, Iron Maiden, Motörhead, K's Choice, The Gathering, Dreamtheater and many others.
Despite the growing amount of visitors, Bospop maintains it's cosy and intimate atmosphere. For that reason they were nominated to be the most cosy/comfy festival by the Dutch well respected magazine OOR.
Appearing on stage this year are the following Bands:
July 2nd 2005
V-male, Cannery Row, Peter Frampton, Vido, Steve Lukather, The Sheer, Uriah Heep, Last Supper, Marillion, Hayseed Dixie, Rodger Hodson, De Dijk, Joe Cocker.
July 3rd 2005
SQY Rocking Team, Action in DC, Dragon Force, White Cowbell Oklahoma, In Extremo, Mastodon, Masterplan, Overkill, Within Temptation, My Dying Bride, Y&T, Porcupine Tree, Iron Maiden.
In this preview we will highlight a few of those amazing bands. Enjoy the preview and we'll see you on Bospop 2005!
Marillion

Steve Hogarth - Vocals
Mark Kelly - Keyboards
Ian Mosley - Drums
Steve Rothery - Guitar
Pete Trewavas - Bass
Marillion first appeared in a recognisable form in early 1982, when the line-up of Fish (vocals), Steve Rothery (guitar), Mark Kelly (keyboards), Pete Trewavas (bass) and Mick Pointer (drummer) began exhaustively touring around the Aylesbury and London area. The combination of imaginative, enthralling music and image filled lyrics soon found favour amongst their expanding fan base and journalists who had tired of some of the more formulaic music that dogged the live scene of the time. Several sold out nights at the legendary Marquee club forced the record labels to recognise the impact of their music and a deal with EMI was quickly signed.
By 1997, Marillion had realised that the Internet provided an ideal opportunity to nurture a closer contact with the fans, and a fan instigated whip round on their e-mailing list produced enough funds to allow the band to tour the USA.
The release of the album 'Marillion.com' in 1999 flagged their newly launched web-site and record label but it was the revolutionary concept of asking their fans to pre-order and pay for the recording costs an album some 12 months in advance of its release that hit the headlines in 2001. Astonishingly, over 12,000 of their fans pre-ordered and an additional deal was struck with EMI to market the resulting 'Anoraknophobia' album.
A similar campaign was also launched to fund the band's latest release, 'Marbles' but this time all the money raised is going into a campaign fund to promote the album. In terms of fan loyalty, it can be said that Marillion have an international underground following to rival the mainstream.
Their new album 'Marbles' (released May 2004) is a CD packed full of atmospheric and stirring songs. Intense, deep-seated and musically rewarding - you'll either "get it" or you won't!
http//
www.marillion.com

Mastodon

Brann Dailor: Drums
Troy Sanders: Bass, Vocals
Brent Hinds: Guitar, Vocals
Bill Kelliher: Guitar
Mastodon is an explosive, unbridled force. Possessing an uncanny song writing sense, fearless innovation, unparalleled technical ability and a bottomless pool of raw talent and creativity, Mastodon is inarguably one of the most exciting new bands to form in the last 10 years.
Mastodon formed in 1999 when drummer Brann Dailor and guitarist Bill Kelliher moved to Atlanta, GA from their hometown of Rochester, New York. Only three weeks after arriving in Atlanta, Dailor and Kelliher met bassist Troy Sanders and guitarist Brent Hinds at a HIGH ON FIRE show that Hinds put on in his basement.
Dailor and Kelliher had almost a decade of playing and touring experience together; Sanders and Hines had a half-dozen. Within a few weeks of forming, the quartet's intense song writing chemistry generated a solid set of hard-hitting songs. These songs merely touched the surface of the outfit's boundless well of ideas.
www.mastodonrocks.com

In Extremo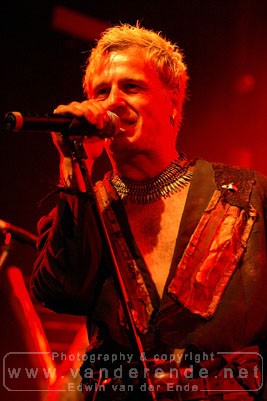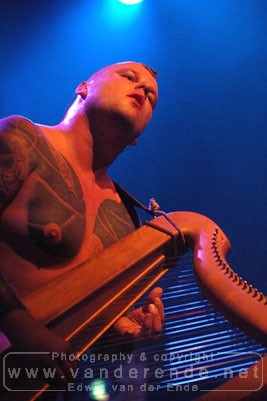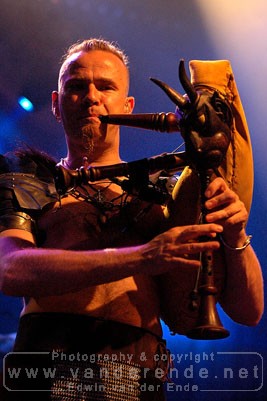 Michael Robert Rhein - Vocals
Boris Pfeiffer - Bagpipes, nyckel harp, flute, shawm
Rainer Morgenroth - Drums, percussion, tympanum, the Horse
Kay Lutter - Bass
Marco Ernst-Felix - Bagpipes, shawm, flute
Sebastian Lange - Guitar
Andre Strugalla - Bagpipe, shawm, flute, harp
Germany has raised a great deal of awesome rock bands over the past years, like Guano Apes and Rammstein, In Extremo could be the next in this line up. This Berlin based band combines metal as in Rammstein with Bagpipes as in The Pogues. And with their all to weird outfits during their live shows it also feeds the eye.
The band itself was born in 1996 in East Berlin, thus coming from the highly fertile land behind the former Wall (there's a whole bunch of Ost-Berlin bands, the most well-known being, of course, Rammstein. Before forming In Extremo, its members-to-be were not strangers to each other. In Extremo are also heroes in a computer game called "Gothic" released by Pihranna. Also background music is Herr Mannelig in a somewhat slow arrangement). Allegedly, they will appear again on Gothic III.
www.InExtremo.de

SQY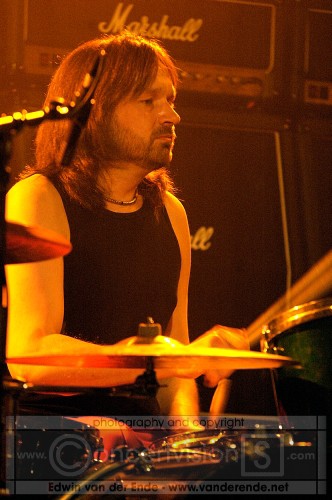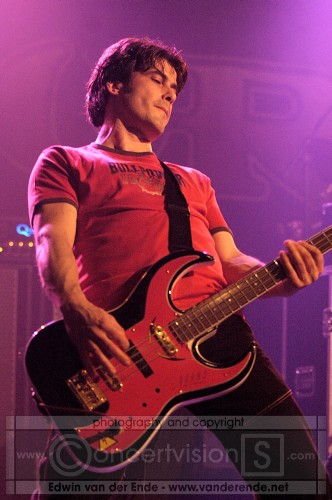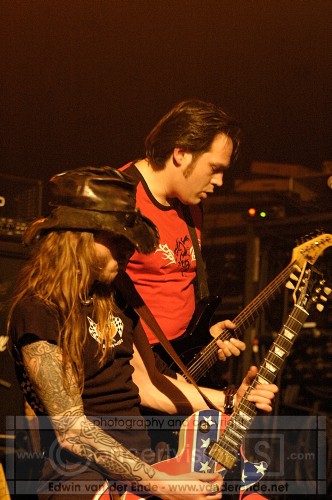 Listening to their music you will understand why this band has supported Europe and Status Quo (and many others). They will be celebrating their 12,5 years anniversary at Bospop!!
SQY (Sequoyah) hails back to 1993. It was founded out of the remains of two bands already well known for their energetic rock cover shows. The crowds were satisfied but the bands weren't and the urge to create arose. Sequoyah satisfied that urge and the mission was on to create original material.
They kicked off in a song writing frenzy and within a few months their gigs were sweeping local stages. Soon the rest of Holland joined the party resulting in the leading national rock magazine "Aardschok" praising their demo tapes with excellent reviews. This was a fantastic boost. After their first CD "The Rising" in 1996, they released a 4 track mini called "Big town hideout" and a live album - a compilation of almost a decade on the road.
Since times always change, Sequoyah had to change too.
The next challenge was not only to write but produce their own music. "From Soho down to Hollywood" became the first fully written, arranged and produced CD single to come from Sequoyah. The challenge was a success and encouraged by good results the band went on to produce the full length CD album called "SQY". Together with the CD-release the band's name was changed to SQY.
"Ten Years on the Road" was released March 2003 in honour of SQY's tenth anniversary. "Ten Years on the Road" is a chronological collection that aptly expresses how the band has evolved over the last 10 years.
At this moment SQY is on the verge of releasing their fourth full length CD album called "Full Throttle". The CD contains 11 brand new songs which will all rock your socks off.
SQY played hundreds of gigs over the past years in Holland, Belgium, Germany, Denmark and the UK.
www.sqy.nl

My Dying Bride

Aaron Stainthorpe - Vocals
Ade Jackson - Bass
Andrew Craighan - Guitar
Hamish Glencross - Drums
Sarah Stanton - Keys
My Dying Bride were formed in June 1990 and after only six months of intense rehearsing, their now legendary demo 'Towards the Sinister' was launched upon an unsuspecting world. Shortly after the release of the demo, a 7" single was released by the band on the small French label, Listenable. The 'God Is Alone' 7" went on to sell out almost immediately, which caught the eye of Peaceville Records, who offered the band a deal just one year after they had formed. In 2000, the band celebrated its 10 year anniversary with tour in Western Europe and the creation of two compilation albums titled Meisterwerk 1 & 2.
Shortly afterward, the band went back into the studio, to record the next opus 'The Dreadful Hours', which was released in July 2001. Again, Johnny Maudlin was recruited for sorting out the keyboards. In addition to seven new tracks, the album featured a new recording of the 14-minute epic song "Return of the Beautiful', renamed 'Return to the Beautiful'.
A deluxe 3 CD box set, titled "Anti-Diluvian Chronicles" has just recently been released. The box set will feature 3 exclusive new mixes of The Wreckage Of My Flesh, My Wine In Silence and The Raven and The Rose, with an exclusive interview with singer Aaron Stainthorpe. My Dying Bride have matured into a powerful dark metal band, incorporating slight gothic influences into their distinctive doom style. The style of the band has remained steady throughout their career and continues to push the boundaries of extreme doom metal.
www.mydyingbride.org

Within Temptation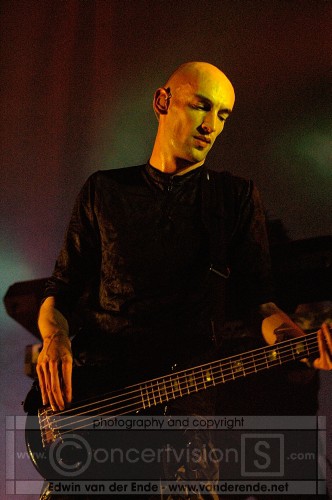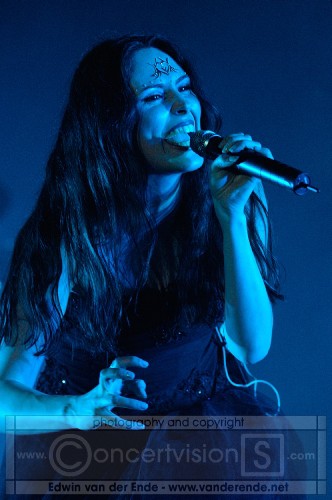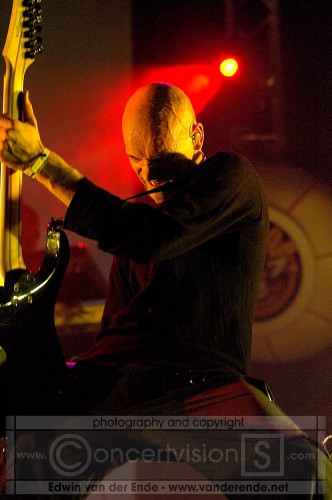 Robert Westerholt - Guitar
Sharon den Adel - Vocals
Jeroen Van Veen - Bass
Stephen van Haestregt - Drums
Martijn Spierenburg - Keys
Ruud Jolie - Guitar
In 1996 Within Temptation was founded by Robert Westerholt and Sharon den Adel.
1997 saw the release of their first album 'Enter' on the Dutch label DSFA. Due to the positive media reactions the band was booked for four concerts and was also invited to play Dynamo, one of the largest Dutch festivals. Following their live gigs, interest increased to have the band tour and Within Temptation played some shows in Germany and Austria.
2000 was to be a very important year for the band. On one hand they played all the major festivals in their home country such as Waterpop, Bospop and Lowlands and on the other hand they worked on their new album 'Mother Earth', which was released on December 1st.
'Mother Earth' was nominated album of the month in OOR, Aardschok and Music Maker. Aloha's review read 'symphonic and celtic elements fuse with the impressive voice of Sharon den Adel. Within Temptation are ready for a major breakthrough'.
The album actually made it to the 68th position of the Top 100 sales charts and remained there for three months.
Most of 2004 saw the band working on new material for their album 'The Silent Force', which was released in November all throughout Europe. The album was recorded in Sweden, Russia, Belgium, and Holland and was produced by Daniel Gibson.
Due to the success of 'Stand My Ground', the first single release from 'The Silent Force', the album was a major success in all of Europe. At the beginning of 2005 nearly 400,000 copies of 'The Silent Force' have been sold though out Europe and the band once again received the Conamus Music Export Price as well as the Edison Award having been nominated 'best national band'.
The second single 'Memories' was a chart success as well. In February and March Within Temptation toured Europe and even played a show in the Middle East at the Dubai Desert Rock Festival, rocketing the album into the Top 10 of Dubai. With an Exclusive concert upcoming after Bospop. Within Temptation is more popular than ever. Check out their website for more information:
www.within-temptation.com

Y&T

Dave Meniketti - Lead Guitar/Lead Vocals
Phil Kennemore - Bass
Leonard Haze - Drums & Mayhem
John Nymann - Guitar
Unable to ignore the barrage of fan mail, Y&T are returning to the stage-with original members Dave Meniketti on searing lead guitar & vocals, powerhouse drummer Leonard Haze behind the skins, Phil Kennemore on bass, and John Nymann joining on guitar. For years Y&T was the most requested supporting act on the hard rock road, touring with rock icons including, Ozzy Osbourne, AC/DC and Motley Crüe.
They were sure-fired to whip the crowd into a frenzy with their high energy set. On both coasts at home, in Japan, Europe and England, they headlined to overflow houses of 15 to 30 thousand. Y&T has sold over 4 million albums and has recorded 16 LPs and three greatest hits collections since their 1974 inception.
These rock and roll pioneers survived disco fever, rode the crest of the 80's hard rock insurgence, and remained faithful to melodic power ballads throughout the age of grunge. At any concert you can hear fans calling out their requests from albums including, "I Believe in You" from Earthshaker, "Barroom Boogie" from Black Tiger and "Mean Streak" from Mean Streak. With a reenergized demand, in 2001 the band was asked to release another collection and compile the selections for The Ultimate Y&T. But Y&T's concerts are not filled with their golden oldies; the years have added maturity to the band's passions without compromising the power and blistering energy Y&T has always been known for.
www.meniketti.com

Porcupine Tree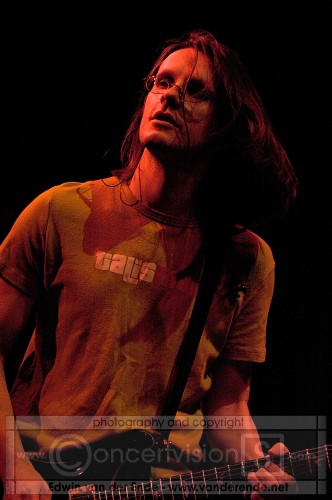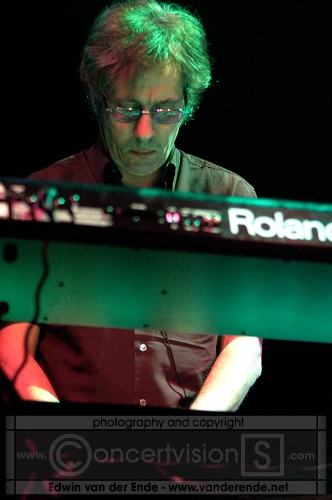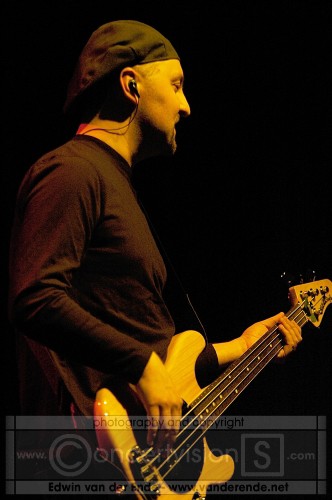 Steven Wilson - vocals, guitar, piano, bass, keyboards, hammered dulcimer
Richard Barbieri - keyboards, synthesizers
Colin Edwin - bass
Gavin Harrison - drums & percussion
Porcupine Tree was founded in 1987 as a psychedelic, experimental, and progressive music outlet for the home studio explorations of Steven Wilson. In February 2002 Porcupine Tree's first ever line-up change occurred when drummer Chris Maitland departed after eight years with the band. The band welcomed extraordinary drummer and long term acquaintance Gavin Harrison to the line-up.
2003 also saw the start of a lengthy reissue / re-master campaign, with many of the early albums expanded to double CDs. These reissues included a rerecorded / remixed version of the Up the Downstair' album, and the reissue of 'Stupid Dream' and 'Lightbulb Sun' on Lava/Atlantic.
In early 2004 the band embarked on the recording sessions for an ambitious new Porcupine Tree album, 'Deadwing', their second for Lava/Atlantic. The album takes it's inspiration from a film script (and hopefully later a film) written by Steven with his filmmaker friend Mike Bennion. With the album sessions completed in November 2004, and the band's total worldwide sales now approaching half a million units, demand for new music from the band was at an all time high, and increasing media coverage, word of mouth and fan-power continued to create interest in Porcupine Tree on a massive scale throughout the world.
The tour to promote the album will continue throughout the year.
There is a special micro site dedicated to the new album here (
http://www.deadwing.com/
).
www.porcupinetree.com

Iron Maiden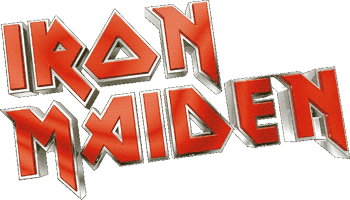 Bruce Dickinson - Vocals
Dave Murray - Guitar
Adrian Smith - Guitar
Janick Gers - Guitar
Steve Harris - Bass
Nicko McBrain - Drums
Iron Maiden was founded in 1975 in London. The band often is seen as the most remarkable and influencing Bands for their heavy metal genre: the new wave of British heavy metal . With big changes in their line up over the years, the band is back in almost the complete original line up. When they released the album 'Iron Maiden' the world was introduced to the bands raw style and mascot Eddie.
In 2003 the band released their for now to be last album: 'Dance Of Death', which contained the now classic 'Paschendale' a song about the battle of Passendale, better known as the third battle of Ieper. (world war 1). They are going to release a Double DVD and Live Album titled "Death On The Road" through EMI Records on August 29th 2005. The show was filmed at the Westfalenhalle Arena, Dortmund, Germany during the Dance of Death European Tour in December 2003.
With an incredible history Iron Maiden is the superb closing act for this 25th anniversary of Bospop.
http://www.ironmaiden.com/

Again a great line up this year and I am looking forward to the festival! See you all on the 2nd and 3rd of July!!