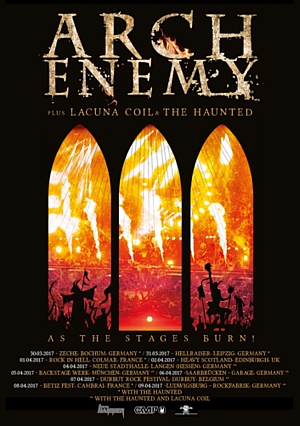 Hellraiser, Leipzig, Germany
31st March 2017
Arch Enemy - "As the Stages Burn" Tour - Support : The Haunted

ARCH ENEMY to the Hellraiser. Although the base of ARCH ENEMY is definitely in Death Metal, it is the sophisticated melodies and the two-part guitar running that determine the sound from the beginning. The band around CARCASS Mastermind Michael Amott was founded in 1996 and has several tours all over the world, several high standard outputs and countless line-up changes. Especially the departure of the front woman Angela Gossow in 2014 caused quite a stir among the fans.
The current line up reads as follows:
Michael Amott – Guitar
Daniel Erlandsson – Drums
Sharlee D'Angelo – Bass
Jeff Loomis – Guitar
Alissa White-Gluz – Vocals
However, ARCH ENEMY has not lost any of its quality and is in 2017 stronger than ever. For all fans of well-groomed guitar work with female singing a MUST HAVE!!!
Video War Eternal:
https://www.youtube.com/watch?v=InRMwptcgAo
Additional Concert Info
Doors: 6:30 pm
Start: 7:30 pm
Tickets:
http://hellraiser-leipzig.de/produkt/ticket-arch-enemy/
Price: 27.50 euros + Charges (pre-sale)
Info:
http://hellraiser-leipzig.de/as-the-stages-burn-tour-2017-mit-arch-enemy-special-guests/#more-5562
/
http://www.archenemy.net
/
http://the-haunted.com
Facebook Event:
https://www.facebook.com/events/757313221076172
Location:
http://hellraiser-leipzig.de