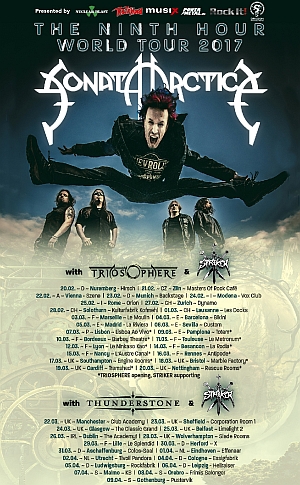 Hellraiser, Leipzig, Germany
6th April 2017
Sonata Arctica, Thunderstone, Striker

After 17 years of band history, which brought the wolf-affine Finns of classic Power Metal to more progressive sounds, with 'Pariah's Child' also back to their roots, the fans know that where SONATA ARCTICA stands, but SONATA ARCTICA is also good for surprises. But the band has always had a new charm, which developed the musical style of the Melodic Metal heads little by little not only in their Scandinavian homeland, but together with acts such as STRATOVARIUS and NIGHTWISH also abroad.
Musically, however, the fans do not have to worry about falling into depression because the band once again delivers their hymnal melodies, which are loaded with eleven songs of their new long-player 'The Ninth Hour'. So you can be curious.
THUNDERSTONE is a Finnish power metal band founded by Nino Laurenne in 2000. Since then they have published several albums and played countless tours. In 2015, the band announced that they were working on a new album. In the same year, THUNDERSTONE released a music video for the song 'Fire and Ice'. Another music video followed in 2016 to the single 'The Path'. The new album will be released on April 1, 2016 and is named 'Apocalypse Again'.
Video 'Life':
https://www.youtube.com/watch?v=fzoGtRxo_JE
Additional concert Info
Doors: 6:30 pm
Start: 7:30 pm
Tickets:
http://hellraiser-leipzig.de/produkt/ticket-sonata-arctica/
Price: 27.50 + Charges (pre-sale)
Info:
http://www.sonataarctica.info
/
http://www.thunderstone.org
/
http://www.striker-metal.com
Facebook Event:
https://www.facebook.com/events/1923006747926593/
Location:
http://hellraiser-leipzig.de/sonata-arctica-support/#more-5228