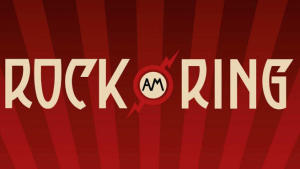 Nürburgring, Eifel, Germany
7th to 9th June 2019
Rock am Ring 2019 with Die Ärzte, Slipknot, Tool, Slayer, Bring me the Horizon, Die Antwoord, Marteria & Casper, The Smashing Pumpkins and many more

Finally, the moment we've all been waiting for: Festival season is opening and it's starting with a loud bang with Rock am Ring 2019! This year fans will be amazed by the incredible and diverse line-up that they have prepared for us. With SLIPKNOT and TOOL, two legendary bands have confirmed their presence at the festival, as well as SLAYER and DIE ÄRZTE.
SLIPKNOT are considered a ground-breaking metal formation. After their memorable headliner appearances in 2015, the band comes back with front man Corey Taylor with a new studio album and a huge live performance. TOOL, one of the most influential leaders of Progressive / Alternative Metal music, will also start a new cycle in 2019. After more than a decade of abstinence, the people are looking forward to these exclusive performances. You can expect that these two performances are going to be legendary.
So many bands form so many genres make sure that there is music for everyone! There are DROPKICK MURPHY, SLASH FEAT. MYLES KENNEDY and THE CONSPIRATORS, THE BOSSHOSS, SABATON, AMON AMARTH, FINE CREAM FISH FILLET, ARCHITECTS, ALICE IN CHAINS, GODSMACK, ARCH ENEMY, HOT WATER MUSIC and HALESTOR. Fans of Hip-Hop are also well served with the top of national Hip-Hop and urban music like ALLIGATOAH, BONEZ MC & RAF CAMORA, KONTRA K and SDP. The festival even offers a bigger range of different music by including DIE ANTWOORD, BASTILLE, KADAVAR, GRAVEYARD, FOALS and THE 1975 which makes this festival experience even richer. Upcoming bands like WELSHLY ARMS, AGAINST THE CURRENT, NOTHING, NOWHERE, BLACKOUT PROBLEMs and POWER TRIP complete the big band wave.
After 12 years the Alternative Rock legend THE SMASHING PUMPKINS return to Rock am Ring and Rock im Park. As part of the release of their tenth studio album, the original members Billy Corgan, James Iha, Jimmy Chamberlin and long-time guitarist Jeff Schroeder will play their only festival appearances in Germany. The major European twin festivals are once again heading for a sell-off for the 2019 issues because of the considerably large line-up and mixed genres. In addition, 13 artists have been newly confirmed with CAGE THE ELEPHANT, ALLE FARBEN, BEARTOOTH, KVELERTAK, THE STRUTS, ALICE GLASS, DEADLAND RITUAL, IDKHOW, LIKE A STORM, BAD WOLVES, JUKE ROSS, RYAN SHERIDAN and COLDRAIN.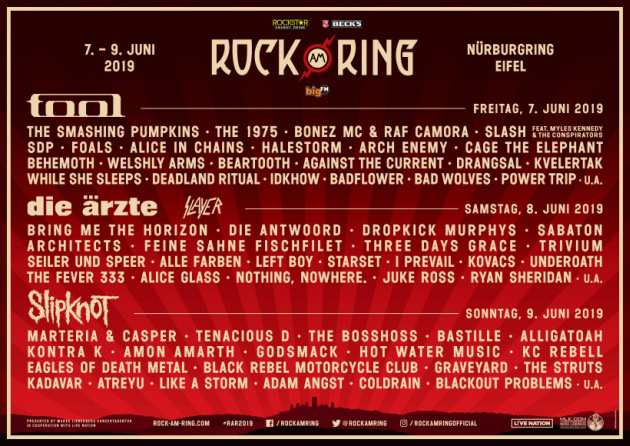 Announced bands (in alphabetical order)

Adam Angst, Against The Current, Alice Glass, Alice in Chains, Alle Farben, Alligatoah, Amon Amarth, Arch Enemy, Architects, Atreyu, Bad Wolves, Badflower, Bastille, Beartooth, Behemoth, Black Rebel Motorcycle Club, Blackout Problems, Bonez MC & RAF Camora, Bring Me The Horizon, Cage the Elephant, Coldrain, Deadland Ritual, Die Antwoord, Die Ärzte, Drangsal, Dropkick Murphys, Eagles Of Death Metal, Feine Sahne Fischfilet, Foals, Godsmack, Graveyard, Halestorm, Hot Water Music, I Prevail, iDKHOW, Juke Ross, Kadavar, KC Rebell, Kontra K, Kovacs, Kvelertak, Left Boy, Like A Storm, Marteria & Casper, nothing nowhere, Power Trip, Ryan Sheridan, Sabaton, SDP, Seiler und Speer, Slash feat. Myles Kennedy and The Conspirators, Slayer, Slipknot, Starset, Tenacious D, The 1975, The Bosshoss, The Fever 333, The Smashing Pumpkins, The Struts, Three Days Grace, Tool, Trivium, Underoath, Welshly Arms, While She Sleeps
Additional Festival Info

Tickets: are available for 241 EUR (incl. camping and parking) plus charges from
Eventim
. A Limited amount of Day Passes are available for 99.50 EUR plus charges.
More Info: https://www.rock-im-park.com/