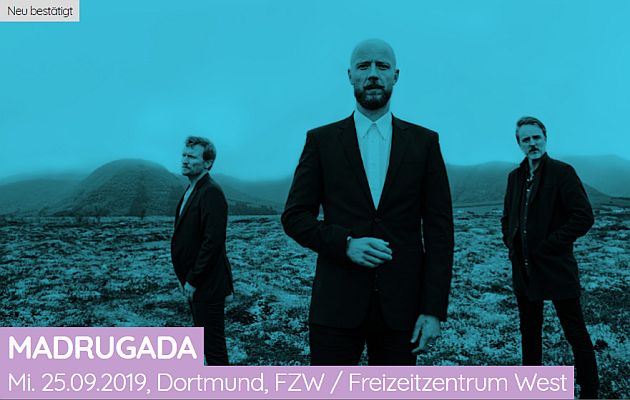 FZW, Dortmund, Germany
25th September 2019
Madrugada - "Industrial Silence" Tour 2019


Favorite bands often leave black holes when they disappear. Like a good friend who moves to another city. The greater the joy when you finally see again after some time. The news of MADRUGADA's surprise comeback in 2019 has sparked a wave of joy among fans both at home and abroad.
When MADRUGADA emerged in the 90s in Norway's vibrant Rock scene, it was clear from the beginning that this band was unique. The intensity of their melancholic music, which left a deep, blue note to audiences and critics, was second to none. Timeless, raw and empathetic - energetic front man Sivert Høyems was captivating with his signature baritone voice and a perfect symbiosis with Frode Jacobsen's powerful bass playing and Jon Lauvland Pettersen's unique drumming.
Everything went its course until 2007 a stroke of fate shook the band. When Robert Burås, the guitarist of MADRUGADA died, it was quiet for the Norwegians in 2008, despite or even because of the mourning for their friend, they finished their self-titled album and published it still. Now, eight years after the last sign of life of the band, they announced their comeback. One thing is certain: it will be loud and it will be emotional when MADRUGADA 2019 are coming back full of energy. After several sold-out shows in early 2019, the band comes back to Germany again in autumn!
Additional Concert Info

Doors: 19:00
Start: 20:00
Tickets are available from 26 euros + charges (pre-sale) via
Eventim
. Eventim presale starts 15th April, general presale starts 18th April 2019
More Info: https://prime-entertainment.de/index.php?id=34&eventid=5741
More on
Madrugada
Photo by Knut Aaserud